Pence responds to Abbas snub over Jerusalem decision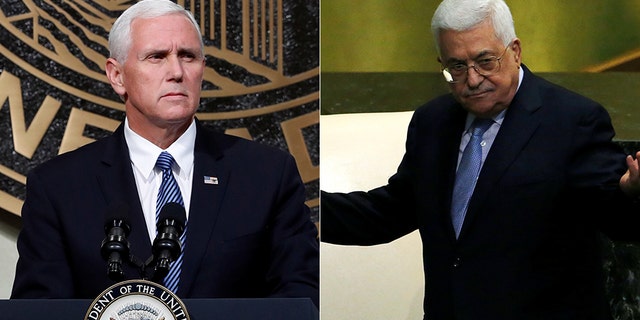 Vice President Mike Pence's office said Sunday it was "unfortunate" that Palestinian President Mahmoud Abbas canceled plans to meet with Pence in the West Bank this month because President Trump announced the U.S. would recognize Jerusalem as Israel's capital.
"The President has asked Vice President Pence to go to the region to reaffirm our commitment to work with partners throughout the Middle East to defeat radicalism that threatens the hopes and dreams of future generations. The Vice President very much looks forward to traveling to the region to meet with [Israeli] Prime Minister [Benjamin] Netanyahu and [Egyptian] President [Abdel Fattah] el-Sisi," Pence's press secretary Alyssa Farah told Fox News.
"It's unfortunate that the Palestinian Authority is walking away again from an opportunity to discuss the future of the region, but the Administration remains undeterred in its efforts to help achieve peace between Israelis and Palestinians and our peace team remains hard at work putting together a plan."
Abbas' diplomatic adviser, Majdi Khaldi, said Saturday that Abbas wouldn't meet Pence "because the U.S. has crossed red lines" on Jerusalem.
President Trump also said last week the U.S. Embassy would ultimately move from Tel Aviv to Jerusalem. Israel says it won't relinquish any part of the city, while the Palestinians have said they want the Israeli-annexed eastern sector as their future capital.
Abbas had viewed close ties with Washington as strategically important because of the U.S. role as Mideast broker. The snub of Pence signaled a sharp deterioration in relations.
The Associated Press contributed to this report.