Pence goes on full offensive against report he's running for president
Vice President Pence was pushing back Monday with full force against a New York Times story stating he's already mounting a 2020 White House challenge to President Trump, providing details about money from his political action committee going directly to his boss' re-election effort and having his spokesman dispute the story during televised interviews.
"It's absurd," Pence spokesman Marc Lotter told Fox News' "Fox & Friends" on Monday. "Really what you've got here is speculation, conjecture, half-truths masquerading as news on the front page of the never-Trump New York Times. … The vice president is supportive of the president."
Pence challenged the story almost immediately after it was published Sunday, disputing that he and Sens. Tom Cotton of Arkansas, Ben Sasse of Nebraska and Ohio Gov. John Kasich are each apparently mounting a "shadow campaign" that includes such efforts as visiting early-voting states and contacting donors.
"Today's article in The New York Times is disgraceful and offensive to me, my family and our entire team," Pence said in an official White House release. "The allegations in this article are categorically false and represent just the latest attempt by the media to divide this administration."
The story also suggests that Pence and others are making such efforts as a result of an administration in "disarray" -- largely the result of investigations into whether the Trump campaign colluded with Russia to influence the 2016 White House race.
"Pence's schedule is so full of political events that Republicans joke that he is acting more like a second-term vice president hoping to clear the field than a No. 2 sworn in a little over six months ago," according to the story.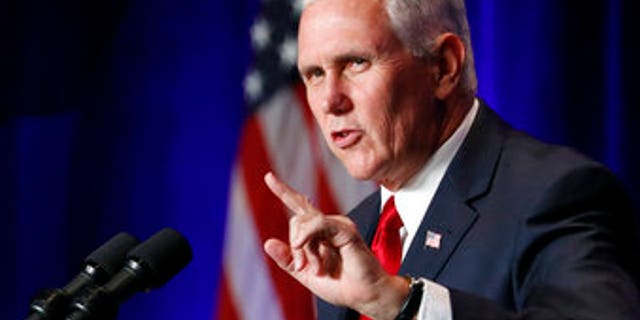 Hours after the White House release, a senior member of the vice president's staff disputed the story on several specific points, including that Pence would headline a series of campaign events for Trump this fall.
The staffer also told Fox News that Pence's first leadership PAC check went to the Trump re-election effort and that the PAC has already given the maximum contributions to the Trump 2020 campaign.
In addition, the story failed to point out that Ivanka Trump, the president's daughter, headlined the first Pence leadership PAC event in Washington and that the group was created by veterans of the Trump and Pence teams, the staffer also said.
Pence as recently as last week made clear his commitment to serving the president, in an exclusive Fox News interview.
"All that I'm preparing for every day is to do everything I can to see President Donald Trump re-elected in 2020," he said.
Kasich ran unsuccessfully against Trump in the 2016 GOP presidential primary and has largely remained critical of the president.
Fox News' Kristin Fisher contributed to this report.