Peña Nieto on Trump trip: No president thinks 'how do I screw Mexico?'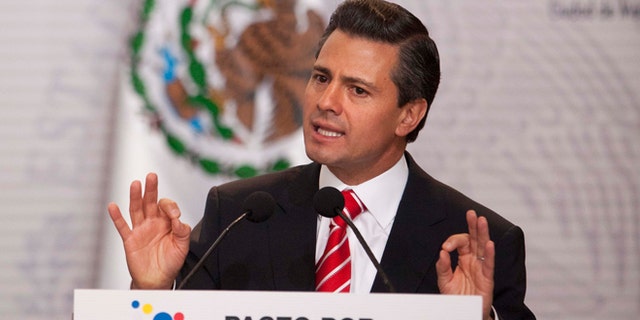 MEXICO CITY (AP) – Mexico's increasingly frank president, who is battling low approval ratings, launched a campaign on Tuesday to get people to talk positively about his country.
President Enrique Peña Nieto said his administration has made mistakes, but that his efforts were in good faith.
"I don't think any president has woken up and thought, and forgive me for saying it, 'How do I screw Mexico?'" Peña Nieto said.
He continued, "Let's speak well of Mexico. I am not asking you to speak well of the administration."
Peña Nieto's approval ratings were around 23 percent even before his controversial decision to meet with Republican candidate Donald Trump.
In an interview broadcast Sunday, Peña Nieto said he "could have done things in a better way" regarding the visit by Trump, who has suggested many Mexicans are criminals or rapists.
Many Mexicans wanted Peña Nieto to openly demand an apology from Trump during the visit.
Also Tuesday, Peña Nieto's Institutional Revolutionary Party tried to put a corruption scandal behind it by expelling former Gov. Javier Duarte from the party ranks.
Sen. Arturo Zamora said Duarte had been expelled by a party commission, after he failed to show up to defend himself.
Authorities are trying to arrest Duarte, the former governor of Veracruz state who is under investigation for alleged money laundering and participation in organized crime. His whereabouts are unknown.
Zamora said Duarte should turn himself in to authorities.
Duarte stepped down as governor on Oct. 12, a month and a half before his term was supposed to end. At the time, he said he wanted to confront the corruption allegations, which he denies.
Like us on Facebook
Follow us on Twitter & Instagram