Pelosi's Doomsday Scenario: Dem leader could face rebellion if House takeover fails
House Democrats see a big opportunity this year to seize control of the chamber. But the favorable political landscape has emerged as a double-edged sword for Nancy Pelosi -- putting high expectations on the House minority leader to deliver or face a resurgent effort to unseat her.
The California Democrat has held onto her leadership post for roughly a dozen years, vanquishing past challengers and touting her political acumen along the way, despite her party being the House's minority party since the 2010 elections.
This year, Pelosi may face a do-or-die scenario.
While President Trump will be a drag for Republicans in some House districts, GOP strategists continue to portray Pelosi as an albatross for Democrats -- most recently hammering her for saying employee bonuses related to the new GOP tax cuts are "crumbs."
And new polling shows Republicans are now cutting into Democrats' early 2018 leads, in so-called "generic" ballots that ask voters which party they'd support for Congress.
The potential contest to replace Pelosi as the chamber's top Democrat has already been handicapped as a two-person battle between Maryland Rep. Steny Hoyer, the chamber's No.  2 Democrat, and New York Rep. Joe Crowley, chairman of the House Democratic Caucus.
"This is very political. Nobody wants to kill the queen. Joe's just going about his work, but he's on everybody's short-list," a Democratic strategist, who asked to speak anonymously for this story, told Fox News.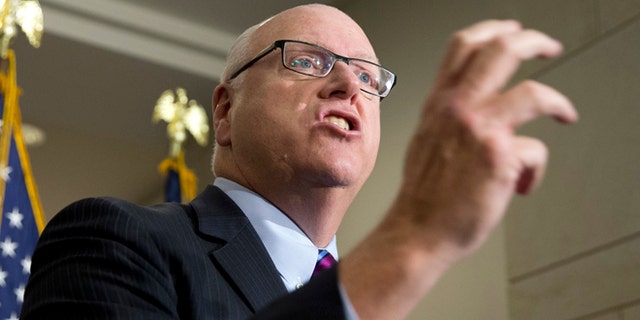 Other names mentioned include Democratic Reps. Seth Moulton, of Massachusetts; Kathleen Rice, of New York; and Linda Sanchez, of California -- in large part because they have publicly stated their desire for a change in leadership.
Moulton, a two-term congressman and Harvard-educated Iraq War veteran, has been openly critical of House leaders since at least 2016, when Pelosi couldn't make good on predictions that Democrats, relying heavily on the anti-Trump message, would retake the House.
As a result, Pelosi, 77, faced a challenge for her post from Ohio Rep. Tim Ryan. Pelosi won two-thirds of the caucus vote, as she accurately predicted. But 63 of the 134 House members voted against her.
In 2012, after failing to significantly cut into the GOP's majority, Pelosi shot down a reporter's question about whether the decision by her and others in House leadership to remain in their posts is delaying the rise of younger members.
She responded by highlighting her efforts to get younger Democrats elected to Congress and concluded, "The answer is no."
Ryan -- who argued in 2016 that the Democratic Party, including its elite California and New York leaders, has failed to connect with Middle America voters -- has since made clear he has no desire to mount another challenge. His office did not return a request for comment for this story.
The 39-year-old Moulton, even this week, continued to argue for a "next generation" of leaders. And many House Democrats consider him, not Hoyer, the "bridge" to such a new group, a House Democratic source said.
Moulton press secretary Matt Corridoni told Fox News on Tuesday that the congressman is "not interested in seeking a leadership post."
Hoyer also has suggested that he could be the bridge to the next generation. But at 78, and as a longtime member of Pelosi's team, such an argument is difficult to make, several Democrats said this week.
The chairmanship of the House Democratic Caucus, is considred the No. 4 post on Pelosi's leadership team. But Crowley maintains a high profile in Washington and in congressional districts across the country, having recently visited states like New Hampshire and Michigan and often taking charge of House Democratic leadership's weekly Capitol Hill press conferences.
He also has contributed at least $2.6 million to candidates and the Democratic Congressional Campaign Committee, from his own committees or from money raised from donors, his office recently told The Washington Post.
While solid numbers, they cannot match Pelosi's, who is known as a prolific fundraiser. Last year, she reportedly raised $49.5 million for House Democrats, including $47.6 million for the DCCC.
"She can raise in Hollywood and Silicon Valley like nobody's business," the Democratic strategist also said. "Crowley hasn't matched that, but he does well."
Crowley's office declined to comment for this report.
Hoyer press secretary Mariel Saez said in an email: "Mr. Hoyer -- and the entire Democratic Caucus -- are focused on taking back the House in November. He will continue working hard in the coming months to ensure we have a Democratic Majority in 2019."
Hoyer is also traveling across the country to campaign for Democratic incumbents and challengers. He has made 19 such trips so far this election cycle, raising or contributing $2.1 million toward winning a Democratic House majority in 2018.
Supporters point out that Hoyer has also embarked on a "Make It In America Listening Tour" that make frequent stops in Middle America. They also argue that Hoyer can go to any district in America "and he does" -- suggesting Hoyer's widespread appeal and name-recognition among voters.
Pelosi spokesman Drew Hammill told Fox News on Wednesday that "the leader is focused on winning back the House."
"She's not here to work a shift. She's on a mission," Hammill also said. "There will always be people [on Capitol Hill] with ambition. That's part of the game. But the leader is singularly focused on winning back the House and has the widespread support of the caucus."
To be sure, Democrats have a good chance this year to win a total of two-dozen seats and take the House.
The party that controls the White House historically loses about 30 seats in the first midterms after the presidential election.
In addition to Trump's relatively low approval rating hurting GOP candidates in moderate districts, more than 30 House Republicans this cycle are not seeking reelection. And recent federal election records show 55 Democratic candidates have so far raised more money this cycle than the Republican incumbents they are challenging.
Beyond concerns about Pelosi's tenure hurting her party's ability to stay vibrant with newer members, whose ideas and leadership would presumably attract younger voters, Democrats also must contend with her status as a San Francisco liberal -- which alienates moderate voters and becomes a lightning rod for Republicans during election seasons.
"The fact that Nancy Pelosi is the face and leader of the Democratic Party is the gift that keeps on giving for the NRCC," Matt Gorman, National Republican Congressional Committee spokesman, said last week. "As her colleagues openly grumble that she's a liability for 2018 and she continues to be the most unpopular politician in the country, I can only say one thing: go, Nancy, go."