Pelosi endorses Cuomo as Dems go increasingly bicoastal
House Minority Leader Nancy Pelosi may have unwittingly reinforced a negative perception about Democrats on Tuesday when she endorsed New York Gov. Andrew Cuomo's re-election bid.
The joint New York City appearance of the two Democratic Party icons – Pelosi from California and Cuomo from New York – may have served to remind voters that the out-of-power party is increasingly relegated to the East and West coasts.
Pelosi joined Cuomo at John Jay College as the governor signed gun control legislation calling for the confiscation of firearms from people who are convicted of domestic violence-related crimes, the New York Post reported.
"I support Gov. Cuomo's re-election – wholeheartedly," Pelosi told the Post. Cuomo must first clear a primary hurdle Sept. 13 against "Sex and the City" actress Cynthia Nixon if he hopes to run in November.
'Severe geographic retreat'
But as journalist Michael Tomasky notes in Tuesday's New York Times, the party that Pelosi helps to lead "is in severe geographic retreat, and it has happened with alarming speed."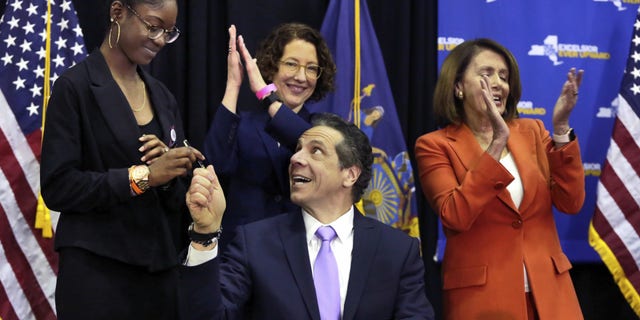 He notes that Hillary Clinton won only 487 of the nation's 3,141 counties in the 2016 presidential election – down from Barack Obama's 689 county wins four years earlier.
And he notes that as recently as 2010, Democrats held governorships in heartland states such as Arkansas, Kansas, Oklahoma, Tennessee and Wyoming – but no more.
Tomasky points out as well that recent Republican leaders in the House have hailed from an array of states – Wisconsin, Ohio, Illinois – with Rep. Kevin McCarthy of California a frontrunner to be the next House speaker.
Diversity lacking?
But if Pelosi – who on Tuesday announced she has no plans to step down as party leader in the House -- were to ultimately step aside, the three top candidates to replace her in the post-Obama era – in the party that touts "diversity" – are three white men (Joseph Crowley of New York; Steny Hoyer of Maryland; and Tim Ryan of Ohio).
If Crowley were to emerge from that group, Tomasky writes, Democrats in Congress would be led by two white males, both from New York – Crowley in the House and Chuck Schumer in the Senate.
"If Democrats charge into 2020 advertising themselves as the party of New York and California," Tomasky notes, "the rest of the country will notice."