Paterson Aides Deny Reports He's About to Resign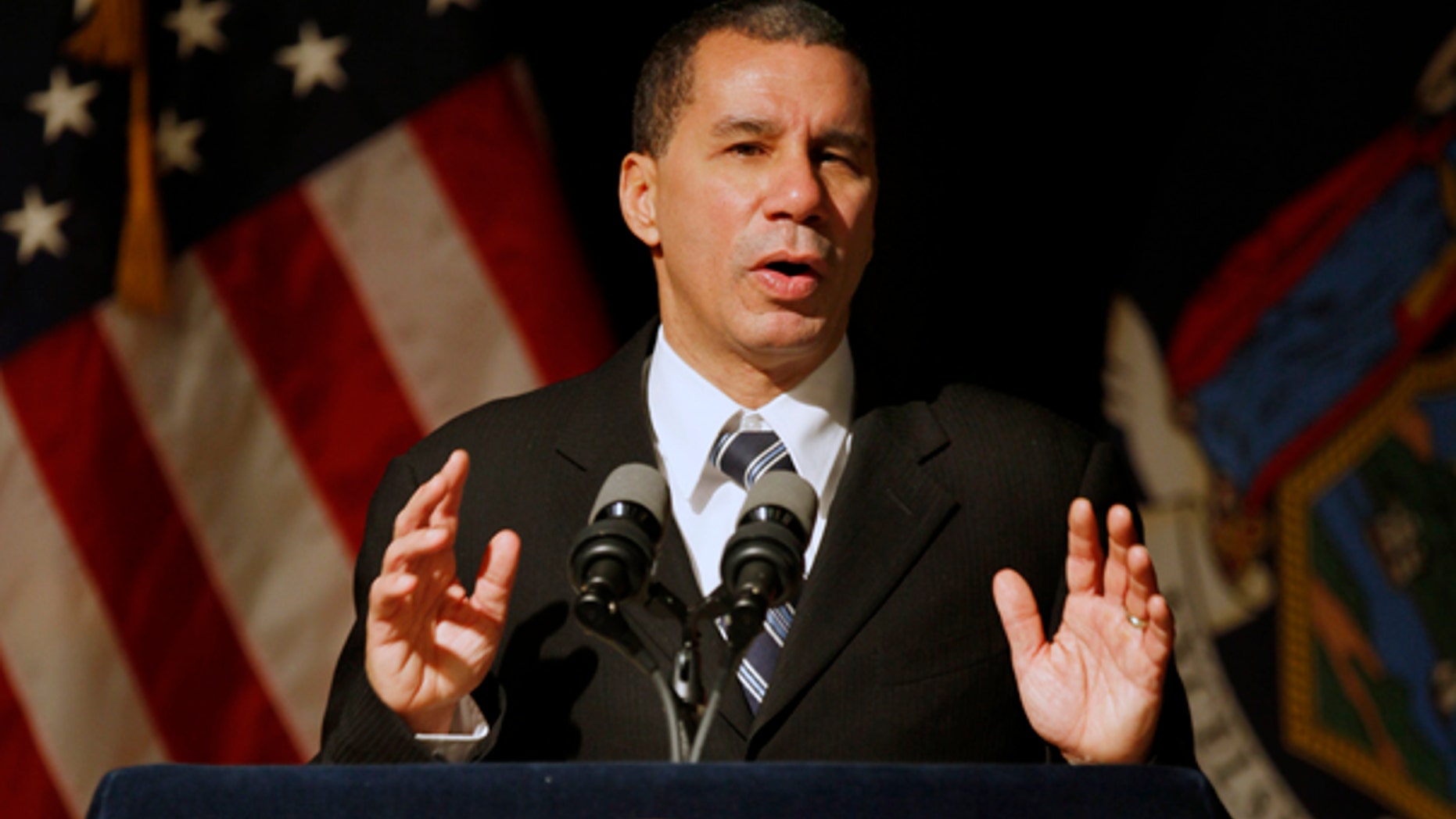 New York Gov. David Paterson's office made the rounds to major news outlets Monday to shoot down rumors the governor is planning to step down in the wake of a "bombshell" New York Times story about to be published that is so scandalous he can't politically survive it.
The governor is reportedly expected to do an interview with the Times on Tuesday, but his staff insists there's no there there.
"This is a new low even by the standards of Planet Albany,"  Paterson spokesman Peter Kauffmann told The Associated Press late Sunday. "The circus of the past week entirely fabricated out of thin air and innuendo is an embarrassment for all who have played a role in fueling it."
Spokeswoman Marissa Shorenstein used almost identical language in a statement to Fox News.
She did add in the statement that, "Governor Paterson is the governor today, he will be the governor tomorrow and he will win re-election this fall."
"The Governor has not engaged in any inappropriate or illegal behavior and suggestions to the contrary are entirely false and deeply irresponsible."
The governor's office told MyFoxNY.com that he has no plans to step down, but the New York Post suggested in an article published Monday that the "paranoid" governor is going "ballistic" at aides over what is considered a "corrupt decision" to award licensing for thousands of video lottery machines to a group that includes the Rev. Floyd Flake of Queens, whose endorsement Paterson is aggressively seeking as he runs for a full term.
"He's become paranoid. He sits gnashing his teeth, looking around for scapegoats among the people around him," the Post reported a source saying. "He's lecturing them, launching into tirades, and he's demoralized the entire staff in the process."
The Post also reported that aides are bothered by "the governor's lack of focus on critical issues, his poor work habits and late-night, booze-fueled 'disappearances' at trendy nightclubs and undisclosed locations -- when even his State Police bodyguards don't know where he is."
Paterson's troubles come as state Attorney General Andrew Cuomo bests him in primary polls.
The AP reported that Paterson started making phone calls over the weekend to discuss whether he would resign or announce he will not run for a full term after his ascension to the chief executive seat following Eliot Spitzer's resignation following a prostitution scandal.
Paterson's spokesman Richard Fife has denied the calls were anything more than routine as he prepares his re-election campaign.
All the chatter has led to a defense by state police Superintendent Harry J. Corbitt, a career trooper appointed by Paterson to his post.
"Perpetrating lies about the governor, his family and troopers who diligently perform their duties is a disservice to the citizens of New York," Corbitt said.
In March of 2008, Paterson confronted allegations of sexual affairs and drug use as he detailed past affairs that he and his wife were involved in during an 18-month period when it appeared their marriage would end. He said he came forward with the details to clear the air as he assumed his post.
Click here to read The New York Post story.
Fox News' Eric Shawn and The Associated Press contributed to this report.