Party leaders sending big money, top stars like Trump and Biden to tight House race in Pa.
PITTSBURGH – Washington Democrats and Republicans are bringing big money and A-list party leaders into southwest Pennsylvania for the final days of a tight congressional race that both parties are eager to win -- ahead of the large battle this year to control Congress.
Former Vice President Joe Biden arrived Tuesday to work a double-shift for Democratic candidate Conor Lamb, first telling a group of union workers: "If there is going to be a fight, I'm betting on the guy and girl working construction, not on the fat cat writing a check."
He later tried to stir up an overflow crowd at Robert Morris University by saying that the GOP has spent so much money attacking Lamb that "before this is over, Republicans might have been able to pay for their tax cuts," instead of slashing entitlements like Medicare or Social Security, as House Speaker Paul Ryan intends.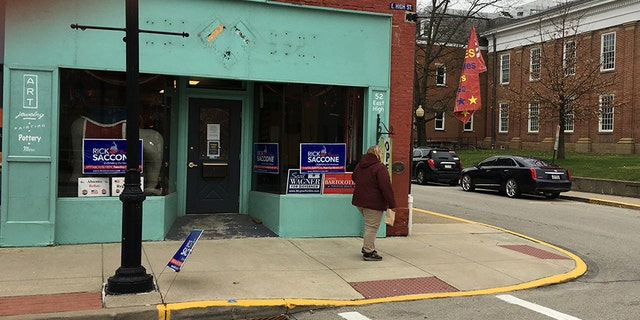 President Trump visited the district in January to tout his recent tax cuts and Republican candidate Rick Saccone, a four-term state representative. He's scheduled to campaign in the district Saturday for Saccone, with voters going to the polls Tuesday.
In 2016, Trump won the state's 18th congressional district by nearly 20 points over rival Hillary Clinton. He remains popular among the district's voters, especially in outer boroughs like Canonsburg, where for generations most residents worked in the surrounding coal mines and steel plants that Trump has promised to revive.
"I'm voting for Rick Saccone because he's Republican. I'm voting straight ticket," said Dale Dexter, who was having breakfast Tuesday at Suzie B's diner in Canonsburg, about 20 miles southwest of Pittsburgh.
Vice President Pence and Ivanka Trump, the president's daughter and a White House adviser, have already campaigned with Saccone in the district.
Trump this weekend will likely tout his plan to impose tariffs on imported steel and aluminum -- an idea, like the tax cuts, that is expected to resonate with voters, particularly those who lost jobs in part because of cheaper imported steel from China and elsewhere.
PENNSYLVANIA SPECIAL HOUSE ELECTION PITTS RICK SACCCONE AGAINST CONOR LAMB.
So-called outside groups aligned with Trump and Ryan and other Washington Republicans have spent roughly $9 million on the race, compared to about $1 million from similar Democratic groups, according to the latest Federal Election Commission filings.
The National Republican Congressional Committee, tasked with getting party members elected and re-elected to the chamber, reportedly just spent an additional $619,644 to help Saccone.
Meanwhile, Lamb has raised more than $3.3 million since the start of 2018, compared to $703,000 for Saccone, FEC records also show.
"He's a fresh face," Nancy Barsotti, of Roslyn Farms, Pa., said at the second rally. "He's got a great background. He's said all of the right things."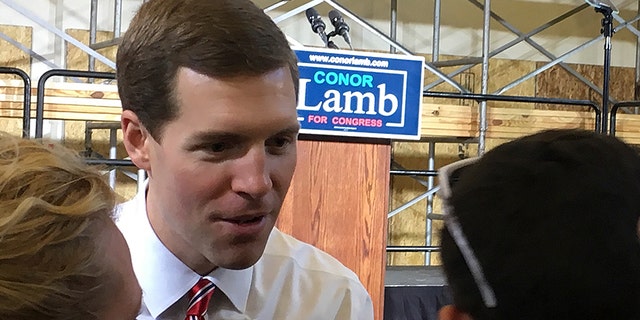 The district, which stretches south from the well-to-do Pittsburgh suburbs to the West Virginia border, has been a GOP strong-hold since long before Trump won in 2016, despite having more registered Democrats than Republicans.
The 33-year-old Lamb and Saccone, 60, are competing for the seat left open by GOP Rep. Tim Murphy, who held it for eight terms before resigning in October. Murphy stepped down following news reports that he suggested a woman with whom he was having an extra-marital affair get an abortion.
Democrats will need to win a total of 24 seats this year to take control of the House.
The party that doesn't control the White House historically picks up roughly 30 seats in midterm races and the voter turnout by Democrats in the Texas primaries Tuesday is considered yet another sign that the party has the enthusiasm edge.
However, recent so-called "generic ballots," in which voters must pick either a Democrat or Republican for Congress, show Democrats have lost their early lead.
An Emerson College poll of likely district voters released Monday shows Lamb leading Saccone 48-to-45 percent, essentially a tie and consistent with other recent polls showing a close race.
"We're not surprised this is tight. Democrats' enthusiasm is a little higher. It's always that way for the party not in the White House," Val DiGiorgio, chairman of the Pennsylvania Republican Party, recently told Fox News.
Still, DiGiorgio and the Saccone campaign sound undaunted by the hype around Lamb -- a former Marine, Ivy League graduate and federal prosecutor in Pennsylvania -- arguing he's an extension of the Democratic establishment led by Biden and House Minority Leader Nancy Pelosi and that he lacks support from working-class voters, particularly in coal country.
"Tonight, Rick Saccone showed why he is the choice of coal-mining families across southwestern Pennsylvania," campaign spokesman Patrick McCann said after a rally Monday night in the Waynesburg borough, where an abandoned mine sits on the southern edge of the downtown. "Rick is ready to utilize his experience in Washington to continue revitalizing the coal industry."
DiGiorgio also called Pelosi "very unpopular" in the district.
"They've tried to reinvent (Lamb) to run away from their message of higher taxes, sanctuary cities and socialism," he said. "But voters know that, at the end of the day, he's going to vote with the left-leaning leadership in Washington."
Saccone has tried to run on his record and reputation as a legislator, while distancing himself from another attack line on Lamb -- that as a prosecutor he was soft on crime.
"People in the 18th district know I've kept my word," Saccone, who served 18 years as an Air Force officer, said in a debate last weekend with Lamb.
Lamb said in the debate that ads suggesting that as a prosecutor he let off criminals by accepting plea bargains were "garbage."
"They've lied about my record," he said.