Party Leaders Look to Center for Budget Support as Liberals, Conservatives Balk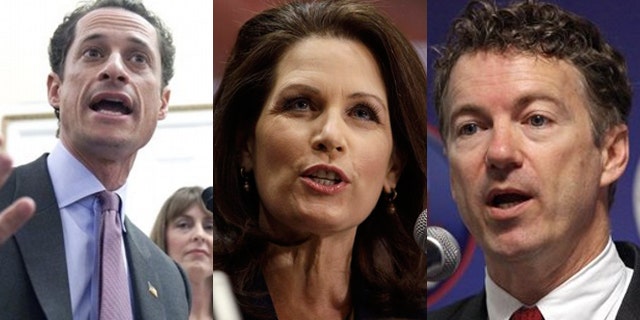 NEWYou can now listen to Fox News articles!
President Obama and congressional leaders are going to have to rely on the political center to pass their 2011 budget bill as Tea Party conservatives and dyed-in-the-wool liberals start to peel off.
The text of that bill, released Tuesday morning, had a little bit for everyone -- cuts to the Environmental Protection Agency and the elimination of some presidential "czars" for Republicans; protection of education programs like Head Start and Pell grants for Democrats.
But the bill also left a lot out. For starters, it only cut $38.5 billion, including about $12 billion in cuts that were already signed into law -- not enough for some Republicans, particularly freshmen who wanted their first big budget clash to result in seismic, not just historic, cuts. On the Democratic side, the fact some programs for the poor were not spared was a moral outrage.
The mounting discontent means dozens of lawmakers from both parties will likely take a stand against the budget bill when it comes for a floor vote later in the week, presumably before the current stopgap budget expires. It may not be enough to derail the hard-fought deal, but their objections challenge the narrative that congressional leaders achieved a masterstroke with their 11th-hour, shutdown-averting compromise.
"I'll probably vote against it if the cuts are as draconian as they have been," Rep. Carolyn Maloney, D-N.Y., told Fox News. She was among a half-dozen members of Congress who protested the cuts Monday in New York City, claiming they would slash funding to low-income aid programs ranging from Women, Infants and Children (WIC) to Community Development Block Grants.
Joining her were Reps. Jerrold Nadler, Charles Rangel, Eliot Engel, Anthony Weiner and Nydia Velazquez. Most of them voted against the stopgap budget early Saturday morning. The bill passed overwhelmingly on a 348-70 vote in the House, with more Democrats opposing it than Republicans.
As the details of the broader plan were released Tuesday, even high-ranking Democrats were keeping their opinions close to the vest.
House Minority Whip Steny Hoyer, D-Md., the Democrats' top vote counter in the House, said he's not yet sure whether he will support the bill. "There are a number of things I don't like," Hoyer said.
Hoyer said he does not know whether Republicans will ask him for help rounding up Democratic votes for the bill -- the GOP can only afford to lose 27 members before needing help from the other side to pass it.
"My presumption is we don't know where our people are, and I don't think they know where their people are," Hoyer said.
But harder-line lawmakers from both parties are starting to generate clatter against the compromise ahead of a final vote.
Rep. Jim Jordan, R-Ohio, chairman of the conservative Republican Study Committee, announced Tuesday that he would oppose the final package.
"While I respect that some of my Republican colleagues will ultimately support this spending deal, I believe voters are asking us to set our sights higher," he said in a statement.
Sen. Rand Paul, R-Ky., also wrote in a letter to colleagues that he would vote "a resounding NO" on the deal, and urged others to join him.
"The much-ballyhooed 2011 continuing resolution will leave the federal government spending $1.6 trillion more than it takes in," he wrote. "The only 'good news' from the 2011 CR would be that it adds less debt than President Obama's plan, but it does not appreciably change the accumulation of debt."
Rep. Michele Bachmann, R-Minn., has also expressed disappointment in the plan, saying it didn't cut enough and lamenting that it carved out provisions to defund Planned Parenthood and the federal health care overhaul.
Rep. Mike Pence, R-Ind., the champion of the Planned Parenthood measure, said in an interview over the weekend that while he appreciates the work House Speaker John Boehner did on behalf of his caucus at the negotiating table, the compromise is "probably not good enough" to win his vote.
GOP leaders, though, claim they got the best deal they could for their side. Boehner and others have noted he was the sole GOP negotiator at a table full of Democrats and describe the compromise as a substantive first step toward bigger budget reforms.
Both parties already are gearing up for a fight over raising the debt ceiling and, connected to that, the 2012 budget and entitlement reforms. Obama plans to outline a new deficit-reduction strategy Wednesday as he looks to haggle with Republicans who have proposed a sweeping plan which would overhaul Medicare while cutting trillions over the next decade.
With that as the backdrop, party leaders are urging their rank-and-file to clear away the 2011 budget battle and move on to the next one.
"There are going to be dozens of these battles over the next 18 months," Boehner told Fox News on Monday. "We just have been through the first one. We're about to engage in the second one. But this is going to go on and on and on."
The final 2011 budget bill includes a provision preventing Guantanamo prisoners from being transferred to the U.S., as well as a provision restricting taxpayer funding for abortion in the District of Columbia.
It reduces the military budget by $2 billion more than Defense Secretary Robert Gates said was an acceptable level, but strips out related earmarks and eliminates the controversial backup engine for the F-35 fighter jet.
Other areas of the budget took a considerable hit. The EPA endured a 16 percent decrease, losing $1.6 billion from its budget. Transportation and housing budgets took an 18 percent budget cut compared with last year's levels. The bill would end funding for more than 55 programs, according to the House Appropriations Committee, extracting about $1 billion in savings. Plus the final bill would end funding for two programs in the health care overhaul and reduce the legislative branch budget by over $100 million. That includes a 5 percent cut to most House offices.