Palin Hits Pause on Bus Tour for Meeting, Dinner With Trump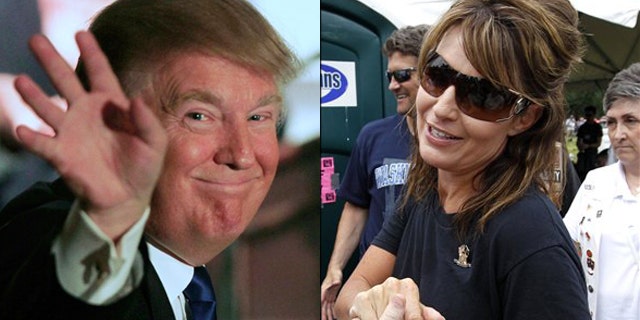 On a tour of historic sites that may or may not signal the start of a presidential campaign, Sarah Palin continued to stir speculation by meeting with Donald Trump Tuesday evening in New York.
The pair exchanged words of admiration during a 15-minute stop at the real-estate-tycoon-turned-reality-TV-star's penthouse in a Manhattan skyscraper bearing his name, before heading out for dinner.
Palin said she and Trump shared similar ideas for improving the U.S. economy, while Trump called the former Alaska governor a "terrific woman and a terrific friend" whom he hoped would seek the Republican presidential nomination.
According to Trump special counsel Michael Cohen, Palin's aides requested the New York meeting.
"What do we have in common? Our love for this country, a desire to see our economy put back on the right track," Palin told reporters outside the Trump Tower, where he owns a three-floor penthouse.
"To have a balanced trade arrangement with other countries across this world so Americans can have our jobs, our industries, our manufacturing again. And exploiting responsibly our natural resources. We can do that again if we make good decisions," Palin said.
Trump demurred when asked if he would support a Palin presidential candidacy.
"She didn't ask me for that. She came up as friends," Trump said. "She's a great woman, a terrific woman and a terrific friend. I'd love her to run."
Palin added, "We both agree that competition is good and the more folks in that primary, the better."
Both figures have demonstrated an uncanny ability to keep the media and voters guessing about their intentions. Trump for months kept his name in the mix of possible 2012 Republican candidates, only to announce earlier this month that he would not run, opting instead to continue hosting his show "Celebrity Apprentice."
But after ex-Arkansas Gov. Mike Huckabee bowed out, Trump suggested he could still change his mind.
"I can't rule out anything," Trump told Fox News last week. "The country is so important, so vital that we choose the right person, and at this moment, I don't see that person."
From there, Palin and her "SarahPAC" political action committee suddenly launched a "One Nation" bus tour over the weekend, thrusting her name back into the spotlight as a possible contender. Palin started the tour with a stop by the Rolling Thunder motorcycle ride, then continued on to the National Archives in Washington, D.C., and Mount Vernon in Virginia.
Palin on Tuesday visited historic sites in Pennsylvania ranging from Gettysburg to Independence Hall to the Liberty Bell -- where she also chatted with members of the Independence Hall Tea Party Association.
Asked if the meeting has anything to do with the possibility of Trump getting back into the presidential race, Cohen had no comment.
Palin, asked over the weekend whether she would get in the race, remained coy. "We're still kind of contemplating that," she said.
After the meeting, Trump and his wife, Melania, rode in a stretch limousine with Palin, her parents and youngest daughter Piper to have dinner at a pizza restaurant in Times Square.
The Palins planned to visit Ellis Island and the Statue of Liberty Wednesday morning.
Fox News' Kathleen Foster and the Associated Press contributed to this report.