Oregon's largest newspaper calls on governor to resign over fiancée controversy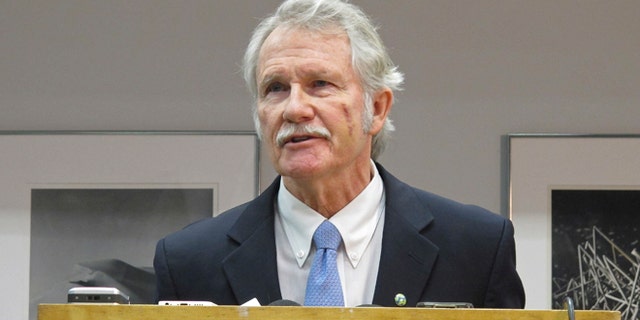 NEWYou can now listen to Fox News articles!
The longest-serving governor in Oregon history is coming under mounting pressure to resign, over a series of scandals involving his fiancée.
The Oregonian, the largest newspaper in the state, said in an editorial on Thursday that Gov. John Kitzhaber "can no longer lead Oregon effectively and should resign."
Kitzhaber, a Democrat in his fourth term as governor, has been under attack since revelations that his fiancée, Cylvia Hayes, was being paid to lobby on behalf of the clean energy industry while at the same time holding the title of Oregon's first lady and filling the role of unpaid policy adviser in the Kitzhaber administration. The Oregon Government Ethics Commission is investigating whether Hayes' consulting work was a conflict of interest, but the Oregonian says the evidence is clear.
"Whether through gross inattention or complicity, Kitzhaber has broken faith with Oregonians. His career in Oregon politics is one of great accomplishment, but his past success does not excuse the mess he has made of the office with which Oregonians entrusted him. He is now less a governor than a source of unending distraction," The Oregonian wrote.
The call to resign follows a report in the newspaper Wednesday which detailed how Cylvia Hayes got the clean energy consulting jobs, which paid her a combined $118,000. The positions were lined up by men who were Kitzhaber campaign advisers during his run for office in 2010. And both men subsequently landed positions within the Kitzhaber administration. One of them, Dan Carol, now earns $165,000, making him Kitzhaber's highest-paid aide.
Kitzhaber acknowledged he may have mentioned his fiancée was looking for work to both of his then-campaign advisers, but he denies that their subsequent jobs in his administration were political payback.
Last week, in a tense news conference last week, Kitzhaber said Hayes would no longer have a role in his administration. But he was also defiant.
"I'm not going to consider resigning," said Kitzhaber. "I was elected by the people of this state to do a job, and I intend to do it."
But earlier in the news conference, the governor nervously parsed his words when talking about Hayes' income and revelations that she may not have paid taxes on it. He said he had "no idea whether she is legally a member of my household." The Oregonian called the evasion "almost Clintonian."
Kitzhaber was first elected governor in Oregon in 1994. He served two terms and left office in 2003. In 2010 he defeated former NBA player Chris Dudley in a close election. He easily won re-election last year despite a different embarrassing story surfacing about Hayes.
The Willamette Week uncovered that in 1997, Hayes was paid to enter into an illegal marriage in order to give a man from Ethiopia legal residency in the U.S. Just before the 2014 election, Hayes held a news conference in which she tearfully called the sham marriage "the biggest mistake of my life." Oregonians didn't seem to mind. Kitzhaber defeated Republican Dennis Richardson to earn a historic fourth term.