Only One Senator Stays to Question U.S. Envoy to Syria at Confirmation Hearing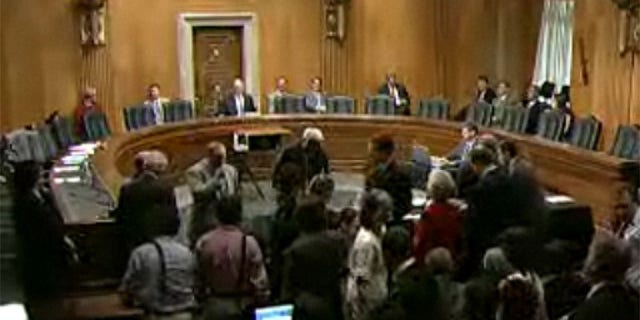 NEWYou can now listen to Fox News articles!
America's ambassador to Syria had some important things to say at his confirmation hearing Tuesday about the regime's brutal crackdown on protesters.
Unfortunately for him, only one senator stuck around to talk about it.
Robert Ford, who is President Obama's man on the ground amid the chaos in Syria, spoke to a row of empty seats as he discussed the tumult in that country before the Senate Foreign Relations Committee.
As he described the "widespread arrest campaigns" and "atrocious torture" and government-sanctioned "slaughter" in Syria, only Sen. Bob Casey, D-Pa., was at the dais.
There are 18 other members of that committee.
Asked why so many were absent at a critical time in Syria, lawmakers gave a range of explanations. Some had prior obligations, like conference calls and administrative duties. But surely it was no coincidence that 18 lawmakers were absent just hours before the Senate was set to go on recess following the protracted debt-ceiling debate.
"They were just catching planes," said Elliott Abrams, a senior fellow at the Council on Foreign Relations. "It's really a shame."
A Casey spokeswoman, calling Syria an "important issue," said the senator hopes the rest of his colleagues find the time to "review the testimony." She noted, though, that Casey's office is not "in a position to judge others on attendance."
The hearing comes as violence in Syria spikes. Dozens of protesters were killed in pre-Ramadan clashes over the weekend, developments Obama called "horrifying." The administration is trying to figure out its next move, as talks are held at the U.N. Security Council. U.S. officials have discussed new sanctions on Syria's energy sector, while Secretary of State Hillary Clinton met Tuesday with Syrian activists in Washington.
Obama met Monday with Ford ahead of his hearing.
A half-dozen senators were present at the beginning of that hearing to listen to opening statements from Ford and two other ambassadors. Ford, whose hearing was moved up from Wednesday, was scheduled for the second half -- though he gave his opening statement during the first half in order to accommodate the schedules of Sen. Richard Lugar, R-Ind., and Sen. Joe Lieberman, I-Conn. (who is not on the committee), according to Sen. Jeanne Shaheen, D-N.H.
Sen. Christopher Coons, D-Del., and Sen. Robert Menendez, D-N.J., also attended the beginning of the hearing, where the other two ambassadors were questioned.
But only Casey stayed to question Ford in the second half, which was devoted to his nomination.
During that segment, Ford described how the cycle of violence has persisted. He said it starts with killing by the regime and then leads to retaliation by the protesters. But while the regime has claimed they're going up against armed groups, Ford said the only weapon he saw on a recent trip to Hama was a slingshot.
He said the regime is "unwilling or unable" to lead the democratic transition people are demanding.
In his opening statement heard by a few senators, Ford described the unrest as a "hugely important story about the struggle for human dignity." He estimated nearly 2,000 people have been killed so far by Syrian security, with thousands more held in "barbaric conditions."
Several of the senators on the foreign relations committee have since joined a bipartisan letter urging the president to impose stricter sanctions on Syria.
Abrams said the hearing could have been an opportunity to learn more -- to ask Ford whether the regime is letting him travel freely in the country and why the administration is stopping short of calling for Bashar Assad to step down.
A State Department official said afterward that the department is not concerned about the hearing's attendance, noting that "scheduling issues" got in the way.
FoxNews.com asked the absent senators why they could not attend. Here is their response:
Chairman John Kerry, D-Mass.: Spokesman Frederick Jones said, "it is not always possible" for the chairman and other members "to attend every nomination hearing." He said the chairman would submit questions to Ford "to answer in writing." He also said Kerry "applauds" Obama's decision to re-nominate Ford and hopes for a quick confirmation.
Sen. Shaheen: Spokesman Jonathan Lipman said Shaheen had to preside over the Senate at 4 p.m., so she had to leave after Ford's opening statement. "Because she could not stay, Senator Shaheen has submitted questions for the record for Ambassador Ford to respond to in writing," he said.
Sen. Coons: Spokesman Ian Koski said the senator could not stay for questioning because he had a conference call scheduled with experts ahead of a hearing he was leading on the drought and famine in East Africa.
Sen. Mike Lee, R-Utah: Spokeswoman Emily Bennion said Lee "had an important internal meeting scheduled during that time."
Sen. Lugar: Spokesman Mark Helmke said Lugar ran into a "scheduling conflict" after Ford's hearing was bumped up.
Sen. Johnny Isakson, R-Ga.: Spokeswoman Lauren Culbertson also said the "very late" time change for the hearing presented a scheduling conflict for Isakson -- senators were apparently told late Monday that the hearing was being moved from Wednesday to Tuesday. She said Isakson takes his responsibilities on the committee "very seriously" and will submit questions to Ford in writing. She noted that Isakson stayed in town Wednesday for the hearing on famine in East Africa.
Sen. Bob Corker, R-Tenn.: Spokeswoman Laura Herzog said after the hearing time was changed on "short notice," Corker could not attend.
Sen. James Risch, R-Idaho: An aide said the senator had planned to attend but could not after the hearing was moved to Tuesday. The aide said Risch had previously met with Ford before his appointment, and "will be submitting questions to the record of the hearing."
FoxNews.com has not gotten a response from: Menendez; Sen. Barbara Boxer, D-Calif.; Sen. Ben Cardin, D-Md.; Sen. Jim Webb, D-Va.; Sen. Dick Durbin, D-Ill.; Sen. Tom Udall, D-N.M.; Sen. Marco Rubio, R-Fla.; Sen. James Inhofe, R-Okla.; Sen. Jim DeMint, R-S.C.; and Sen. John Barrasso, R-Wyo.
Fox News' Nicole Swinford contributed to this report.