Once hesitant, Barbara Bush now backs Jeb's potential run for the White House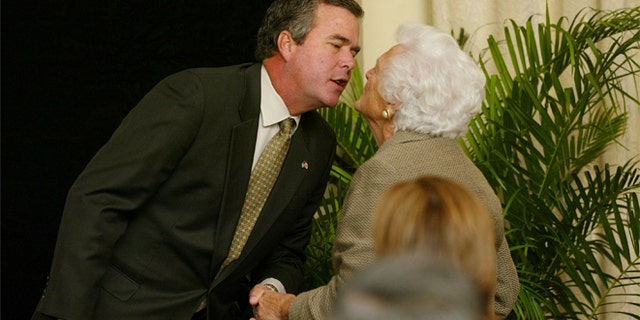 NEWYou can now listen to Fox News articles!
Two years ago, Barbara Bush told the world 'We've had enough Bushes,' when asked how she felt about her son Jeb Bush running for president.
On Wednesday morning, however, the former first lady and family matriarch, sent a mass fundraising e-mail with the subject line: "I changed my mind."
The once hesitant mother is now backing her son's potential 2016 Republican candidacy for the White House.
"When the idea of Jeb running for President first came up, I was hesitant," Mrs. Bush's e-mail reads. "You may have heard about that. When you see the pounding candidates, their spouses, and even their children take, what mother wouldn't be?"
In a sit-down interview on NBC's Today Show in 2013, Mrs. Bush, 89, said, "He's by far the best qualified man, but no ... I think it's a great country, there are a lot of great families. It's not just four families ...We've had enough Bushes."
Well, apparently no, we have not.
"Jeb is our best chance of taking back the White House in 2016, and I hope that you will join me in pushing him to run," the e-mail states.
Mrs. Bush goes on to say, "Our problems are so profound that America needs a leader who can renew the promise of this great nation. Which is why today I'm starting the Run Jeb Run Fund." She is asking Americans to join her in backing her son with a contribution of $50 or more toward his campaign.
Bush, 62, has yet to announce his political intentions, but he has been among the most aggressive GOP presidential prospects in recent weeks. He continues to court top political donors across the country, while reviving and expanding a political machine that was largely dormant in the eight years since he left the Florida governor's mansion.
Last month he launched the "Right to Rise" political action committee to serve as a vehicle for a potential campaign.
"My personal belief is that Republicans can win if we're more hopeful and aspirational, which is why we've used the terminology 'Right to Rise,'" Bush said then. "We lost the sense that it's possible that the future can be brighter for people."