Officials: Illegal Immigrant Became a Cop in Alaska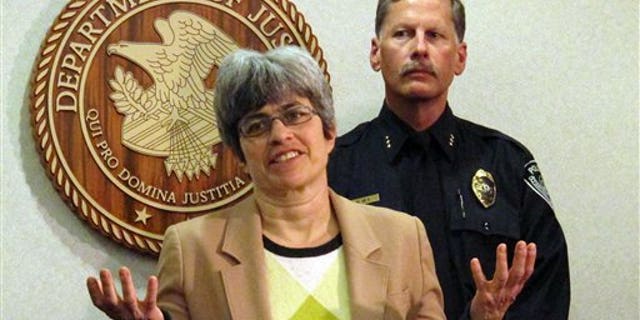 ANCHORAGE, Alaska – For years, the man known as Rafael Espinoza was widely respected as an exemplary police officer who was popular among his peers in Alaska's largest city.
All that ended this week when authorities discovered he was really Mexican national Rafael Mora-Lopez, who was in the U.S. illegally and stole another man's identity, officials charged.
"His reputation here is one of a hard-working officer, one who was very professional," Anchorage Police Chief Mark Mew said Friday at a news conference announcing Mora-Lopez's arrest. "The problem, obviously, is he is not Rafael Espinoza."
Soon after the announcement, Mora-Lopez appeared in U.S. District Court in Anchorage and pleaded not guilty to a charge of passport fraud, which carries a maximum 10-year sentence. At his arraignment, Mora-Lopez told a federal magistrate he is 47, even though officials listed his age as 51.
His attorney, Alan Dayan, declined to comment to The Associated Press.
Federal agents processing a renewal request for his passport discovered the alleged fraud. He was arrested Thursday after authorities searched his home and found documents confirming his true identity, officials said.
Mora-Lopez had been employed as an Anchorage police officer since 2005 under the assumed name. Police and federal prosecutors said he doesn't have a criminal record.
"We have no evidence that this individual had at the time been anything other than a good police officer," Karen Loeffler, U.S. Attorney in Alaska said.
The real Rafael Espinoza is a U.S. citizen who lives outside Alaska.
Officials said it's too soon to gauge implications of the case, such as any fallout over Mora-Lopez's court testimony in past criminal trials. Authorities released limited details, saying the case was still unfolding.
Mew said the department conducted a pre-employment criminal background check on Mora-Lopez and he also passed a polygraph test. A national fingerprint check also turned up empty.
The arrest was a "bitter pill to swallow" for many in the police department, Mew said.
There are no immediate plans to file state charges, said John Skidmore, a state attorney. He and other officials stressed that the case was still under investigation.
"At this time, we have no reason to believe, from what we know so far, that this gentleman or this officer's good work for APD has in any way been compromised or questioned," Skidmore said.
U.S. Magistrate John D. Roberts set bond at $50,000, and ordered Mora-Lopez to home-confinement and electronic monitoring. His defense attorney told the magistrate that Mora-Lopez has a wife and child in Alaska and has close ties to Anchorage, where he has lived since the late 1980s.
"He's not going anywhere," Dayan said.
The wife could not be reached by phone for comment Friday.
The passport fraud case is similar to one involving a Mexican national who took the identity of a dead cousin who was a U.S. citizen in order to become a Milwaukee police officer. Oscar Ayala-Cornejo was deported to Mexico in 2007.