Officials close to Marine Corps commandant discussed retaliation against newspaper, emails suggest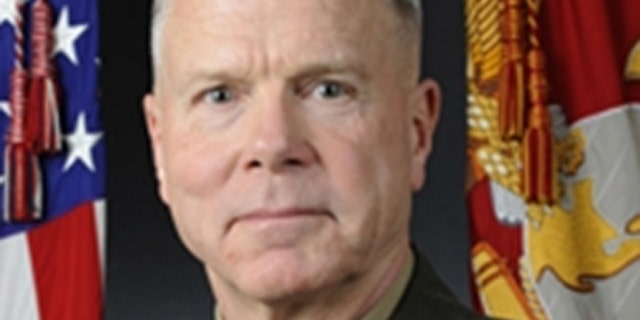 Newly published emails appear to show officials close to the Marine Corps commandant plotting ways to retaliate against the Marine Corps Times last year, several months before a decision was made to relocate the independent paper from prominent display in base stores.
The emails were published as part of an article reported by the newspaper Sunday.
The emails showed officials discussing ways to deal with the paper, suggesting the commandant, Gen. Jim Amos, was not happy with the publication days before it reported allegations he manipulated the military justice system.
"Every couple of years, we have a falling out with Marine Corps Times that warrants consideration of some level of 'ban' from our facilities," wrote Col. Chris Hughes, the deputy director of Marine Corps public affairs at the Pentagon, in an email last May, the paper reported.
"We believe that we may be close to such an impasse, and we want to present the commandant with options. We believe it becomes a 'good order and discipline' issue if (the commandant) believes he is being misrepresented by them," Hughes wrote. "On such grounds, could he prohibit their sale in our [Marine Corps Community Services] facilities? Or, could he place them somewhere less prominent?"
The "impasse" described in the email appears to be a Marine Corps Times report published four days later that alleges the commandant's involvement in manipulating the military justice system to ensure Marines were punished for making an inappropriate video in Afghanistan, the paper reported.
In December, copies of the newspaper were moved away from checkout lines at Marine Corps Exchange stores worldwide in what the service described at the time as an effort to "professionalize" counters. Amid growing criticism, the service ordered the newspaper returned to store fronts earlier this month, saying there was a "clear misunderstanding of intent," the Marine Corps Times reported.
It was not immediately clear why the newspaper was removed several months after the idea was first discussed.
While not denying the accuracy of the emails, Marine officials told Fox News that Amos did not make the decision to move the newspapers, and said they're conducting a "review" to figure out who gave the order.
The man responsible for carrying out the decision, Lt. Gen. Robert Milstead, appeared to be against the plan when he first heard the idea, as another official wrote in a leaked e-mail that it was "the dumbest idea (Milstead) has ever heard."
Rep. Walter Jones, R-N.C., has called for a congressional oversight hearing on the initial decision to hide the newspaper.