Obama's State of the Union Comments on Immigration Elicit Faint Praise and Frustration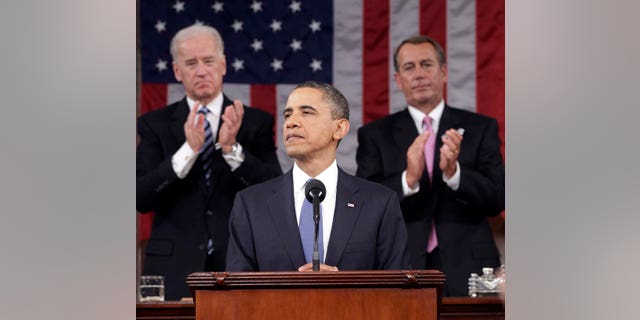 President Obama's appeal to Congress in his State of the Union address to work across party lines on immigration brought hope to some, but aggravation to others.
People who want a tougher approach to illegal immigration criticized the President's call for a pathway to legalization for undocumented students. They also objected to his support for helping students who come to the United States from overseas to study to stay here after they receive their degrees.
Rep. Lamar Smith, the Texas Republican who chairs the House Judiciary Committee, said in a statement: "It is hard to believe that the President would talk about the urgent need to create jobs, and then call for amnesty that would legalize millions of illegal workers who take jobs from U.S. citizens and legal immigrants."
Some Republicans, such as Sen. John McCain of Arizona, have indicated that they would consider proposals to legalize undocumented immigrants as long as enforcement is addressed first.
When Obama spoke Tuesday night of the need for enforcement, as well as the need to do something to bring "millions of undocumented workers who are now living in the shadows," TV cameras showed McCain applauding.
But Smith, whose committee oversees immigration in the House, has scoffed at the notion of providing a pathway to legalization, and has vowed to push for enforcement-driven immigration measures now that Republicans are the majority in the House.
"While more than 14 million Americans are desperately looking for work, seven million illegal immigrants have jobs in the U.S," Smith said. "The President should put American workers first and enforce immigration laws to make scarce jobs available for those legally authorized to work in the U.S."
Between 11 million and 20 million illegal immigrants are believed to be living in the United States.
Obama's remarks on immigration touched mainly on young undocumented immigrants – who had been the subject of an ill-fated bill, the DREAM Act, which sought to give students who came to the United States before the age of 16 and spend at least two years in college or the military a chance to obtain permanent U.S. legal residency.
During the lame-duck session last year, the House, where Democrats were the majority, passed the DREAM Act, but the Senate did not have enough votes to bring the measure to the floor for a vote.
On Tuesday, when Obama said it makes no sense to deport undocumented youth who "grew up as Americans and pledge allegiance to our flag, and yet live every day with the threat of deportation" and that it makes equally little sense to send back foreign students once they graduate, House Speaker John Boehner, R-Ohio, applauded.
Rep. Luís Gutiérrez, the Illinois Democrat who was the force behind the DREAM Act in the House, gave measured praise to Obama for raising the issue of undocumented students.
"I know he sees immigration as a key building block for our economic success and an asset in our international competitiveness, so I am glad it was part of the speech," Gutiérrez said in a statement. "It is no secret that I am always pushing him to do more to address the issue, but by including immigration in the speech, it makes it clear that the President knows it is not an issue that can be ignored or a problem that will resolve itself without his consistent and persistent attention."
But for others in Congress who support the DREAM Act – and comprehensive immigration reform that would include stricter enforcement and a pathway to legalization for undocumented immigrants of all ages – Obama's reference to immigration was not enough.
"I think it was good that he mentioned it, but I was hoping for more," Sen. Bob Menendez, New Jersey Democrat, told Roll Call, a Capitol Hill publication. "When he talked about it, I thought there'd be a broader discussion than what I heard."
Obama had campaigned aggressively on the immigration issue, promising – mainly to Hispanics – to bring about some form of comprehensive immigration legislation in his first year in office.
But many Hispanics, who gave him almost 70 percent of the vote, are frustrated over what they see as his half-hearted attention to immigration, especially compared to the energy he devoted to healthcare reform and other matters.
After last year's State of the Union address, many Hispanics and advocates of more liberal immigration policies criticized Obama for making only passing remarks on immigration.
Immigration attorney Michael Wildes, a former New Jersey mayor who has a firm in Manhattan, praised the President for mentioning immigration, but added that Obama's comments "had no teeth."
"He didn't say how he would see this issue through. He left millions of people still wondering what they should be doing" about legalizing their status, Wildes said. "Foreign students come to this country and get their degrees and are ready to be productive members of society. They start businesses that employ many U.S. citizens.
"It's still just wonderful talk from the President," Wildes added. "We need him to walk the walk."
Others say that no matter how driven the President may feel about achieving an overhaul of the immigration system – one that would tighten the porous borders, but also bring eligible illegal immigrants into compliance – he won't get very far without Republican cooperation.
After all, they note, even last year, with Democrats in control of both houses, efforts to push forth comprehensive immigration measures failed to gain momentum.
"He had to have the immigration issue in there. It's part of the laundry list," said Mark Krikorian, executive director of the Center for Immigration Studies, a Washington D.C.-based think tank that supports strict immigration policies. "But I don't think anything is going to happen, not with the [Republican-controlled] House. Even in the Senate, Democrats are barely a majority, and they're in a tenuous position. A lot of their people are up for re-election next year.
"He didn't emphasize immigration the way he did other issues," he added. "It was just a rhetorical salute to the issue, and that's it."
Advocates for a loosening of immigration laws say they will keep up the pressure on leaders of both parties to face the issue head-on.
"For more than two years, the National Immigration Forum has been urging the President to play a more active leadership role and keep his promise to reform the broken immigration system," said Ali Noorani, the forum's executive director.
"Simultaneously, we have been pressuring Republican leaders to work with Democrats to present a plan to fix this problem once and for all," Noorani said. "What we have seen so far, from both sides, on the unfinished business of immigration reform has been tremendously disappointing."
You can reach Elizabeth Llorente at Elizabeth.Llorente@FoxNewsLatino.com
Follow us on twitter.com/foxnewslatino
Like us at facebook.com/foxnewslatino