Obama's Speech at Arizona Memorial Service Could Set Tone for 2012 Election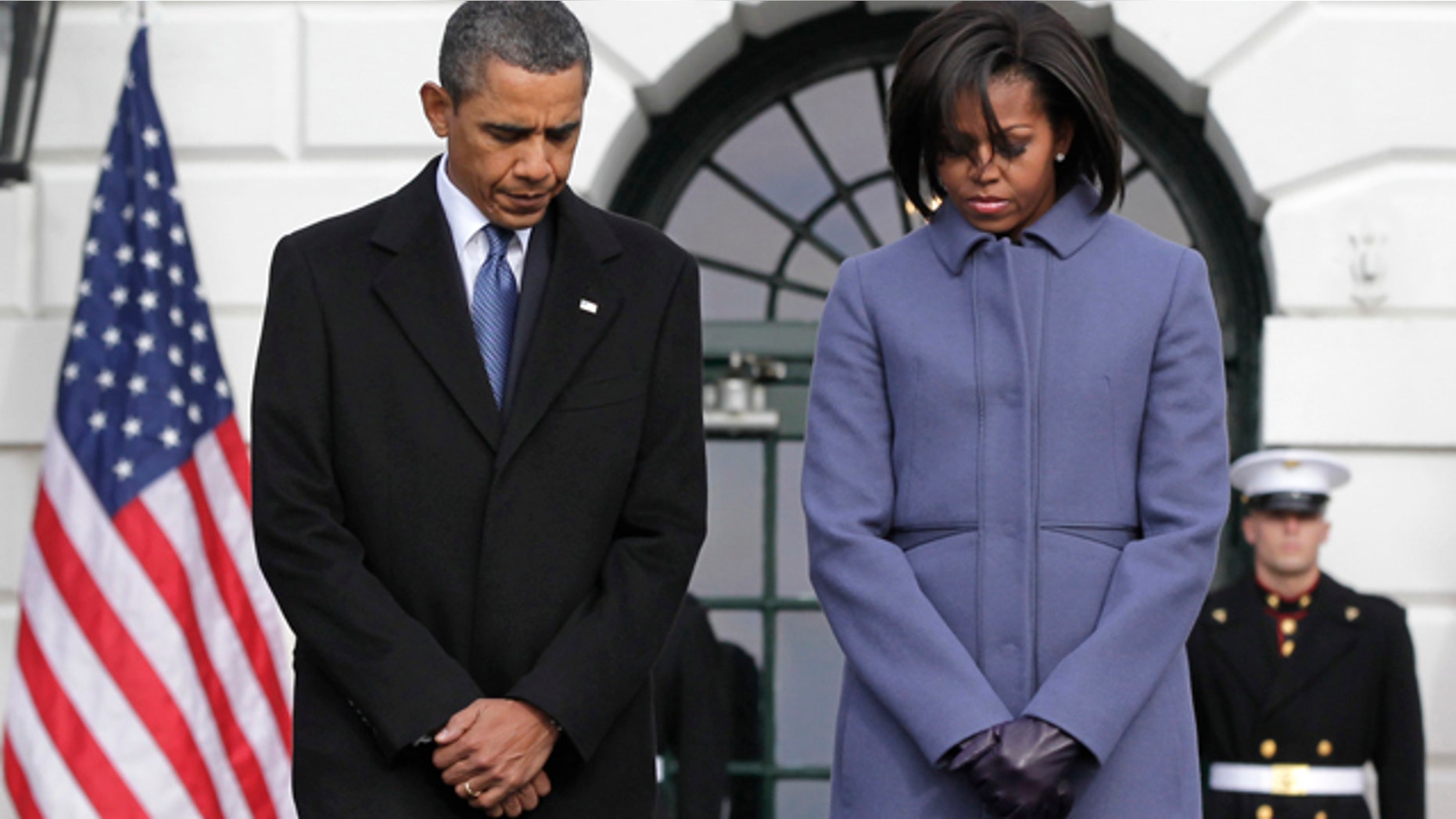 President Obama is preparing for what could be a defining moment in his presidency when he speaks Wednesday at a memorial service in Tucson, Ariz., the site of a shooting rampage that has shaken the nation over both the facts and fiction of the massacre.
The White House has said the speech will focus on the victims, heroes and those in Tucson affected by the alleged assassination attempt on Rep. Gabrielle Giffords, who remains in critical condition. Six others were killed and 13 besides Giffords were injured. Alleged shooter Jared Loughner so far has been charged with five federal counts of murder and attempted murder.
The president has already given an indication of his view of the shooting, which took place at a town-hall style meeting outside a Tucson Safeway supermarket.
"In the coming days we're going to have a lot of time to reflect," he said Monday during a photo-op with French President Nicolas Sarkozy. "Right now the main thing we're doing is to offer our thoughts and prayers to those who've been impacted, making sure that we're joining together and pulling together as a country. And as president of the United States, but also as a father, obviously I'm spending a lot of time just thinking about the families and reaching out to them."
For Obama, it's a challenging moment to reach out to the nation and it's sure to contribute to forming the discourse of campaign 2012. The president must demonstrate his leadership while not landing in the middle of the debate over whether heated political rhetoric contributes to violence -- an accusation made in the case despite no evidence suggesting that Loughner was motivated by politics.
"With Obama, there's an opportunity to be president of all Americans and rise above partisan politics," said Kathleen Kendall, a research professor at Indiana University and expert on American political campaign communication.
Kendall said it's possible the speech could help his re-election campaign if he doesn't play politics by taking "cheap shots" at certain groups.
The circumstances of Obama's speech are similar to what his predecessors faced: Bill Clinton after the Oklahoma City federal building bombing in 1995 and George W. Bush after the Sept. 11 terrorist attacks and the Virginia Tech shooting in 2007.
And just as his predecessors were able to seize those tragic moments to boost their political standing, Obama could use his presidential savvy to set the tone and message of the 2012 election.
Michael Franc, vice president of government relations at the Heritage Foundation, told FoxNews.com that Obama can use the speech to continue his effort to reach out to Americans in the middle of the political spectrum.
But he must follow up with "real action" -- the kind that makes prominent liberal voices like Huffington Post founder Arianna Huffington and New York Times columnist Paul Krugman "to blow a couple of gaskets," Franc said.
"He has to give life to the speech through his actions in the future," he said. "Otherwise, it's one news cycle."
For those suggesting the president should make a political point, a White House official said Obama believes this is a lot bigger than politics, and pointed out that the event is a memorial service.
University of Arizona President Robert N. Shelton argued that the service on Wednesday evening is no place for politics.
"To folks who'd rather the president not come, I have to remind them he is our president. In no way will this have political overtones. People can read into what they want. Hope people would move beyond that. There was a tragedy and the need to respond overrides political considerations," said Shelton, whose school is hosting the service.
But even as the president's advisers say he will rise above the political crossfire that erupted about political rhetoric, a prospective 2012 opponent is grabbing much of the spotlight in the debate.
Sarah Palin, the 2008 Republican vice presidential candidate, was involuntarily brought into the debate -- having been roundly condemned for inciting people, even if not Loughner; responding by saying political rhetoric is a cornerstone of public debate; and then being condemned again for supposedly not getting it.
Palin jumped into the fray Wednesday, saying in a video post on Facebook that enthusiastic rhetoric -- as long as it's peaceful -- has a place in democratic debate.
"We will not be stopped from celebrating the greatness of our country and our foundational freedoms by those who mock its greatness by being intolerant of differing opinion and seeking to muzzle dissent with shrill cries of imagined insults," she said.
Former Minnesota Gov. Tim Pawlenty, another prospective 2012 candidate, said he disagrees with the president on just about every topic, but noted that Obama has an opportunity to capitalize on the Wednesday speech.
"It is a leadership lesson. Make sure before you make big pronouncements, big decisions that you have the facts right," he said.
Michael Gerson, a former speechwriter for President George W. Bush who crafted the president's words after the Sept. 11, 2001, terrorist attacks and following the space shuttle Columbia disaster, also laid out the challenge for Obama.
"You have to somehow embody the emotions of the nation. Not just say the right words," he told Fox News. "And that's a challenge for this president, who can be eloquent but often not emotional."
Fox News contributor Juan Williams said the president would be taking "exactly the wrong bit of advice" if he were to follow his left-wing base and view the speech as "an opportunity to try and silence some of the voices on the right that have been dominating the national conversation."
"I think if the president were to accept that advice, he would lose the opportunity to speak to most Americans and to, I think, help himself and help this nation get over the sense of loss of innocence, the tragedy here," he said.
Wednesday's speech isn't the first time Obama has dealt with the aftermath of a crisis. He sought to help the country make sense of the mass shooting at Fort Hood, Texas, in November 2009 that left 13 people dead and 29 wounded by a fellow solider, an Army officer.
But where the president's response to that tragedy left many wanting more, supporters say they hope this time Obama will have a moment like Bill Clinton's, who, as president, comforted the nation following the Oklahoma City bombing.
"The anger you feel is valid, but you must not allow yourselves to be consumed by it," Clinton said at the time. "The hurt you feel must not be allowed to turn into hate, but instead into the search for justice."
Clinton won re-election in 1996 despite his Congress taking a proverbial beating in the 1994 midterm.
In 2007, Bush, who was already in his second term but was suffering from dismal approval ratings, also tried to help the Virginia Tech community and the nation make sense of a tragedy the day after a gunman shifted the focus on campus from learning to mourning.
Fox News' Mike Emanuel contributed to this report