Obama's mystery fee for Italy speech renews debate over lucrative lecturing by ex-presidents
President Obama took heat from friend and foe alike by signing on for a pair of speeches at $400,000 apiece, but a mystery fee for a climate change address in Milan this week could leave those deals in the dust.
Neither Team Obama nor Seeds & Chips, the organization hosting the May 8-11 Italian summit, will say how much Obama is getting paid. That prompted wild speculation from one publication, which did a back-of-the-napkin estimation that put Obama's payment at a potential $3.2 million.
While that number appears to have been the total cost for all 3,500 tickets to the event on how food innovation can save humanity from climate change, which went for 850 euros, or $925, a piece, it still leaves open the question of how much Obama got.
The Express replaced its previous piece with an updated story that made no mention of any speaking fee, and representatives for the former president did not return Fox News' request for comment. Michela Gelati -- a spokesperson for Seeds & Chips, -- told Fox News that they did not have the information.
The secrecy surrounding the ex-president's potential payday comes after he raised eyebrows by striking two lucrative deals that seemed to contradict his image as a champion of the 99 percent. Fox Business Network broke a story in late April about the $400,000 he'll pull in this upcoming September for a talk on health care at a Wall Street conference run by Cantor Fitzgerald, a big Wall Street firm.
"With regard to this or any speech involving Wall Street sponsors, I'd just point out that in 2008 Barack Obama raised more money from Wall Street than any candidate in history -- and still went on to successfully pass and implement the toughest reforms on Wall Street since FDR," Eric Schultz, a spokesman for Obama, told Fox News.
He added that the former president will continue to give the occasional speech, but he will devote much of his time to writing his book and "focusing his post-presidency work on training and elevating a new generation of political leaders in America."
Less than a week after news broke about his planned speech at the Cantor Fitzgerald conference, The New York Post reported that Obama was paid another $400,000 for his appearance at the A&E Networks advertising upfront at The Pierre Hotel in New York City, where he was interviewed by historian Doris Kearns Goodwin for more than 90 minutes in front of the cable network's advertisers.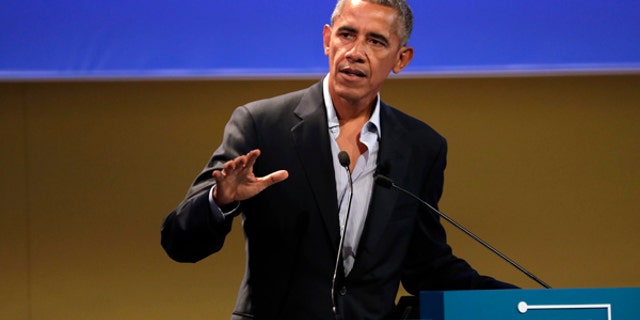 While Obama's speaking fees may be nothing new for a former president, he also has come under scrutiny for allegedly using his tax-exempt Obama Foundation as a money generator.
Obama's foundation is in place to raise money for his presidential library, but critics warn that the operation is starting to look like the controversial Clinton Foundation, which took in tens of millions of dollars and sparked "pay-to-play" accusations. In an apparent effort to avoid such comparisons, Obama said in January that he would not accept contributions from for-profit entities, federal lobbyists or foreign nationals or agents while in office.
Despite the criticism, it is not uncommon for former presidents to get big bucks to give speeches once they leave the Oval Office.
Harry Truman wouldn't give speeches for money and called the practice exploitive, but that did not stop Gerald Ford, who was the first president known to take advantage of the speaking circuit after leaving office. Ford earned as much as $40,000 per speech after leaving office in 1977 – or more than $165,000 in 2017 if inflation is taken into account.
Bill Clinton, who normally charges between $250,000 and $500,000 per engagement, was paid a whopping $750,000 to give a talk in Hong Kong in 2011, while his successor, George W. Bush, has reportedly made somewhere between $20 million and $35 million in speaking fees since he left office in 2009. Shortly after leaving office in 1989, Ronald Reagan was paid around $2 million to go on a speaking tour of Japan.