ObamaCare push may show Senate Republicans 'getting there'
NEWYou can now listen to Fox News articles!
Senate Republicans are trying again to repeal and replace ObamaCare, pushing a measure that would give states broader authority through block grants and which appears to have wide support among GOP members. But the deadline to pass such a measure ends in just days, with leaders of the GOP chamber skeptical about another failed and damaging attempt.
Sen. Bill Cassidy, R-La., says he's just one or two votes shy of the minimum 50-vote threshold, with 52 Republicans senators in the chamber. He said last week that Democrats and Republicans alike have said, "If we give states the flexibility to come up with their own solutions, they will find solutions that work better for their states than" ObamaCare.
"It looks like they are getting there," counselor to the president Kellyanne Conway on Monday told Fox News' "Fox & Friends."
Conway, like Cassidy, says the plan also has support among governors, with 34 of the country's 50 being Republican. And she made clear again how important the GOP-controlled Congress passing such a measure is to President Trump, who made dismantling ObamaCare a key campaign promise.
"This president wants to deliver health care to the 29 million Americans who don't have it," she also said Monday. "He's ready."
The 100-member Congress has until Sept. 30 to pass the bill under the so-called budget resolution process, in which bills that also identify deep cuts to federal spending require only a simple majority for passage.
Cassidy, a medical doctor, reportedly said Friday that he can get the votes by the deadline. The bill is co-sponsored by fellow Republican Sen. Lindsey Graham, of South Carolina.
Senate Democrats also appear to think the Graham-Cassidy bill is for real.
Senate Minority Leader Chuck Schumer, D-N.Y., tweeted a "red alert" about it on Twitter this past weekend.
"Trumpcare is back & Senate GOP has until Sept 30 to pass their bill," he tweeted. "We need your voices more than ever!"
Still, the chamber's GOP leaders remain wary of holding another potentially failed vote, despite intense pressure from Trump.
Senate Majority Leader Mitch McConnell, R-Ky., had to delay a repeal-replace vote in July, upon realizing he didn't have enough support, only to have a leadership-backed bill fail in August by just one vote.
Meanwhile, Sen. Bernie Sanders, I-Vt., has introduced a bill that attempts to have the country move to a single-payer health care system, which essentially is a federally run program for every American.
Cassidy on Friday playfully called the measure "BernieCare," but warned the idea speaks to the depth of problems with the existing U.S. health care system.
"He would not be putting that forward if he thought that the status quo was working," Cassidy said.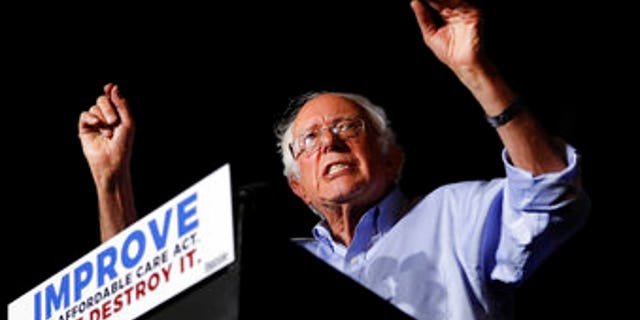 Sanders acknowledged as much Sunday.
"I think the immediate concern is to beat back these disastrous Republican proposals that would throw millions and millions of people off of the health insurance," he said on NBC's "Meet the Press." "It's not going to happen tomorrow. I totally admit that. But we need to put benchmark down there and go forward."
The Graham-Cassidy bill purportedly has support from Sens. Ron Johnson, R-Wis., and Sen. Dean Heller, R-Nev.
However, Sen. Susan Collins, R-Maine, a holdout on previous repeal-replace efforts, has not publicly expressed support.