ObamaCare bailout train gains steam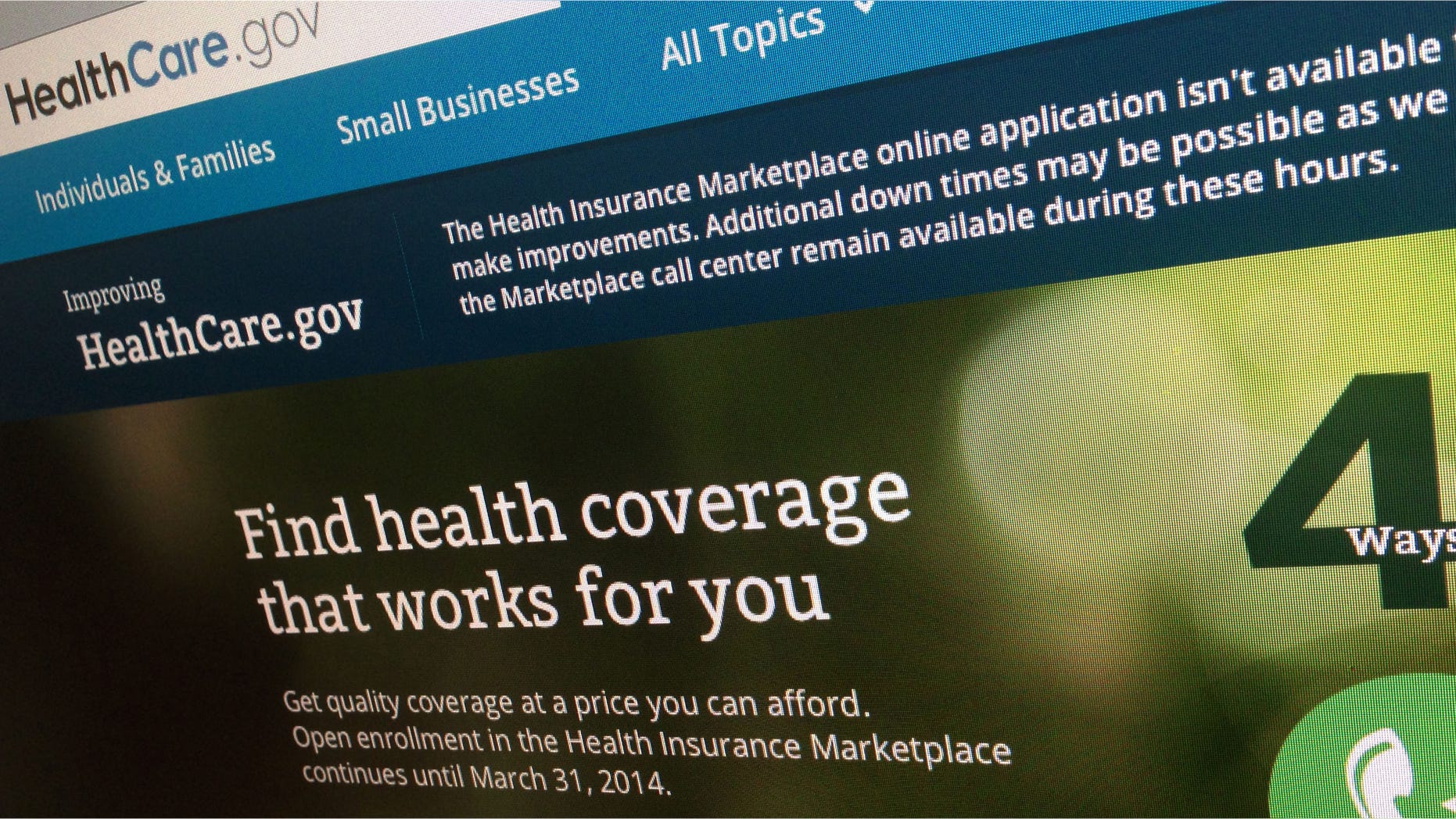 ** Want FOX News First in your inbox every day? Sign up here.**
Buzz Cut:
* ObamaCare bailout train gains steam
* Trillion-dollar baby
* Oh, Uncle Hassan
* Past is present for Christie after bridge debacle
* McDonnell left a surprise in the bathroom
OBAMACARE BAILOUT TRAIN GAINS STEAM
What will the White House say about young consumers spurning ObamaCare? What will insurers say about growing anger over a promised bailout if, as expected, the new law causes chaos in the industry? When will urging and tweeting and cajoling of young Americans turn into un-hipster, non-ironic threats of fines? Somebody better call "Pajama Boy," because the first demographic snapshot of ObamaCare signups looks like a mess. The shorthand: President Obama's signature entitlement program needs 40 percent of its enrollees to be paying customers in the prime 18-34 age range. Otherwise, the risk pool will be too shallow and insurers will have to jack up rates even more on everyone else in order to stay solvent. The first numbers show only 25 percent of enrollees are in the most desirable demographic. The administration has until the end of March to herd people into the program, but if older, sicker and more costly customers continue to so heavily outnumber the young, "risk corridors" (a.k.a. bailouts) built into the law are sure to see some traffic.
[Daily Caller shares the story of former ObamaCare supporter Steve Freiss unfortunate experience with Healthcare.gov.]
Rubio ready - Whatever anyone tells you, the next big ObamaCare battlefield will be over these bailouts. Sen. Marco Rubio, R-Fla., got there first and is holding the high ground with his bill to block the funds from flowing. But no matter how much American's dislike the idea of an insurance bailout, they would like even less the idea of a "death spiral" resulting in escalating premiums for all, including those with employer-based insurance. The end of the spiral comes when the whole marketplace goes kablooey and everybody has to go sign up for Medicaid. Team Obama would much rather be the one playing populist cards right now, but their go-to move of scourging big insurance won't work when the administration is trying to keep the industry placated and solvent in order to avoid an even bigger election-year uproar.
ObamaCare prompts Congressional staff bolt? - A survey by the Congressional Management Foundation shows nearly four in 10 senior congressional staffers say they will be looking for new work as a result of ObamaCare.

[Washington Examiner's Byron York asks Will IRS bully people to sign up for Obamacare?]

¡Bienvenidos! - The Republican National Committee greeted Health Secretary Kathleen Sebelius with Spanish-language radio ads for her visit to Florida Monday.  The ad featured the President Obama repeating his oft repeated "if you like it" pledge to Univision's Jorge Ramos and invites listeners to visit an RNC Spanish-language ObamaCare Web page.
TRILLION-DOLLAR BABY
Congressional negotiators have unveiled a $1.1 trillion dollar spending bill that would fund federal agencies through the end of September. Sen. Barbara Mikulski, D-Md., and Rep. Harold Rogers, R-Ky., hammered out the measure which spells out the details of the broader budget agreement struck last month. The House will vote on a short-term spending bill today to avert another government shutdown, giving the Senate until midnight Saturday to approve the proposal. Fox news has more.
[Watch FoxNews.com: Rep. Charlie Rangel, D-N.Y., appears on "Power Play with Chris Stirewalt" in the 11:30 a.m. ET half hour]
Details, details - The measure continues the federal ban for directing funding of abortions but leaves a loophole for Planned Parenthood, the taxpayer-subsidized group that is America's leading provider of abortions. It blocks the transfer of prisoners from the U.S. prison at Guantanamo Bay, Cuba. Vice President Joe Biden would also see a pay freeze under the bill. WaPo details the winners and losers.
Wait, this sounds kind of familiar… - The Playbook lede today is an onpassed email from top White House communications aide Dan Pfeiffer: "President Obama has a resolution for 2014: that this will be a year of action. ... He will be looking for areas of bipartisan cooperation, but he won't be waiting on Congress to act. Instead, the President will use his executive authority, both his pen and his phone, to work with anyone to get things done -- whether they be leaders in business, education, Congress, states, or local communities ... [W]hen the President travels to North Carolina this Wednesday, he'll announce a new public-private effort to boost advanced manufacturing that attracts the kind of well-paying jobs that sustain a growing middle class. ... [I]f you're in, then let President Obama know you're standing behind him." Billed as a preview of the president's Jan. 28 State of the Union address, the message sounds like exactly what Obama has been promising for years: to turn community organizing into policy action, not just political victories for himself. But, c'mon…
[Ed. note:  What did you expect them to say? "Let's revisit ObamaCare?"]
KAGAN: SENATE DETERMINES WHEN IT IS IN RECESS
"Supreme Court justices voiced skepticism regarding President Obama's recess appointment powers, in the first such case to be considered by the high court…. While the justices repeatedly called those powers into question, Solicitor General Donald Verrilli warned the court that it would essentially write that power out of the Constitution if it found that those appointments were illegal. But Justice Elena Kagan seized on the political dispute to make the point to Verrilli that "congressional intransigence" to Obama nominees may not be enough to win the court fight. Kagan, Verrilli's predecessor as Obama's top Supreme Court lawyer, suggested that it "is the Senate's role to determine whether they're in recess." More.
"I don't think [justices are] going to be persuaded that the president and the head of the executive branch gets to determine for the legislative branch when we're in session. We know when we're in recess. We were not in recess. [President Obama] decided to declare us in recess and make the appointment anyway."—Sen. Minority Leader Mitch McConnell on "The Kelly File"
[Human Events/Gravis Kentucky GOP Senate primary poll: Mitch McConnell, 53 percent; challenger Matt Bevin, 31 percent]
THE BENGHAZI PAPERS: CHALLENGING THE NARRATIVE
Newly declassified testimony about the Sept. 11, 2012 terrorist attacks in Benghazi, Libya is shedding light on what exactly defense officials knew about the attack as it was occurring. "Minutes after the American consulate in Benghazi came under assault on Sept. 11, 2012, the nation's top civilian and uniformed defense officials -- headed for a previously scheduled Oval Office session with President Obama -- were informed that the event was a 'terrorist attack,' declassified documents show. The new evidence raises the question of why the top military men, one of whom was a member of the president's Cabinet, allowed him and other senior Obama administration officials to press a false narrative of the Benghazi attacks for two weeks afterward." Correspondent James Rosen shares some of the testimony and how it challenges what the administration says it knew about the attacks.
[The transcripts also detail just how woefully unprepared the U.S. Military was for the attacks and debunks rumors that military issued stand down orders. National Security Correspondent Jennifer Griffin has the story.]
YOU HAVE A SEAT ON THE PANEL: BENGHAZI FACT VS. FICTION
The reason for the administration's clouded Benghazi response was an attempt to make President Obama look strong on terror ahead of the 2012 of election. That was the opinion viewers across the political spectrum shared with columnist Charles Krauthammer during Monday's "Special Report with Bret Baier" All-Star Panel. As measured by Bing Pulse, Republicans, Democrats, independents, men and women agreed with Krauthammer when he stated the use of doctored talking points "was a way to maintain the fiction, as an election was approaching." Weekly Standard Senior writer Stephen Hayes also drew strong agreement across party lines when he asked why the administration waited two years to acknowledge the reality about Benghazi.
Discussion of ObamaCare's enrollment numbers drew increased viewer engagement. Krauthammer's call for Republicans to pass a measure in the coming weeks to abolish a bailout for insurers saw a spike in viewer votes. Intensity from audience panelists rose to 22,000 votes per minute on that point. Bing Pulse tracked 181,000 viewer votes, see the full results here. We report, you decide and now you have the opportunity to make your voice heard by taking a seat on the panel.
SECRET SIDE DEAL IN IRAN AGREEMENT, TEHRAN OFFICIAL SAYS
From LAT: "Key elements of a new nuclear agreement between Iran and six world powers are contained in an informal, 30-page text not yet publicly acknowledged by Western officials, Iran's chief negotiator said Monday. Abbas Araqchi disclosed the existence of the document in a Persian-language interview with the semiofficial Iranian Students News Agency…[The document] deals with such important details as the operation of a joint commission to oversee how the deal is implemented and Iran's right to continue nuclear research and development during the next several months…Araqchi described the joint commission as an influential body that will have authority to decide disputes. U.S. officials have described it as a discussion forum rather than a venue for arbitrating major disputes."
[Oh, Uncle Hassan - @HassanRouhani: "Our relationship w/ the world is based on Iranian nation's interests. In #Geneva agreement world powers surrendered to Iranian nation's will"
NO CHARGES FOR IRS TARGETING SCANDAL
A Department of Justice probe will not result in criminal charges for those IRS agents who targeted conservative groups opposed to President Obama and his party in 2010 and 2012. The WSJ first reported: "investigators didn't find the kind of political bias or 'enemy hunting' that would amount to a violation of criminal law. Instead, what emerged during the probe was evidence of a mismanaged bureaucracy enforcing rules about tax-exemption applications it didn't understand, according to the law-enforcement officials." House Republicans aren't buying it, especially since the woman who led the investigation, Barbara Bosserman, was recently revealed to be a substantial Democratic donor. Fox News has more.
WITH YOUR SECOND CUP OF COFFEE...
National Review's Victor Davis Hanson argues the battle to place equality ahead of liberty runs contrary to human nature. From The Idol of Equality: "The effort to take away freedom, both violent and insidious, in order to ensure equality of result has a sad history, from the degeneration of Athenian democracy in the late fourth century B.C. to the French Revolution to, in the postwar era, the Sovietization of Eastern Europe, the destruction of civil societies in Africa and Latin America, the implosion of the European Union, the current mess in François Hollande's France, and chaos in American cities like Detroit."
Got a TIP from the RIGHT or LEFT? Email FoxNewsFirst@FOXNEWS.COM
POLL CHECK
Real Clear Politics Averages
Obama Job Approval: Approve – 42.0 percent//Disapprove – 53.4 percent
Direction of Country: Right Direction – 29.3 percent//Wrong Track – 62.8 percent
Generic Congressional Ballot:  Democrats – 42.5 percent// Republicans 42.0percent
PAST IS PRESENT FOR CHRISTIE AFTER BRIDGE DEBACLE
As Gov. Chris Christie, R-N.J., gears up to deliver his State of the State address tonight, he would like to talk about second-term proposals such as lengthening the school calendar. But the klaxon horn of scandal will ring louder, as the political press rifles through his past looking for items made newly relevant by the admission that his top aides conspired to punish an uncooperative local politician by creating a days-long traffic nightmare for New York commuters. Rep. Frank Pallone, D-N.J. put the word out that a federal audit will look into questions over the award of $25 million of Hurricane Sandy relief funds in a marketing campaign to entice tourists to the Garden State. Sen. Ran Paul, R-Ky., like Christie a potential 2016 contender, was the first to make a stink out of Christie's taxpayer-funded election year ad campaign, calling the spots "offensive." Republican primary voters in New Hampshire or South Carolina might not be moved too much by a scandal over commuter lanes on a New York bridge, but they sure don't like federal waste. Neither will the defense of the ads from Christie aides to Daily Caller's Alex Pappas: Obama said it was okay.
Fuggedaboutit, Fulop - Adding to the Christie pile up:  Reports that Christie staffers aggressively courted Steve Fulop, the newly-elected Democratic mayor of Jersey City after he took office last summer, but then abruptly dumped him when the mayor declined to endorse the governor's reelection bid.

Dinged but not dented, so far - Christie holds a 59 percent approval rating among New Jerseyans in a Monmouth University/Asbury Park Press poll taken over the weekend, down only 6 percent from last month. The poll also shows most Garden State residents, 52 percent, do not feel he was involved with the plot to cause a traffic jam on the George Washington Bridge. Nationally, 60 percent of respondents to a Pew poll say their opinions of Christie remain unchanged. Pew's poll also shows relatively few American's, 18 percent, are paying close attention to the controversy.
[David Drucker examines how Gov. Chris Christie's troubles may have damaged his standing among the establishment Republican insiders: "These insiders include experienced party operatives and wealthy donors whose backing would be crucial to assembling a successful presidential campaign operation."]
Bridget over troubled waters - From NYT : "Friends, Trenton operatives and people who have recently been in touch with … [Bridget Kelly] said that the portrait of her that had emerged — as a vengeful rogue operative — did not square with the woman they knew. And while they were careful not to discuss with her what happened, let alone ask why, they said that her actions were highly uncharacteristic for someone who had always been a loyal soldier, but never a rule-breaker… Even now, after Mr. Christie's denunciation of her, friends of Ms. Kelly said she sounded as devoted to him as ever. 'Her unrequited loyalty is not wavering,' a friend said."'
BETTER GET READY, MR. SECRETARY
Secretary of State John Kerry waved off questions about having been named to former Secretary of State Hillary Clinton's "hit list," which included spreadsheet rankings from one (most helpful) to seven (enemies) of her fellow Democrats following Hillary's failed 2008 run. Kerry was afforded enemy status on the list, revealed in a new book that highlights some of the vendettas of the Clinton organization, for failing to endorse Hillary in 2008. Kerry aides told The Hill that Clinton provided generous advice when she turned over the reins at the State Department.
Clintonology - What better way to remind her fellow Democrats of the long institutional memory and extravagant and baroque loyalty code of the House of Clinton than to actually release the hit list? Far from a scandal, this leak looks like an excellent way to remind Democrats of the consequences of failing to be sufficiently ready for Hillary…
He could have at least brought some ketchup - Secretary of State John Kerry sought to lighten the mood during a meeting with his Russian counterpart Sergey Lavrov in Paris. Kerry offered Lavrov two large Idaho potatoes, remembering he had previously extolled the state's tubers to Lavrov. Lavrov's reaction: "Impressive." In exchange, Lavrov offered up a pink ushanka (the ubiquitous Russian fur hat) for Kerry spokeswoman Jen Psaki. The BBC has more.
PICK SIX: HAGAN HARRIED
The path to Republicans winning back the Senate in November requires flipping six seats currently held by Democrats. Fox News First wants to know which six seats you think are the most likely to go from blue to red. Here's your current consensus (in order of times selected): Arkansas, Montana, Louisiana, West Virginia, South Dakota and North Carolina. Reader Kathleen Burgess of Charlotte notes that North Carolina is not as blue as some may think and that Sen. Kay Hagan will not get any down-ballot boost this November. Burgess writes, "Romney won NC in 2012, and without any coattails to help her, I think Hagan is toast."
Share your top six picks. Email them – just your top six, please – to FOXNEWSFIRST@FOXNEWS.COM or tweet @cstirewalt
[A spokesman for Sen. Kay Hagan, D-N.C., tells Fox News she will not be in attendance for President Obama's visit to Raleigh on Wednesday.]
THE ED SHOW: THIESSEN MAKES CONSERVATIVE CASE FOR GILLESPIE
Marc Thiessen,former speechwriter for President George W. Bush, considers how the expected entrance of former Republican National Committee head Ed Gillespie in Virginia's Senate race should cause Sen. Mark Warner, D-Va., to worry: "Some have suggested that, as a former Bush official, Gillespie may not be seen as sufficiently conservative to satisfy the tea party activists and social conservatives who dominate the Virginia Republican Party. They are mistaken. I worked closely with Gillespie in the White House, and he was a forceful champion for conservative policies in the Bush administration. When some White House advisers tried to get President Bush to support cap and trade, Gillespie stopped it cold. He opposed the auto bailout. On his advice, Bush awarded the Presidential Medal of Freedom to Henry Hyde for his years of service to the pro-life cause, invited March for Life participants to the White House and spoke to the Conservative Political Action Conference for the first time." Virginia Republicans can expect to hear more about such bona fides ahead of the state GOP's nominating convention in June.

CITIZENS UNITED GETS BEHIND COMSTOCK
Following her announcement last week that she will seek Rep. Frank Wolf's, R-Va., Congressional seat when he retires this November, State Delegate Barbara Comstock is getting the backing of Citizens United Political Victory Fund. Politico reports the group has pledged $5,000 for her primary and another $5,000 for the general election. The group is backing Comstock over another challenger for Wolf's seat, state Sen. Dick Black, because they see her as the future of the conservative movement and feel she is "a proven winner in tough elections."
MICHIGAN SENATE SEAT UP FOR GRABS
Michigan Democratic Senate hopeful Rep. Gary Peters is facing a tougher-than-expected race against former Republican Secretary of State Terri Lynn Land. Democrats had expected the seat to remain safe, but the latest RCP average has the race in statistical dead heat.
ELECTION DAY: FLORIDA VOTERS CHOOSE SINK OPPONENT
Tampa-area Republicans head to the polls today to pick a candidate to replace the late Rep. Bill Young, a Republican who represented the region for more than 40 years. Failed 2010 Democratic gubernatorial nominee Alex Sink is unopposed in her primary and getting lots of help from national Democrats looking to make the race an example of how Republican divisions can help Democrats win in an inclement political environment. On the Republican side, lobbyist and former Young aide David Jolly has a lead in fundraising and is favored to defeat state Rep. Kathleen Peters. The winner of today's primary will face Sink in a March 11 special election. Roll Call has more.
CALIFORNIA'S MILLER RETIRING AFTER 40 YEARS
One of the Democrat's leading voicing in crafting ObamaCare is retiring. Rep. George Miller, D-Calif., is a longtime adviser to House Minority Leader Nancy Pelosi and ranking Democrat on the House Education and Workforce Committee. The seat is considered safely Democratic.  More.
CRUZ HIRES FIRED HOUSE STAFFER
Sen. Ted Cruz, R-Texas, has hired Paul Teller, the former top aide to the conservative House Republican Study Committee, fired for leaking to outside conservative groups. WaPo has more.
MCDONNELL LEFT A SURPRISE IN THE BATHROOM FOR MCAULIFFE
It's a tradition in Old Dominion politics for the outgoing governor to play a few tricks on the incoming one. Former Gov. Bob McDonnell, R-Va., followed suit and left a few surprises in the governor's mansion for his predecessor. Gov. Terry McAuliffe's, D-Va., wife was awoken to an alarm clock McDonnell left hidden in a drawer. McAuliffe was also greeted by a stuffed black bear in his office's bathroom. WTVR has more.
[Note to self: Remember to get coffee - Study: Caffeine can improve memory]
FROZEN FISH STICKS
Thousands of herrings chased toward shore, possibly by the dive-bombing of hungry cormorants, met a different fate when a sudden Arctic blast froze the shallow seawater in a shallow Norwegian bay. A dog owner walking his pooch along the shore found the huge school of little fish frozen in mid churn. The pictures are awesome. See them courtesy of Gizmodo.
AND NOW, A WORD FROM CHARLES…
"[President Obama] said he ended the Iraq war.  No. It was [General] David Petraeus who ended the Iraq war, and we won. The civil war was over. Al Qaeda was utterly defeated and indeed humiliated…We were in a position to conclude a strategic agreement where Iraq would have been our ally. [President Obama] had three years to do that and he failed…The fact is we've given Iraqi air space over to Iran. We've given essentially the running of Iraq over to Iran, because when we leave a place and we create a vacuum the bad guys come in." –Charles Krauthammer on "The O'Reilly Factor"
Chris Stirewalt is digital politics editor for Fox News. Want FOX News First in your inbox every day? Sign up here. To catch Chris live online daily at 11:30 a.m. ET, click here.