Obama Troop Cuts Went Beyond Largest Withdrawal Offered By Top General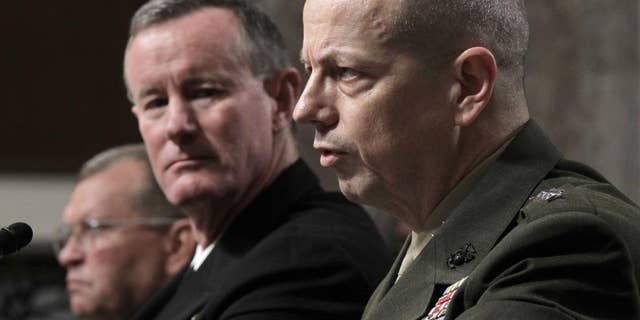 Marine Lt. Gen. John Allen, nominated to replace Gen. David Petraeus as head of coalition forces in Afghanistan, acknowledged Tuesday that President Obama's decision to draw down 10,000 troops by the end of this year and the rest of the surge forces by September 2012 was not one of the options proposed to the president by Gen. Petraeus.
The admission came during questioning from Sen. Lindsey Graham, R-S.C., during Allen's nomination hearing in front of the Senate Armed Services committee.
GRAHAM: The option that the country has chosen through President Obama is to withdraw 10,000 this year, all surge forces gone by September. Is it fair to say, General Allen, that was not one of the options presented to the president by General Petraeus?
ALLEN: It is a more aggressive option than that which was presented.
GRAHAM: My question is, was that a option?
ALLEN: It was not.
GRAHAM: So I just want the country to understand that this is not the Petraeus strategy any longer. The commander in chief has the perfect right to do what he did. I just hope that it hasn't undercut what I think could be a very successful outcome.
Like Allen -- General Petraeus and Adm. Mike Mullen, Chairman of the Joint Chiefs of Staff, both testified to Congress last week that the President's plan was "more aggressive" than they had anticipated, but were very careful not to reveal the personal advice they offered the president leading up to his decision.
Senator Graham and Sen. John McCain, R-Ariz., both of whom sit on the armed services committee, were critical of the new timeline announced by the White House last week. McCain told Gen. Allen his job in Afghanistan will be more challenging based on this drawdown.
"I hope I'm wrong," McCain said, but "I'm very concerned the President's decision poses unnecessary risk."
Graham said it's important to make sure the politicians who make decisions that affect the war are held accountable. "If it turns out well, we get the credit. If we've done some things to undermine the effort, then people will notice where the blame lies."