Obama to Campaign for Embattled Boxer, Reid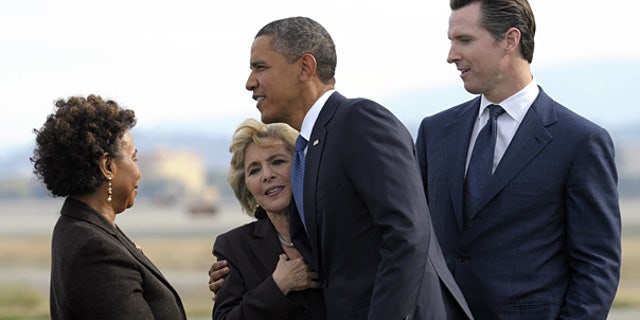 SAN FRANCISCO -- President Barack Obama waded into two of the highest-profile campaigns ahead of the Nov. 2 elections, urging support for veteran California Democrats who face challenges from wealthy Republican businesswomen.
He's expecting a double dose of cheer on Friday when he headlines a pair of rallies to boost two high-profile Democrats in tossup races: California Sen. Barbara Boxer and Senate Majority Leader Harry Reid of Nevada.
"We are excited about these last 10 days" before the Nov. 2 election, Obama said Thursday night.
Democrats hope Obama will give a boost to Boxer in a race that's crucial to the party's hopes for keeping control of the Senate. Democratic prospects in the Senate are better than in the House of Representatives, where Republicans are favored to win a majority.
At every stop, Obama is reminding audiences of the passion they felt in 2008 when they helped elect him and is urging them to keep the feeling alive amid the weight of the worst economic downturn in a generation.
But the task of turning out voters is harder this time around. Turnout typically is lower in non-presidential election years, and the party in control of the White House traditionally loses seats in Congress in the off years.
Obama is trying to energize Democratic voters against Republicans, who have been boosted by the ultraconservative tea party movement and are seen as far more enthusiastic about voting.
At stake are all 435 seats in the House of Representatives and 37 of 100 places in the Senate. Thirty-seven state governorships also are in play. Republicans are forecast to easily retake control of the House, diminish or even erase the Democrat majority in the Senate and capture a majority of the races to fill governors' mansions.
More Republicans could translate into scant progress on the to-do list for the second half of Obama's presidency.
In California, a recent poll showed Sen. Boxer's lead narrowing over Republican Carly Fiorina, a former Hewlett Packard CEO.
In the gubernatorial race, Democrat Jerry Brown -- a former governor and the current attorney general -- is leading Republican Meg Whitman, a former chief executive of eBay.
California, the most populous U.S. state, tends to vote Democratic, though the outgoing governor, former actor Arnold Schwarzenegger, is a Republican.
In Nevada, Sen. Reid is a top Republican target competing in the most closely watched Senate matchup this year. Reid helped push Obama's economic recovery, health care and financial regulation bills through the Senate as majority leader but he's paying the price as a result. He is unpopular in his home state, which is suffering economically and is plagued by the nation's highest rates of unemployment (14.4 percent) and home foreclosures.
Obama is in the midst of his longest campaign swing as president, a four-day trip through five states, trying to beat back a swelling Republican tide that is cresting on voter anger over slow economic recovery and unemployment stuck near 10 percent.
In a last-ditch effort to prevent electoral disaster, Obama and Democratic allies are vigorously wooing women voters, whose usually reliable support for Democrats appears to have softened.
On Thursday in Seattle, Obama said "how well women do will help determine how well our families are doing as a whole." Accompanied by women who own businesses, he spoke in a family's backyard about the economy's effects on women and outlined ways he said his policies have helped them.
Allocating the president's valuable time is part of the tricky balance for the White House -- deploying Obama to the right places to stir up enthusiasm and re-energize first-time voters from two years ago even as he tries to keep people from viewing the election as a referendum on him and the battered economy.
Half of likely voters say how they vote on their House race won't be affected by Obama at all, according to a new Associated Press-GfK poll. Yet almost as many said they will, in fact, base their House vote in part to send a message about Obama -- 26 percent to oppose him, 23 percent to support him. Another AP-GfK poll, on Obama's historic health care law, found that tea party enthusiasm for repeal has failed to catch on, which may be a problem for Republicans vowing to strike down the law.
Among likely voters, 36 percent said they want to revise the law to do more to change the health care system. A nearly identical share -- 37 percent -- said they want to repeal it.
Only 15 percent said they would leave the overhaul unchanged.