Obama Tells Graduating Class, 'Don't Make Excuses,' Drawing GOP Taunts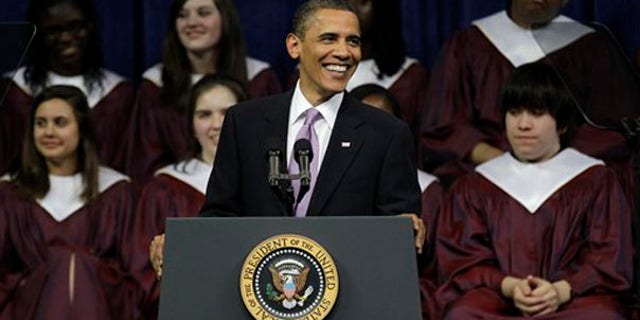 Don't point fingers. Don't make excuses. Don't pass the buck.
That was the advice President Obama gave to a graduating high school class in Michigan Monday night -- advice that sent off an irony alert among Republicans who accuse the president of having "spent his tenure" doing exactly that.
Obama offered his guidance during the commencement speech at Kalamazoo Central High School.
"Don't make excuses. Take responsibility not just for your successes, but for your failures as well," he told the graduates. "The truth is, no matter how hard you work, you won't necessarily ace every class or succeed in every job. There will be times when you screw up, when you hurt the people you love, when you stray from your most deeply held values.
"And when that happens, it's the easiest thing in the world to start looking around for someone to blame. Your professor was too hard, your boss was a jerk, the coach was playing favorites, your friend just didn't understand. We see it every day out in Washington, with folks calling each other names and making all sorts of accusations on TV."
He told the students that "pointing fingers" and "blaming parents" and everyone else in their lives is not the road to follow.
Senate Republicans reacted quickly to the speech, sending out a "best-of" list of instances in which Obama was "looking around for someone to blame." The quotes showed Obama using Bush as a scapegoat for everything from the deficit to America's image abroad.
Obama over the past 17 months has selectively blamed the Bush administration for the big problems he now faces.
One of the president's favorite rhetorical devices is the figurative "mop" he uses to clean up what he says were the mistakes of his predecessor.
"I don't mind cleaning up the mess that some other folks made. That's what I signed up to do," he said at a Democratic fundraiser last October.
Obama even chalked up Republican Sen. Scott Brown's upset victory in the Massachusetts special election to Bush-directed outrage in January.
"The same thing that swept Scott Brown into office swept me into office," Obama said in an interview with ABC News. "People are angry, and they're frustrated. Not just because of what's happened in the last year or two years, but what's happened over the last eight years."