Obama: Supreme Court Nominee Should Take Women's Rights Into Account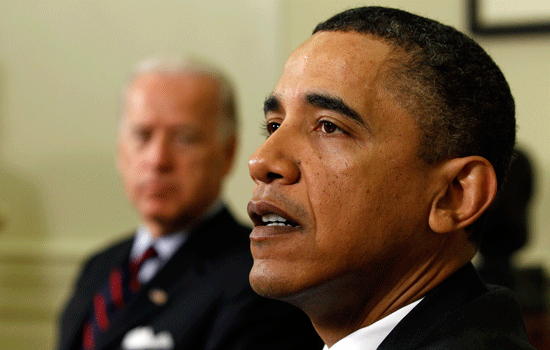 WASHINGTON -- President Obama is still whittling down his list of potential nominees for the U.S. Supreme Court, but he said Wednesday he wants to pick a candidate who will interpret the Constitution to take into account individual and women's rights.
Obama said he is hopeful that his nominee will "gain the confidence of the Senate" and can win confirmation by August, in time for the fall session.
The president spoke after meeting with Senate Majority Leader Harry Reid, Senate Minority Leader Mitch McConnell, Senate Judiciary Committee Chairman Patrick Leahy and Committee Ranking Member Jeff Sessions. He said he does not have a "litmus test" to determine whether candidates will support abortion rights, but he's looking for someone who's got bodily rights in mind.
"You know, I am somebody who believes women should have the ability to make often very difficult decisions about their own bodies and issues of reproduction," the president said. "I don't have litmus tests around any of these issues but I will say that I want somebody who is going to be interpreting our Constitution in a way that takes into account individual rights, and that includes women's rights.
"Part of what our core constitutional values promote is the notion that individuals are protected in their privacy and their bodily integrity, and women are not exempt from that," he said.
Asked how that is not a litmus test, White House spokesman Robert Gibbs said a litmus test is "when you say you will ask a direct question: 'do you believe this, do you believe that?'"
Obama is in the middle of a period of political protocol that comes with each high court nomination. That includes taking a stab at bipartisanship as he gets advice from the senators on how to proceed and even people to consider even if it ends up in a partisan argument over the philosophical leanings of a nominee..
"One of the things that we did last time was to listen to the thoughts and views of our colleagues before I nominated a candidate," the president said. "I take this process very seriously. So, I'm going to be interested in hearing their thoughts and concerns before any final decisions are made."
Within a few weeks, Obama is expected to announce a nominee to replace Justice John Paul Stevens, who will retire at the end of the current term. This is Obama's second chance in less than a year to name a Supreme Court justice, a presidential prerogative that could put his imprint on the judicial branch for decades. Stevens, the court's leading liberal, announced his retirement plans on April 9, and Obama is still considered to be in the early stages of making his decision.
The nominee will be subject to Senate confirmation.
Gibbs said Obama is looking for someone who has a "fidelity to the law" and someone who is "independent."
Obama has begun conversations with potential nominees, a senior administration official said Tuesday, signaling an upswing in the president's consideration of an already coalescing list of about 10 candidates. Those discussions have not been formal interviews, the administration official emphasized, speaking on condition of anonymity to protect the privacy of Obama's deliberations. In his search last year, Obama ultimately did four face-to-face interviews with finalists.
He ended up choosing federal appeals court judge Sonia Sotomayor to replace Justice David Souter. Sotomayor's confirmation was a largely partisan summertime battle, with most Republicans objecting to her and to Obama's standards for choosing justices in general. The Senate vote was 68-31, with nine Republicans in favor.
So far, the early signs of ideological divide are the same.
Many Republican senators are wary that Obama will seek out a judicial activist who will bring a liberal agenda to the bench, and the White House already is expecting what chief of staff Rahm Emanuel called a "huge, huge battle" from Republicans over whomever Obama picks.
With 59 usually reliable votes from Democrats and independents in the Senate, Obama is in a strong position to pick the person he wants. He would need 60 votes to head off legislative maneuvers to block a vote. Obama aides are confident  they can get that support and that Republicans won't go that route anyway.
Among the people Obama is considering for the court are federal appeals court judges Diane Wood, Merrick Garland and Sidney Thomas, former Georgia Chief Justice Leah Ward Sears, Solicitor General Elena Kagan, Michigan Gov. Jennifer Granholm, Homeland Security Secretary Janet Napolitano and Harvard Law School Dean Martha Minow.
The Associated Press contributed to this report.