Obama Struggling to Find Path in Egypt Crisis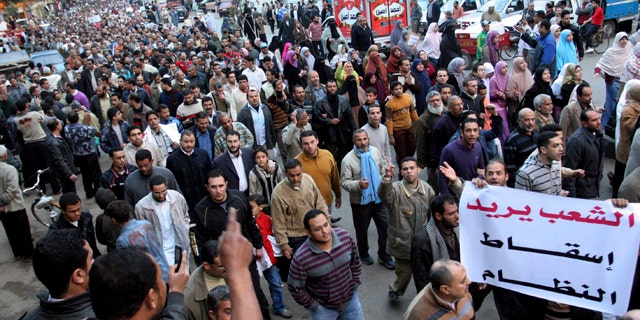 NEWYou can now listen to Fox News articles!
WASHINGTON -- Nearly two weeks into the Egyptian crisis, the Obama administration is still struggling to find a path forward that protects U.S. security interests without abandoning the pro-democracy protesters.
On Sunday, Secretary of State Hillary Rodham Clinton said that while the administration supports the transition to a new government in Cairo -- so long as it is inclusive and transparent -- it must be the Egyptian people who decide if the reforms go far enough. She withheld judgment on the decision by the fundamentalist Muslim Brotherhood to join discussions with the embattled government.
"We are going to wait and see how this develops," Clinton told National Public Radio before returning to Washington from an international security conference in Munich, Germany.
In Cairo, new Vice President Omar Suleiman met with a broad representation of major opposition groups for the first time and offered new concessions, including release of those detained since anti-government protests began nearly two weeks ago and the eventual lifting of the nation's emergency laws, which give police far-reaching powers for detention and suppression of civil and human rights.
Democratic Sen. John Kerry applauded the talks with opposition groups and called the move toward lifting the emergency laws "quite extraordinary." He called on President Hosni Mubarak to lay out a clear path toward a new government.
"He must step aside gracefully and begin the process of transition to a caretaker government," Kerry, chairman of the Senate Foreign Relations Committee, told NBC television's "Meet the Press." "I believe that is happening right now. What's needed now is clarity in this process."
Clinton on Saturday made clear that the U.S. was throwing its weight behind nascent efforts by Cairo to make constitutional and other reforms before a presidential election is held, and to reach out to opposition groups.
"It takes time to think those through, to decide how one is going to proceed, who will emerge as leaders," she said. "The principles are very clear. The operational details are very challenging."
The crisis, which largely caught the White House by surprise, presents one of the toughest foreign policy challenges of Barack Obama's presidency. Even in the most optimistic outcome, with a government in Cairo that is broadly aligned with the U.S., the loss of Mubarak as a three-decade pillar of U.S. Mideast policy suggests that relations with Egypt will never be the same.
And if the Muslim Brotherhood -- an Islamist political movement that is banned in autocratic Egypt -- takes a central role in a future popularly elected government, the U.S. challenge will be even tougher.
Also at risk are the strong ties between American and Egyptian counterterrorism officials that both sides have cultivated over the past three decades.
Martin Indyk, a retired U.S. diplomat and former ambassador to Israel, said Obama deserves praise for his approach to the crisis so far, even if his message has seemed confused at times.
"He's kind of like a high-wire artist in which he's got to walk a fine line between wanting Mubarak to go but not go in a way that creates chaos, wanting to signal to the street that he's with them in their demands for democracy and universal rights," Indyk said on CBS' "Face the Nation."
"And so the message sometimes gets a little blurred because you've got this, kind of, echo chamber that the administration finds itself in. And it's a very complicated position, but I would give President Obama credit here that, while he hasn't always got the messaging right, he's got the basic policy right," he said.
Egypt once had to contend with its own breed of hardcore Islamic militants. But brutal repression by the country's security services -- most recently led by former intelligence chief Suleiman -- largely eliminated them as a threat. The secretive Egyptian Islamic Jihad organization has been headed by al-Qaida's second-in-command, Ayman al-Zawahri since 1991, but Egypt's secret police crushed the group.
Another worry is the possibility that the post-Mubarak era in Cairo will put at risk Egypt's 1979 peace treaty with Israel. Egypt and Jordan are the only two Arab countries to make peace with the Jewish state, and both Cairo and Amman have played important roles in Washington's effort to nudge Israel and the Palestinians toward peace. Mubarak hosted an Israeli-Palestinian peace negotiation last September.
Clinton's speech in Munich on Saturday mirrored one she delivered last month in Qatar, when she warned regional leaders that the foundations of progress and development were "sinking into the sand" and would continue to do so unless those leaders acted to meet the aspirations of their people, particularly the large youth population. A day after that speech, Tunisia's longtime autocratic president was driven into exile amid a rebellion that inspired protesters in Egypt to step up demonstrations against their leadership.
In a revised travel warning, the State Department on Sunday urged Americans to avoid traveling to Egypt and said those in the country should consider leaving when it was safe. Commercial flights were available and no additional government-chartered flights were planned, the department said.
Last week the department ordered all non-emergency U.S. government personnel and family members to leave Egypt.