Obama Speaks About Jobs, Immigration Reform at CHCI Awards Gala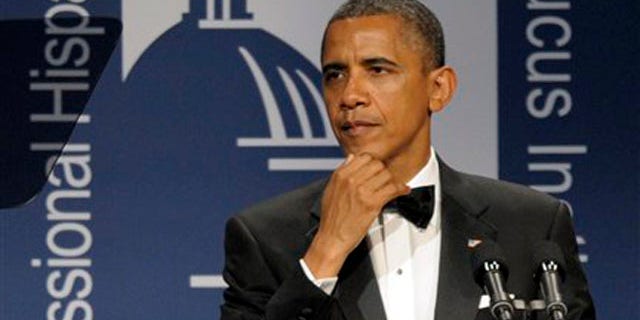 NEWYou can now listen to Fox News articles!
US President Barack Obama said Wednesday night that reforming the nation's immigration system is central to repairing its economy, while calling on Congress to pass his jobs bill and the DREAM act.
The president made the remarks while addressing the Congressional Hispanic Caucus Institute's (CHCI) 34th Annual Awards Gala in Washington, D.C.
"We are at a critical time in our country," Obama said in front of a crowd of about 3,000 people.
"The fight that we are having right now, the fight to put people back to work ... could not be more important for the Latino community and the people in this room.
"Can we finally put an end to the political circus and actually do something to help the US economy? I believe we can and I believe we must."
Obama used the opportunity to once again call on Congress to pass his American Jobs Act "straight away."
The president announced the $447 billion plan during a joint session of Congress last week. He has said the plan would cut taxes for workers and businesses and lead to new jobs for construction workers, teachers and other Americans.
The bill calls for more than $62 billion in spending to extend unemployment insurance benefits through 2012. Obama will pay for his plan with an estimated $467 billion in tax hikes for oil and gas companies, hedge fund managers and Americans earning more than $200,000 a year -- but a number of key Republicans, who have said ending tax breaks would hurt economic growth, are critical of the scheme.
Obama on Wednesday night also called on Republicans to support the DREAM act and finally pass it, explaining that embracing immigrants was the right thing to do as Americans.
The DREAM Act, which would give citizenship to the children of illegal immigrants who are in college or serving in the military, failed in the Senate last year and has not moved forward in 2011.
"I will do everything in my power to make the DREAM act a reality," Obama said, adding that immigrants are a part of the "American family."
"The truth is reforming our immigration system is central to repairing our economy."
He called on the CHCI to, "Keep the heat on me, and keep the heat" on Congress.
"Lift up your voice. Tell Congress to do the right thing."
For more stories from WOFL in Orlando go to myfoxorlando.com
Follow us on twitter.com/foxnewslatino
Like us at facebook.com/foxnewslatino