Obama Says Irene is Touch and Go, but Federal Government is Prepared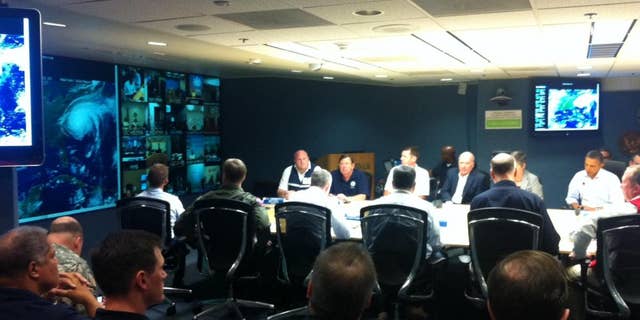 NEWYou can now listen to Fox News articles!
As Hurricane Irene strengthens her grip on the East Coast, President Obama is warning of a "tough slog" ahead, but says that at this point, local officials appear to have everything they need.
Mr. Obama dropped by the Federal Emergency Management Agency's (FEMA) headquarters in Washington, D.C. Saturday afternoon for an up close look at how federal officials are deploying resources.
He first thanked the team at FEMA's National Response Coordination Center, telling them, "When I was on the phone with the Governors and the mayors yesterday and I asked them, was there anything they could think of that our team, meaning you, could be doing to help them get prepared, there was quiet on the phone. And that was a good sign."
The president then participated in a conference call with federal and state officials on preparedness and said he again heard the same message. "[E]ach conversation I've had with state and local officials, they've confirmed to me that the relationship with FEMA has been outstanding. The inter-agency cooperation at the federal level has been outstanding," he said.
The video teleconference has been going on daily since Monday and involves regional FEMA administrators, state emergency management teams, representatives from federal agencies, the National Hurricane Center and the Red Cross, as well as a representative from the private sector. The private sector has been working with the federal government for months on disaster response. The goal is to maximize aid distribution by filling in the gaps where businesses are not already open for service.
At this point, says the president, local officials are satisfied.
"They recognize this is gonna be a tough slog getting through this thing," the president told FEMA officials, "but they are very appreciative of the outstanding work that all of you have done and the preparation that's been taking place. So, I have not yet heard from any of the regions, as we have just listened to them, anybody who is suggesting that we haven't done everything we can on this front..."
Still, noting the "touch and go" nature of the storm, Mr. Obama warned there are many unpredictable hours ahead. He said the government will need to ensure that its response and recovery performance is just as effective as its preparations have apparently been.
"It's going to be a long 72 hours and obviously a lot of families are going to be affected. What we heard, the biggest concern I'm having right now has to do with flooding and power," he said.
An official from Vermont briefed the president on that very issue during the teleconference, noting the weather service is warning that every river in the state will probably flood.
Mr. Obama has been approving emergency declaration requests since Friday for affected East Coast states like Virginia, New Jersey, New Hampshire, and Rhode Island. At FEMA, Saturday, the president revealed he had just approved a pre-landfall request for Maryland.
Power outages and flooding will remain on the radar for federal officials even as the storm passes, the president said.
"It sounds like that's going to be an enormous strain on a lot of states and that may take days, even longer in some cases, depending on what the track of the storm ends up being," the president warned. "So we're really going to have to stay on top of the recovery -- the response and recovery phase of this thing."
The president was supposed to be returning from his Martha's Vineyard, Massachusetts vacation Saturday, but Irene cut those plans short. The first family instead returned on Friday night to beat the storm.