Obama says his apology over Koran burnings calmed anti-US violence in Afghanistan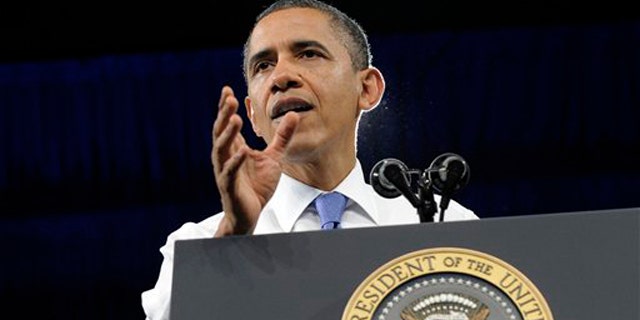 WASHINGTON – President Barack Obama said his apology for the burning of Korans at a U.S. military base has "calmed things down" in Afghanistan, after the incident triggered an outbreak of violence that left four U.S. service members and dozens of Afghans dead last week.
On Thursday, two more American troops were reported killed by an Afghan soldier and civilian opening fire on them.
In an interview with ABC News' Bob Woodruff that aired Wednesday, Obama was asked if he thought his apologizing to Afghan counterpart Hamid Karzai had improved the situation on the ground. The president replied, "It calmed things down."
"We're not out of the woods yet," Obama added.
"The reason that it was important is same reason that the commander on the ground, General Allen, apologized and that is to save lives and to make sure our troops who are there right now are not placed in further danger."
Deadly protests erupted in Afghanistan after it was revealed coalition forces burned copies of the Koran in an incinerator at Bagram Air Field, north of Kabul, last week.
U.S. ambassador to Kabul, Ryan Crocker, delivered a letter from Obama to Karzai, apologizing for the incident.
Though the White House and top U.S. military officials said the burning was unintentional, Taliban insurgents called on Afghans to kill foreign troops in revenge. The incident set off seven successive days of protest and violence, with the death toll estimated at about 40, AFP reported.
All the Republican presidential candidates, with the exception of Texas Rep. Ron Paul, criticized the president for issuing the apology.
Newt Gingrich called it an "outrage."
Rick Santorum said that "to apologize for something that was not an intentional act is something that the president of the United States, in my opinion, should not have done."
Mitt Romney said the president's apology "sticks in the throat" of the American people.
"We've made an enormous contribution to help the people achieve their freedom and for us to be apologizing at a time like this is something which is very difficult for the American people to countenance," he said.
Last Thursday, two American service members were killed when Afghan soldier opened fire on a US base in the eastern Nangarhar Province. Days later, two military advisers were allegedly shot dead by an Afghan colleague in their office at the Interior Ministry in Kabul.
There was also a grenade attack at a base in Kunduz Province and a suicide car bomb attack at Jalalabad airport in eastern Afghanistan, where NATO forces have a base.
Obama's assertion that tensions have been subsiding in Afghanistan came a few days after Pentagon spokesman Capt. John Kirby in Kabul told reporters that protest activity was declining.
Woodruff interviewed the president ahead of a White House to honor veterans of the Iraq War.
Obama said the dinner "is a celebration of the men and women who carried out an extraordinarily difficult mission and did so with honor, integrity, and courage and, as a consequence, were successful in being able to give Iraq a chance to build a representative, democratic country."