Obama says faith is 'great cure' for fear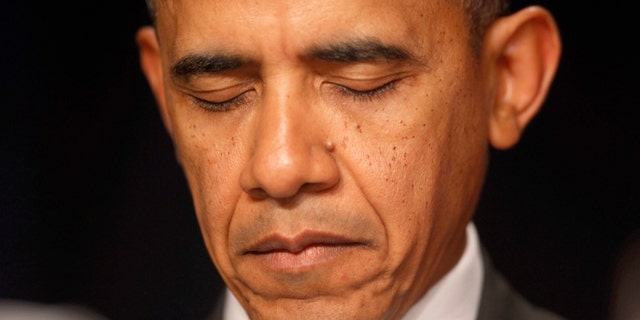 NEWYou can now listen to Fox News articles!
Delivering his last annual sermon to Washington's elite, President Barack Obama on Thursday warned of the corrosive impact of fear in public life and urged a bipartisan group of powerbrokers to abide by their faith "even when no one is watching."
"Fear does funny things. Fear can lead us to lash out against those who are different. Or lead us to try to get some sinister other under control," Obama said at the annual National Prayer Breakfast. "Faith is the great cure for fear. Jesus is a good cure for fear."
Obama spoke a day after making his first visit as president to an American mosque -- a trip he said he made to tell Muslims "they, too, are Americans and are welcome here."
His remarks come amid of a campaign-season debate over curbing immigration, preventing terrorism and whether the U.S. will continue to open its doors to people of all faiths. Some Republican candidates and lawmakers want to stem the flow of refugees from Syria or block all Muslims from entering the U.S. in an effort to deter Islamic extremists. Obama says such proposals would violate American values.
In keeping with the tradition at the annual gathering, the president did not directly mention the political scene.
Obama also preached about his personal fears, saying that "the main one I'm feeling right now is that our children grow up too fast." He said his faith has helped him overcome the "unique elements" of his job. The president urged those in the audience to practice their faith out of limelight and "to seek the best in each other and not assume the worse -- and not just at the National Prayer Breakfast."
An event that stretches back to the Eisenhower-era, the prayer breakfast is often seen as a chance for politicians to press pause on the debate of the day and gather in fellowship and reflection.
It has not always lived up to that billing.
In 2013, keynote speaker Ben Carson, then a neurosurgeon and now a Republican candidate for president, drew attention for complaining about tax laws and offering suggestions for health care changes. Carson's speech raised his profile with conservatives and helped launch his current White House bid.
Carson, who has stepped away from campaigning coming in fourth in Monday's Iowa caucuses, was in the audience Thursday.