Obama, Romney face off in Ohio for dueling economic addresses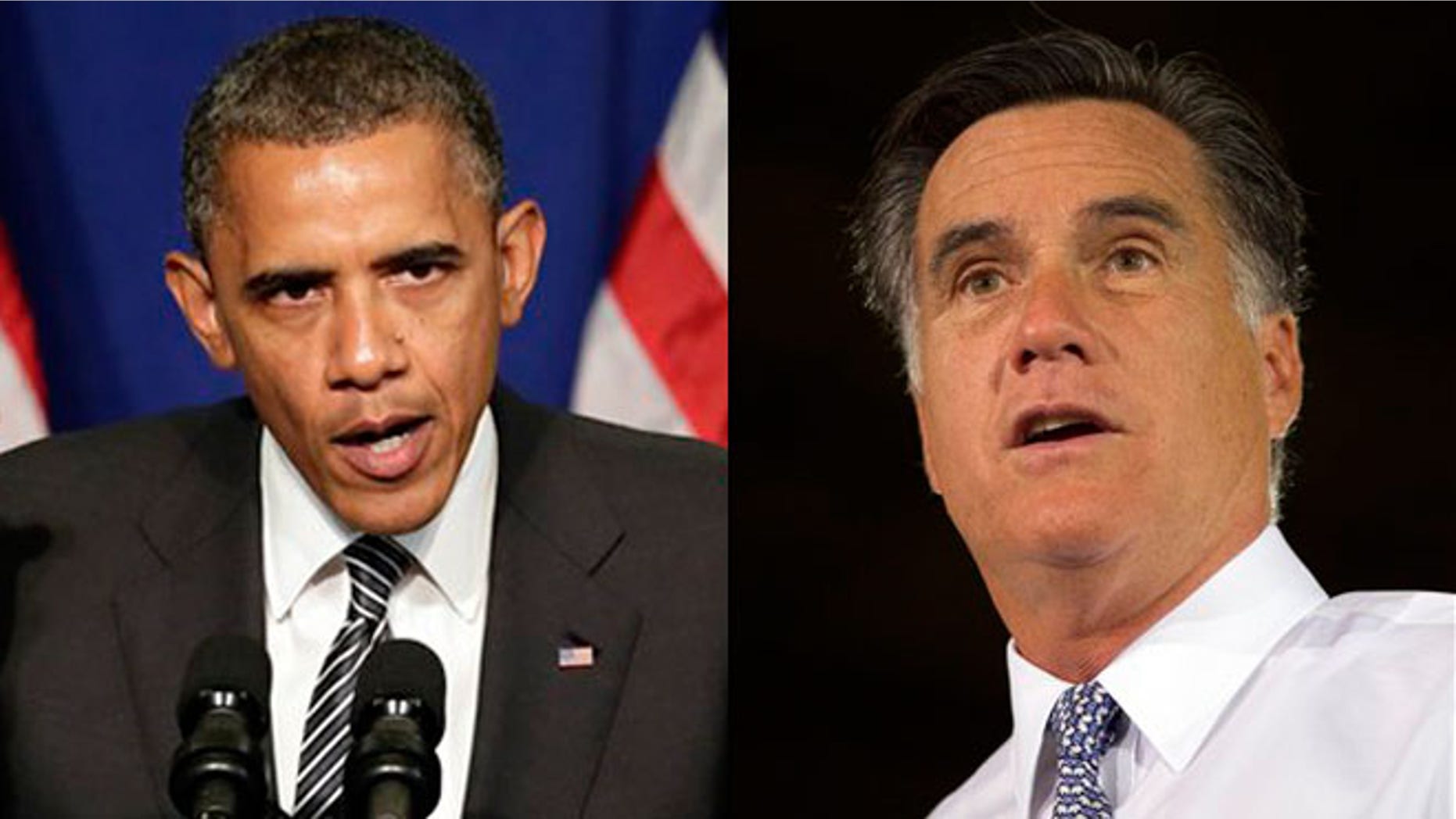 President Obama and Mitt Romney will face off on the economy Thursday, each delivering a major campaign address in Ohio in the closest they've come yet to a general election debate.
The two opponents will not be sharing the same stage. Obama will deliver what is described as a "framing" speech to a community college crowd in Cleveland. Romney will be at a manufacturing company in Cincinnati for a rally. They plan to speak at virtually the same time Thursday afternoon.
For Obama's part, the president is trying to recover from a raft of bad economic news and campaign setbacks, and try to lift his campaign above the day-to-day controversies to outline the thematic differences between his vision and his opponent's.
An Obama campaign official told Fox News that "this election offers the American people a chance to break the stalemate between two fundamentally different visions of how to grow the economy, create middle-class jobs and pay down the debt."
Romney, the official said, stands for stripping regulations and cutting taxes in the hope that the market "will solve all our problems." Obama, the official said, "believes the economy grows not from the top down, but from the middle class up, and he has an economic plan to do that."
Yet even some Democrats have grown frustrated with Obama's rhetorical approach, suggesting he's spending too much time blaming the Bush administration and other factors for the country's economic problems and not enough time explaining what he will do going forward to fix them.
Obama is not expected to announce any major economic policies on Thursday. His aides say his pending jobs ideas before Congress remain valid and he will keep pushing them.
Romney has been hammering the president in recent days as simply out of touch with the economic woes of middle-class Americans. He's been exploiting a comment that has become campaign gold for the Romney team -- Obama's statement a week ago that the private sector's "doing fine."
Romney on Thursday released a new TV ad highlighting dismal economic stats -- the decline in household wealth between 2007 and 2010, as well as the lingering high unemployment numbers -- and ending with Obama's private-sector gaffe.
In choosing Ohio, the candidates are targeting the state that strategists in both parties consider perhaps the most contested and vital of the election.
Obama will probably pound on the second-term economic vision he began laying out months ago. He will lay out a jobs plan of spending tax money on education, energy, science and innovation and transportation; cutting the debt by reducing spending elsewhere and raising taxes on the wealthy; and taking on the nation's loophole-loaded tax code to make it fairer.
Romney will talk about cutting regulation and spending, overhauling the tax system, doing away with Obama's health care overhaul and supporting a major oil pipeline known as Keystone XL. Setting his own expectations for Obama, Romney told donors in Cincinnati: "He'll speak with great rhetoric and eloquence. But actions and records speak a heck of a lot louder than words."
The speeches come in a month marked by bad economic news. May employment numbers showed that the private sector created a disappointing 69,000 jobs and that the jobless rate ticked up to 8.2 percent. This week, the Federal Reserve released data showing that the median family net worth shrank between 2007 and 2010 to levels not seen since 1992.
No matter what path either candidate takes to reach the necessary 270 electoral votes needed to win the presidency, Ohio and its 18 electoral votes figure in every scenario. No Republican has ever won the presidency without winning Ohio. Obama carried the state 52 percent to 47 percent in 2008 over John McCain; Bush carried it 51 percent to 49 percent in 2004 over Democrat John Kerry.
Fox News' Ed Henry and The Associated Press contributed to this report.