Obama Renews Pledge on Immigration Reform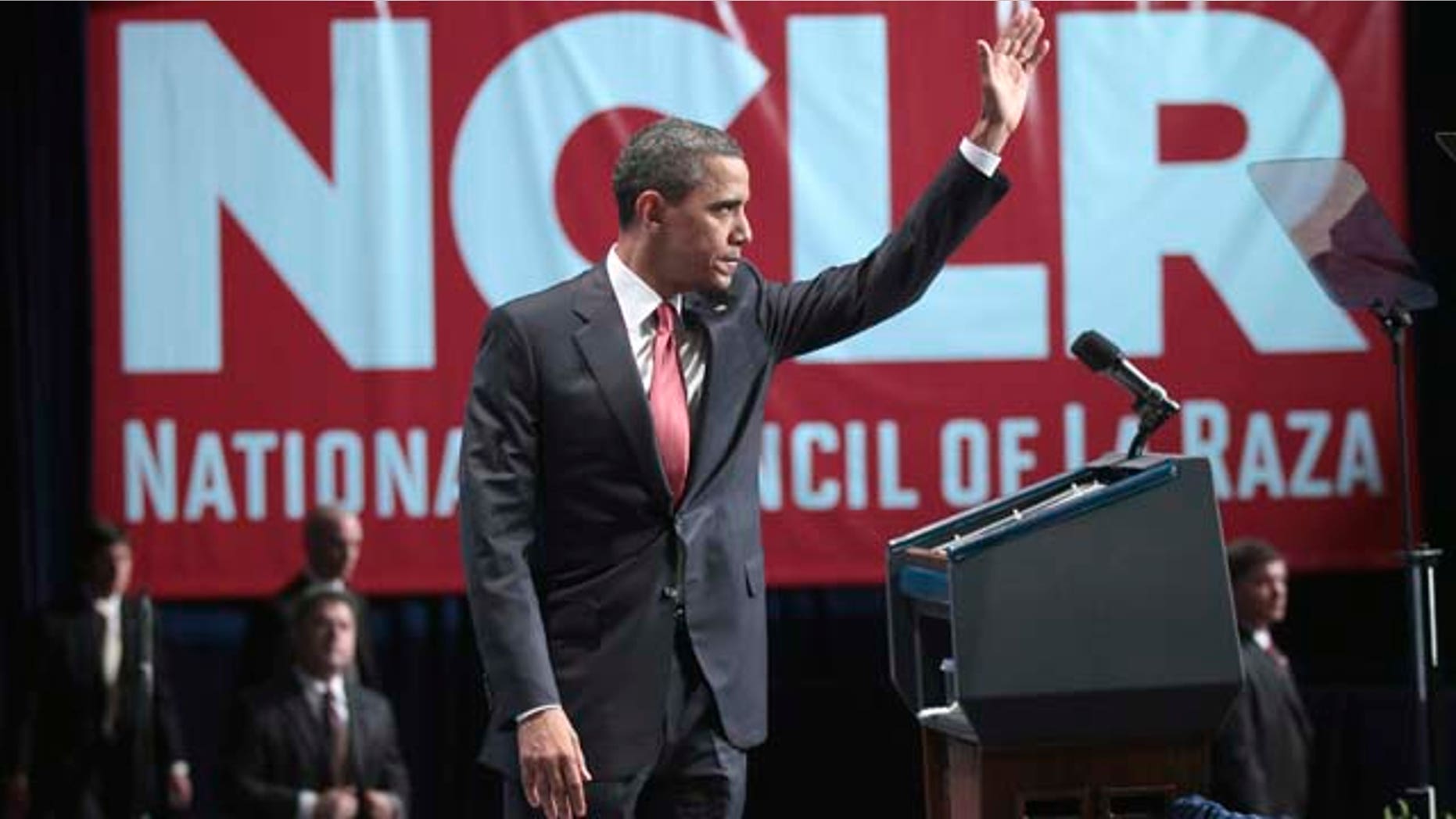 President  Barack Obama called on Hispanic activists Monday to ramp up the pressure on Washington and push for comprehensive immigration reform.
At the annual conference of the National Council of La Raza, the president said he needs help to fix the nation's broken immigration system.
"Your country needs you," Obama told the audience. "Our American family will only be as strong as our growing Latino community."
While defending his Democrats' work on the issue, Obama slammed Republicans for, despite having the foresight to draft legislation that was beneficial to some immigrants, shifting toward an anti-immigrant stance.
"Republicans helped write the DREAM Act because they knew it was the right to do for the country," Obama said. "Today, they walked away."
Obama said he would continue to push for a comprehensive solution, and not one in which the laws differ by state and region.
"We can't have 50 immigration laws across the country," he said. "Feel free to keep the heat on me and the Democrats. But here's the only thing you should know – the Democrats and your president with you. Don't get confused about that."
The president offered no timeline, however.
Much of Obama's speech focused on the struggling economy and its impact on Latinos. Priority No. 1, he said, was to figure out how to get businesses to hire and create jobs.
"And the hundreds of thousands of construction workers – many of them Latino – who lost their jobs when the housing bubble burst, I want to put them back to work rebuilding our roads and our bridges and new schools and airports all across the country," he said to applause. "There is work to be done. These workers are ready to do it."
The speech before a major Hispanic civil rights organization comes just weeks after Obama visited Puerto Rico – the first time a sitting president had done so in generations, but a move largely seen as wooing Latinos on the mainland, particularly in Florida.
Two months ago, Obama went to El Paso, Texas, too, and pledged to fight for an immigration overhaul.
"I promised you I would fix our broken immigration system and make the DREAM Act a reality," he said. "I went down to the border of El Paso to reiterate...my vision for an immigration system that holds true to our values and our heritage, and meets our economic and security needs.
"And I argued this wasn't just the moral thing to do, it was an economic imperative," he added.
But Obama's record with the Latino community – a key bloc many considered helped him get elected – has gotten mixed reviews.
The high number of deportations, for instance, have increased since he took office. Obama said he had to enforce the laws that exist and couldn't change them by himself.
The crowd disagreed and shouted, "Yes you can, Yes you can!"
The Associated Press contributed to this article.
Follow us on twitter.com/foxnewslatino
Like us at facebook.com/foxnewslatino