Obama remembers Sandy Hook victims, calls for tougher gun laws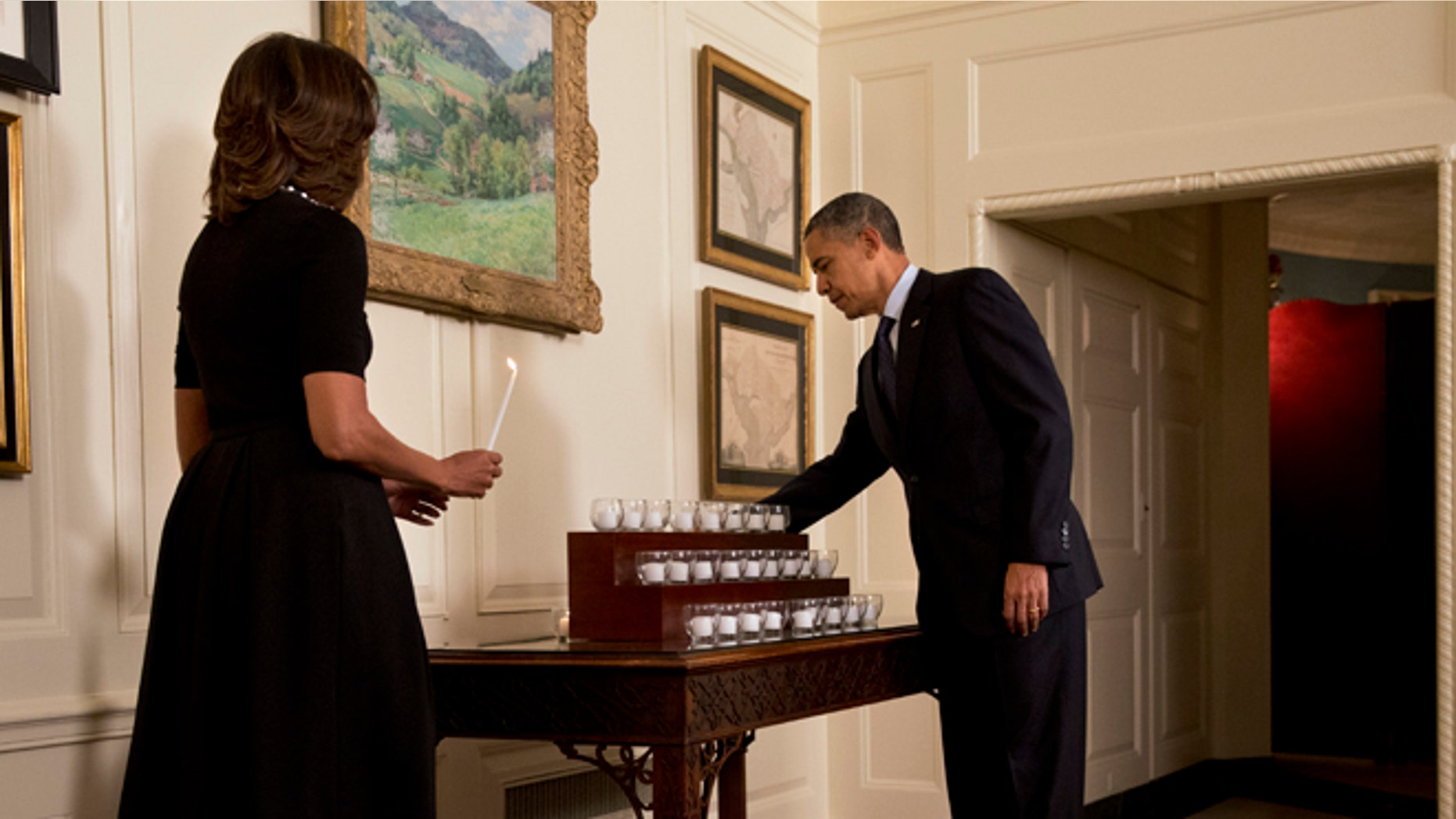 President Obama on Saturday led a national day of remembrance for the victims of the fatal Sandy Hook elementary school shootings while renewing his call for tighter gun control and more focus on mental-health care, on the anniversary of the tragic event.
"We have to do more to keep dangerous people from getting their hands on a gun so easily. We have to do more to heal troubled minds," the president said in his weekly radio address, before he and first lady Michelle Obama remembered the shooting victims and their families in a moment of silence. They also lit a candle for each victim during a White House event.
"We have to do everything we can to protect our children from harm and make them feel loved, and valued and cared for," the president said.
Twenty children and six adults were killed in the Dec. 14, 2012, massacre in Newtown, Conn. The shooter, Adam Lanza, who fatally shot himself after the shooting spree, had a history of mental illness.
The mass shooting and another months earlier at a suburban Denver movie theatre in which 12 people were also killed by a gunman with mental problems sparked calls for more spending on mental health and a renewed call for tighter gun control, including tougher background checks to keep weapons out of the hands of dangerous people.
While Congress did not pass gun control measures and largely declined to increase spending on mental health, states including Colorado, Connecticut and New York have succeeded in such efforts.
The president on Saturday also called for the continued state-level efforts.
"From the very beginning, our efforts were led by the parents of Newtown -- men and women, impossibly brave, who stepped forward in the hopes that they might spare others their heartbreak," the president said. "And they were joined by millions of Americans -- mothers and fathers; sisters and brothers -- who refused to accept these acts of violence as somehow inevitable. … We can't lose sight of the fact that real change won't come from Washington.  It will come the way it's always come – from you, from the American people."
The Associated Press contributed to this report.