Obama Proposes Two-Year Pay Freeze for Federal Employees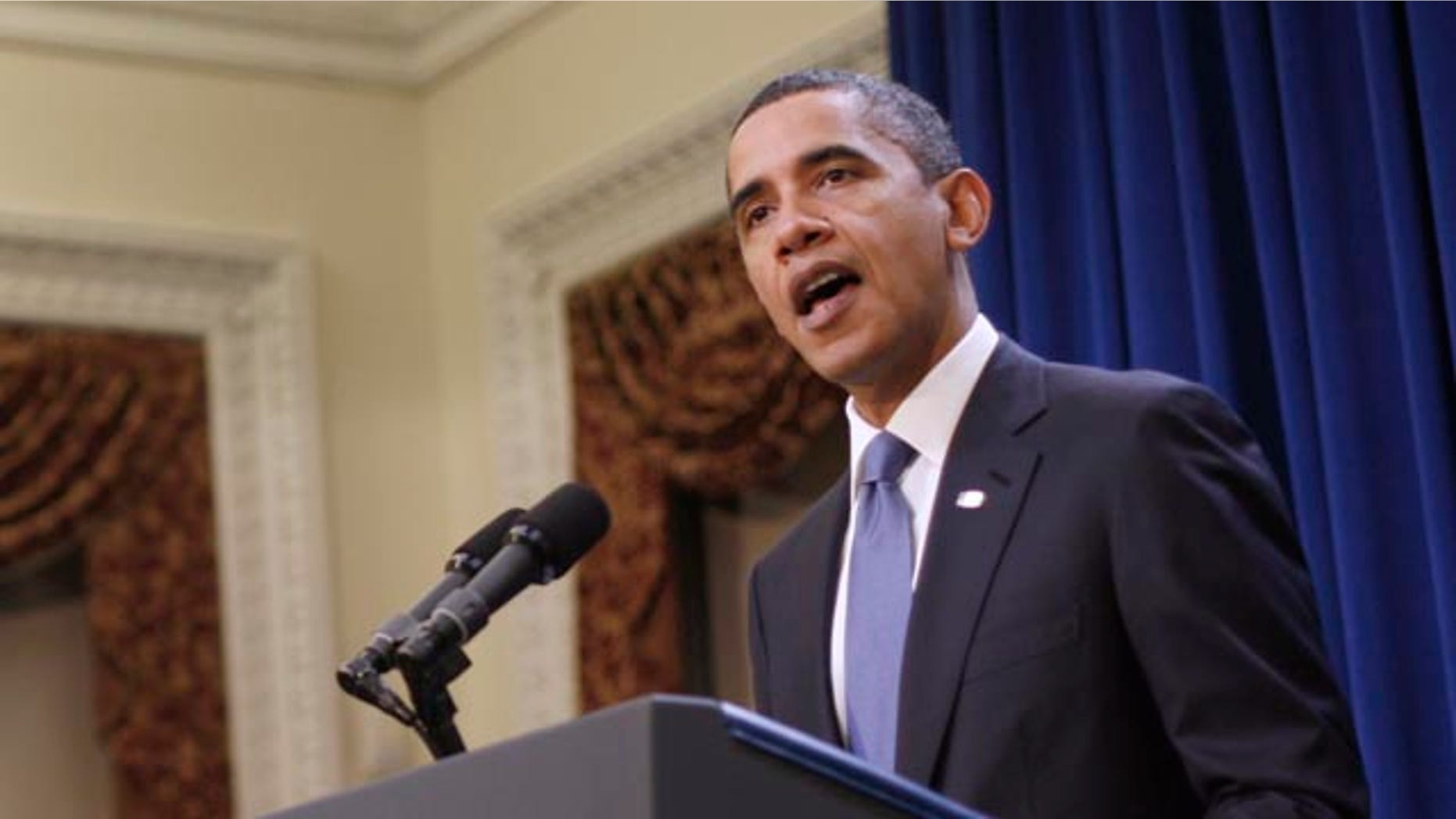 WASHINGTON -- Federal employees will find their salaries stagnant for the next two years as President Obama announced on Monday a pay freeze that Republicans have claimed for the past year is necessary to help put the country on sound fiscal footing.
The president said the freeze would apply to all civilian federal employees, including those working at the Department of Defense, but would not affect military personnel.
"The hard truth is that getting this deficit under control is going to require some broad sacrifice, and that sacrifice must be shared by the employees of the federal government," Obama said from the White House. "Today, I'm proposing a two year pay freeze for all civilian federal workers."
Examples of those subject to the cut are doctors and nurses at veterans hospitals, individuals who administer Social Security checks, Border Patrol and Transportation Security Administration agents.
Noting that hard economic times means small businesses and families must tighten their belt, Obama said, "I'm asking civil servants to do what they've always done, play their part."
The freeze will save $2 billion during fiscal year 2011, the president said. It also requires congressional approval, though lawmakers must vote separately to deny themselves their own pay increases. Congress voted in April to forego its raise for 2011.
Republicans responded to the announcement by saying it's about time the president got serious on limiting federal pay, which has been increasing at a faster rate than the private sector.
"At a time when our nation's seniors have been denied a cost-of-living-increase and private sector hiring is stagnant, it is both necessary and quite frankly, long over-due to institute a pay-freeze for the federal workforce," Rep. Darrell Issa, R-Calif., said in a statement.
Republicans over the year have suggested a pay freeze for federal workers, with Sens. John McCain of Arizona and Tom Coburn of Oklahoma proposing in May a compromise that included bonuses for employees and contractors among other items that were intended to help cover the cost of a $60 billion war supplemental.
Rep. Eric Cantor, R-Va., expected to be House majority leader in the next Congress, said he was encouraged that the president took an idea that had been proposed in his YouCut contest that lets online voters pick spending cuts for Republicans to bring to a vote.
"The YouCut proposal was one of many specific spending reductions offered by House Republicans over the past two years, and we are pleased that President Obama appears ready to join our efforts," he said. "Many federal employees do important work, but this is exactly the kind of savings measure we have to make in order to begin to restore some fiscal sanity in America."
In a conference call preceding the president's announcement, administration officials said individuals who are about to get a promotion would not be affected by the freeze.
The officials said they timed the announcement to Monday because the president has until Tuesday to set locality pay for 2011, which adjusts federal salaries depending on where a job is geographically located and runs through the calendar year rather than the fiscal year.
The 2011 fiscal year that began on Oct. 1 is not budgeted but the administration is working on its 2012 budget, which it delivers to Capitol Hill in February.
Surely expected to be unhappy with the announcement are federal union representatives like the National Treasury Employees Union, which last week recommended 40 locations across the nation be given locality pay increases in 2012, an additional six cities and two states from the previous year.
After the president spoke, AFL-CIO President Richard Trumka issued a statement calling the freeze "bad for the middle class, bad for the economy and bad for business."
"No one is served by our government participating in a 'race to the bottom' in wages. We need to invest in creating jobs, not undermining the ones we have," Trumka said. "The president talked about the need for shared sacrifice, but there's nothing shared about Wall Street and CEOs making record profits and bonuses while working people bear the brunt."
House Majority Leader Steny Hoyer, D-Md., said he appreciates Obama scaling back the proposal from three years to two but wants "meaningful deficit reduction" through a "comprehensive approach" to trimming federal spending.
The proposal "would have produced significantly more savings had that sacrifice been shared between federal civilian and military personnel--with a strong exception for the members of our military and civilian employees risking their lives on our behalf in Afghanistan, Iraq and anywhere else they are serving in harm's way," Hoyer said.
"It would have also added an element of fairness ... hundreds of thousands of federal civilian employees work alongside military employees in the Department of Defense and other agencies. In fact, the first American casualty in Afghanistan was a CIA agent -- a federal civilian employee," he said.
Shortly after taking office in January 2009, Obama froze salaries of top White House officials. He extended that freeze to political appointees across the government in last year's budget, and also eliminated bonuses for political appointees.
The officials added that while Republicans seek to extend tax rates to high-income earners at a cost of $700 billion, the White House is dealing with finding ways to cut spending and deal with the deficit, which has been at least $1.3 trillion for the last two years.
"I don't view this as part of a -- as specifically connected to the tax cut debate," said White House Communications Director Dan Pfeiffer. "Republicans are going to have to make a case for why we should spend $700 billion to permanently extend the tax cuts for the wealthiest Americans. That's a case they'll have to make and explain how that comports with a seriousness about the deficit. This is a separate announcement."
In his remarks, Obama said that going forward officials in Washington will have to make "very tough decisions that this town has put off for a very long time."
Acknowledging the midterm election that saw massive Republican gains, Obama said he hoped his meeting with Republican and Democratic congressional leaders scheduled for Tuesday at the White House will start down the path toward cooperation.
"We're going to have to budge on some deeply held positions and compromise for the good of the country. We're going to have to set aside politics of the moment to make progress for the long term," Obama said.
"If there's anything the American people said this month, it's that they want their leaders to have one single focus: making sure their work is rewarded so that the American dream remains within their reach," he added.