Obama Pitches Jobs Bill at North Carolina Firm That Ships Jobs to Costa Rica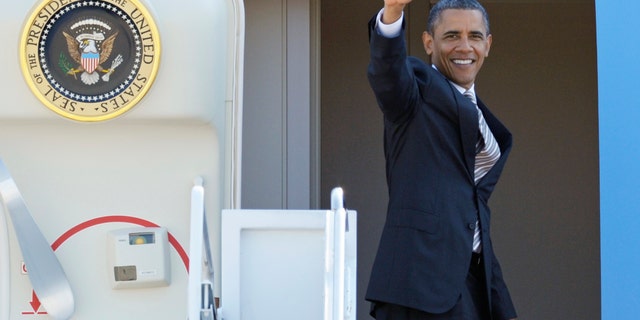 NEWYou can now listen to Fox News articles!
WASHINGTON -- President Obama's latest stop on his jobs bill tour Wednesday was a machine company in North Carolina that has sent jobs to Costa Rica.
After touring the facility of WestStar Precision, Obama said in a speech at North Carolina State University that the small business -- headquartered in Apex, N.C., a Raleigh suburb -- would benefit from the $450 billion jobs plan -- which relies heavily on tax hikes on upper income earners -- he's been pressing Congress to pass right away.
"What they do is what a lot of companies in the Research Triangle do so well," he said. "They hire smart people; they give them the best technology; they create something of lasting value."
"And that's how this country built a strong and growing economy and a strong expanding middle class. That's our history. That's what we got to get back to," Obama said to roaring applause.
The company makes specialized components for the aerospace, medical and alternative energy industries, according to its website. The North Carolina office is about 11,000 square feet and reportedly employs 25 workers. The facility in Costa Rica is nearly as big at about 10,000 square feet. The company's website says the Costa Rica facility is "designed for high volume production to support our international and domestic clients."
WestStar was founded in 1996 and says it has tripled its employment in North Carolina since 2000. The company started sending jobs to Costa Rica to capitalize on low labor costs, the News & Observer reported in 2004.
The company's owner, Erv Portman, has also reportedly donated $1,000 to Obama's inauguration fund. Portman is the newest Democratic commissioner in Wake County.
Obama's speech was his third in as many days, highlighting the help he says his plan would extend to small businesses.
More than half of the nearly $450 billion plan Obama sent to Congress last week is devoted to tax cuts and tax credits to encourage businesses to hire. But Obama is proposing to pay for the plan by raising taxes on big corporations and the wealthy, an idea that isn't sitting well with Republicans in Congress.
"We got to make sure that everybody pays their fair share," Obama said Tuesday in Ohio.
Obama would cover most of the cost of his jobs initiatives, nearly $400 billion, by limiting the itemized deductions wealthier people can take. He would get $40 billion by closing tax loopholes for oil and gas companies, $18 billion from imposing higher taxes on certain income from investment fund managers and $3 billion from changing how the tax code treats corporate jets.
Obama has run these ideas by Congress in the past and has gotten nowhere.
Senate Minority Leader Mitch McConnell, R-Ky., said Obama was essentially daring Republicans to vote against his ideas again. "I think most people see through all this," McConnell said.
For businesses, Obama's package would cut the taxes that employers and employees pay to fund Social Security. It also proposes tax credits worth thousands of dollars to encourage businesses to hire veterans as well as people who've been out of work for more than six months.
Since Obama outlined his jobs proposal to Congress, he has been working almost daily to drum up support, imploring lawmakers to pass the bill "right away" and urging a public worried about the lack of jobs to press lawmakers to act.
The president's urgency on the issue is political too. With the economic recovery stalled, unemployment holding at 9.1 percent and people losing confidence in his handling of the issue, he needs to show progress on the economy as the GOP presidential campaign against him gains steam.
Along with North Carolina and Ohio, Obama also has visited Virginia during the past week. Obama won those three states in the 2008 presidential election and probably will need to win them again to get re-elected.
The Associated Press contributed to this report.