Obama, Paterson Meet After White House Reportedly Urges Governor to Drop Out of N.Y. Race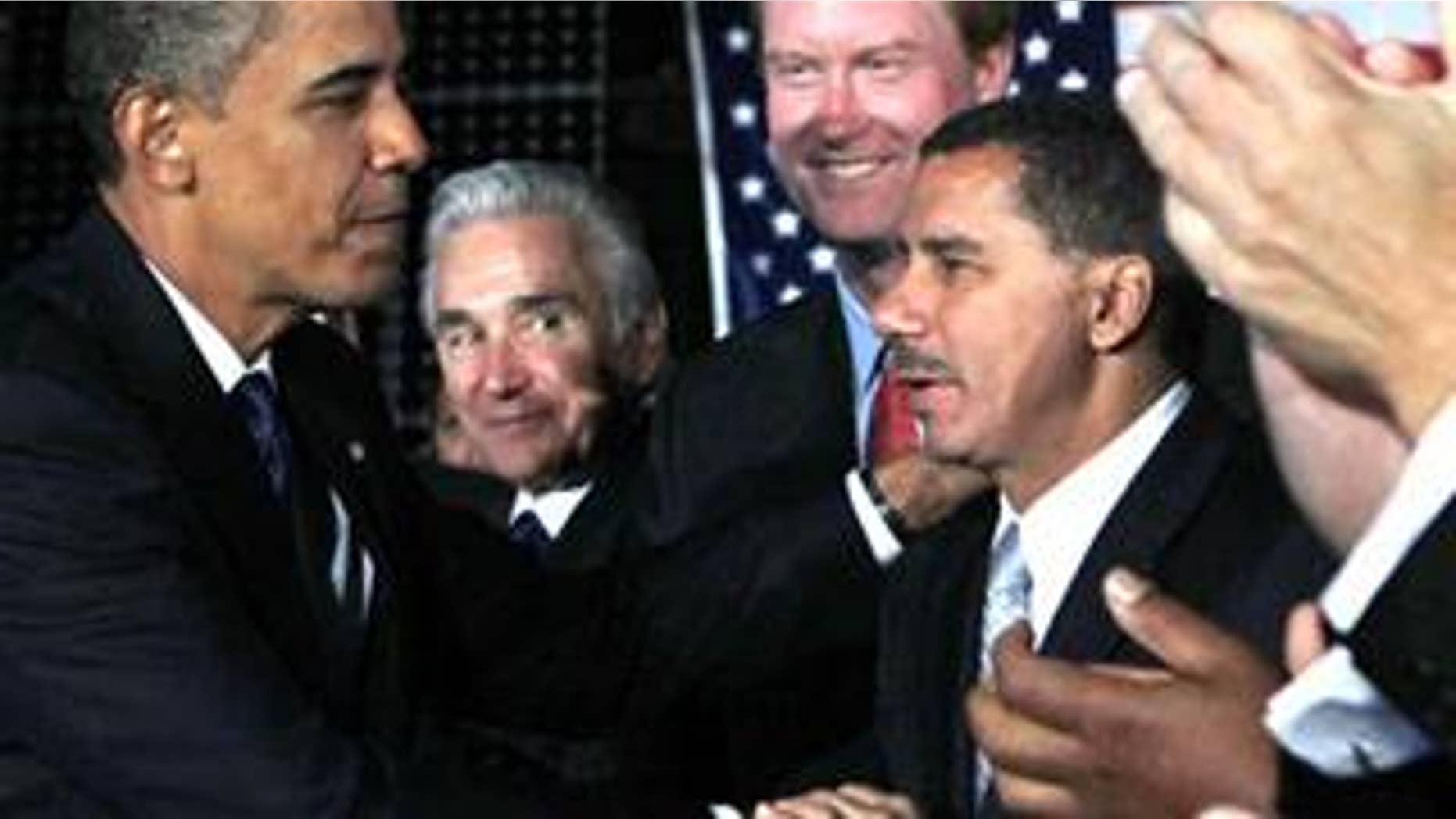 In an awkward encounter, President Obama and New York Gov. David Paterson exchanged pleasantries Monday following reports that the president has urged the Democratic governor to withdraw from the race for his own seat.
Paterson greeted Obama as he arrived on Air Force One on the way to speak at a community college in Troy, N.Y. Obama and the governor shook hands upon the president's arrival, and Obama leaned over to make a brief comment to Paterson.
Taking the stage, Obama later gave a shout-out to the governor.
"(A) wonderful man, the governor of the great state of New York, David Paterson is in the house," Obama said.
But he also acknowledged the presence of "your shy and retiring attorney general, Andrew Cuomo" -- a potential candidate for the governor's office, especially if Paterson drops out.
Paterson, who was New York's lieutenant governor, became governor in March 2008 after Eliot Spitzer resigned in the midst of a sex scandal involving a call girl.
But Paterson's approval rating is hovering around 20 percent, In a Marist Poll of 805 registered voters last week, 70 percent said he should not run for the seat next year.
Democrats are concerned that Paterson could drag down other members of the party in 2010 if he stays in the race, especially if the Republican candidate is Rudolph Giuliani. Paterson has so far refused to drop out.
The speculation about White House-level intervention in the New York governor's race has been widespread. Before Obama's visit, Washington Democrats sent a message to Paterson urging him to drop out of the race. The New York Times reported that Obama was the one who sent the message.
Though aides deny that Obama is interfering, White House spokesman Robert Gibbs wouldn't answer directly Monday when asked whether the president ordered that word be sent to Paterson that he does not want him to seek election to the post.
"Well, look, I think everybody understands the tough jobs that every elected official has right now in addressing many of the problems that we have, and I think people are aware of the tough situation that the governor of New York is in," Gibbs told reporters aboard the president's plane. "And I wouldn't add a lot to what you've read, except this is a decision that he's going to make."
Gibbs said it wasn't unusual for the White House to be involved in state elections.
"I would somewhat not subscribe to the notion that this is new," he said, quoting a Democratic strategist in saying, "not to be involved in politics would be like taking the math out of physics."
Asked whether there were any risks to such involvement, Gibbs answered: "The hazards of the job."
Click here to view the Marist poll.
The Associated Press contributed to this report.