Obama, Lawmakers Battle to Close Stimulus Divide Before Self-Imposed Deadline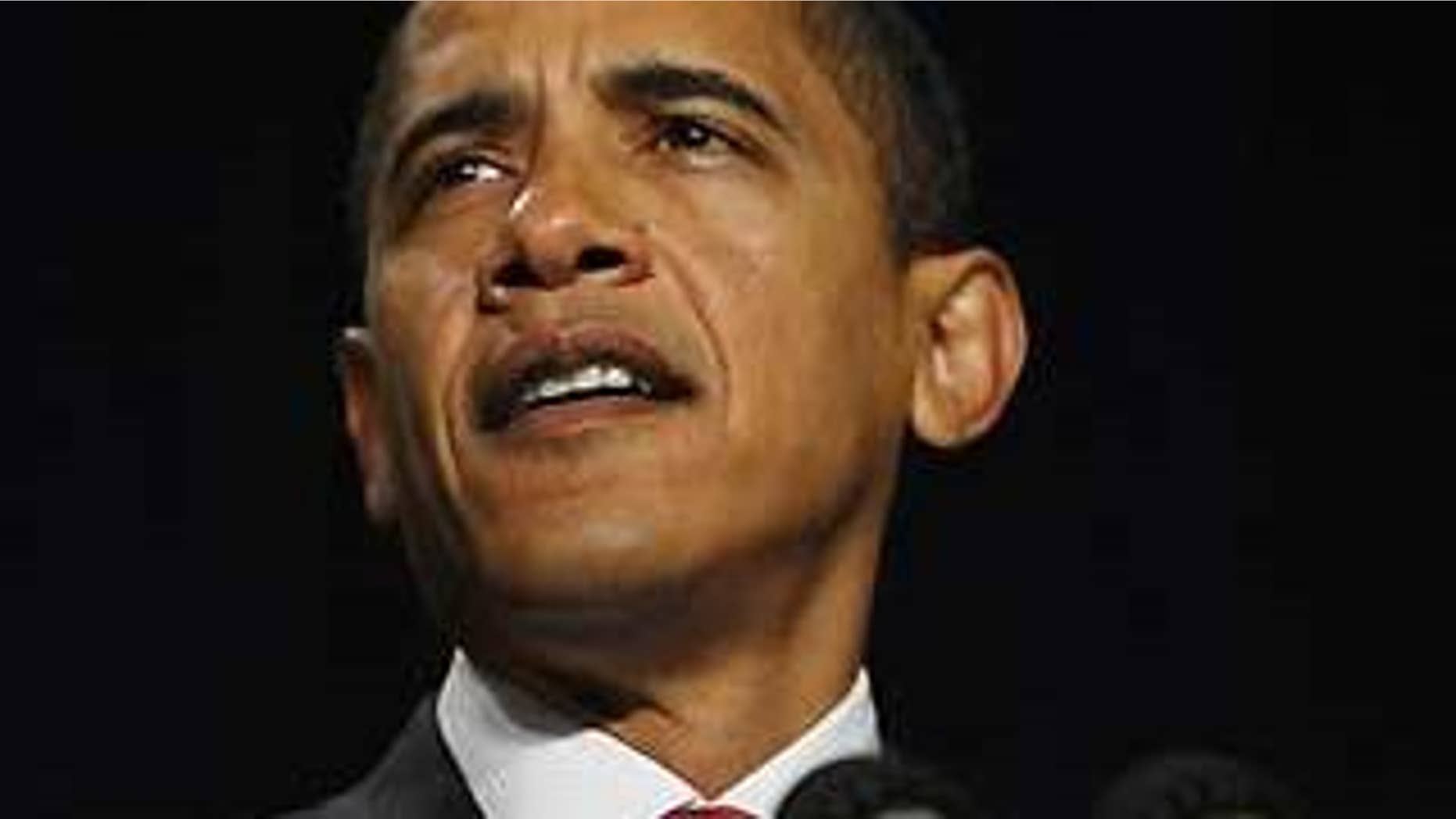 President Obama is locked in his first major battle with Congress over the economic stimulus, but if he can't swiftly resolve the growing great divide between dueling versions of the bill he risks missing his own self-imposed deadline.
Every time senators try to pare down their version of the economic stimulus package that passed at $819 billion in the House, it seems to get bigger. The bill was bloating past $920 billion Thursday.
That spells trouble for Obama's drive to complete the bill by Feb. 16. The now gaping differences between the House and Senate versions will have to be reconciled.
Democratic congressional leaders have invited Obama to make an address on the economy on Feb. 24 and the White House has accepted the invitation.
The goal is for Obama to salute passage of his economic stimulus bill and discuss moves his administration has made to deal with the second half of a Wall Street bailout, which was a separate $700 billion package passed in October.
On Thursday, Obama called on all members "to rise to this moment" and pass the package.
"The scale and scope of this plan is the right (one)," he said at an Energy Department appearance. "We're wasting energy not creating jobs and failing to compete in the global economy, and we end up bickering when the economy needs urgent action."
Obama told FOX News Tuesday that he's standing firm on his goal of completing the package by Feb. 16.
He's also gone on a campaign to raise support for the package over the last week, doing a round of media interviews, urging lawmakers not to stall the package over modest differences at just about every public appearance and even running a rare op-ed piece calling for action on the bill.
Using drastic language that he has repeated in the past few days, Obama wrote in The Washington Post Thursday that inaction could lead the economy on an irreversible course of decline.
"By now, it's clear to everyone that we have inherited an economic crisis as deep and dire as any since the days of the Great Depression. Millions of jobs that Americans relied on just a year ago are gone; millions more of the nest eggs families worked so hard to build have vanished. People everywhere are worried about what tomorrow will bring," he wrote urging Congress to act.
"Each day we wait to begin the work of turning our economy around, more people lose their jobs, their savings and their homes. And if nothing is done, this recession might linger for years. ... Our nation will sink deeper into a crisis that, at some point, we may not be able to reverse."
At the Energy Department, Obama said he thinks the bill deserves scrutiny because "that's the way democracy works," but added "the time for talk is over the time for action is now. ... Crisis could turn into catastrophe for families and businesses across the country and I will not let that happen."
But such language isn't sitting well with some who suggest the president risks spending his political capital
"Scaring people is not leadership," said Sen. Lindsey Graham, R-S.C. "Writing an editorial that if you don't pass this bad bill we're going to have disaster -- we've had enough presidents trying to scare people to make bad decisions,"
Graham is just one senator who is willing to put the brakes on a Senate version that has floated $100 billion over the House measure, and which Nebraska Democratic Sen. Ben Nelson and Republican Maine Sen. Susan Collins, both moderates, are trying to reduce.
They are meeting with a group of 17 senators to bring down the price tag to $799 billion.
"That's my goal, and I hope that's the goal of my colleagues as well. And that's going to take some discipline," he said, adding that as it stands the package does not have the votes to pass the Senate.
The duo is now in "selling mode," according to a Senate GOP aide, as they work to convince their colleagues to get on board. A vote on final passage could come as early as Thursday night -- but not until very late in the night at best, according to one GOP aide.
Collins said she was convinced by Obama during a meeting at the White House Wednesday that her call for a $650 billion package was a little small.
"The president has made a strong case for a proposal that is in the neighborhood of $800 billion," Collins said.
"It's a difficult debate because economists differ on what the size of the package should be. There's no consensus on that," she said. "We don't want a package that is too small because that will just end up wasting money. On the other hand, we are leary of having an enormous package that would not be necessary and would just boost the deficit," she said.
Sen. Mary Landrieu, D-La., said that there is no "magic number" for the stimulus but economists believe that the recession has resulted in $2 trillion coming out of this economy, so a whopping stimulus bill starts to fill the gap. She said the government cannot be "shy."
And Democratic whip Sen. Dick Durbin of Illinois said he is concerned about the bill being too small, arguing that when money is cut, so are jobs.
But Graham said he's not ready to go along with the backroom dealings of a small group of lawmakers.
"If this is bipartisanship, count me out," he said.
Arizona Republican Sen. John McCain, the 2008 presidential candidate against Obama, said even $800 billion is too big. He said the package contains too much wasteful spending, offering the example of $6 billion for broadband access for rural areas. He said that would take years to get done and create few jobs.
"These are spending programs that liberals and Democrats have been trying to get done for years and years but could not because they don't have sufficient merit," he said.
Paring the bill down is still the challenge. Even as Republicans leaders bemoan the size of the package, at least one of their own amendments has amounted to Miracle-Gro for the very bill they say they want to reduce.
The Senate voted Wednesday on an amendment by Sen. Johnny Isakson, R-Ga., to give a tax credit of up to $15,000 to homebuyers, a measure estimated to add $19 billion to the bill. Obama has said repeatedly that relying on tax cuts to boost the economy has led to the recession and deficit spending.
Senate Minority Leader Mitch McConnell said Thursday that the bill is "too costly," and with interest amounts to $1.3 trillion, "locking in bigger and bigger deficits every year."
He complained about $70 million for climate research, $20 million for the "removal of fish passage barriers" and other so-called pet projects. He said Democrats have rejected efforts so far to cut down the bill.
"The Democrats, it seems, decided on a random dollar amount of $900 billion, and have spent most of their time either defending it or adding to it," he said.
Nelson said if they are going to knock down the cost, lawmakers have to give up their "sacred cows" -- a polite term for earmark-like projects like $400 million for sexually transmitted disease prevention, $350 million for computers at the USDA, $14 million for cyber security and millions for NASA research.
Even if the Senate version passes this week, the House and Senate will have to come to an agreement ironing out the discrepancies between them.
The Senate bill, for instance, includes a provision that would spare about 24 million taxpayers from being hit with the Alternative Minimum Tax in 2009. On average, the change would save mainly upper middle-income families of four about $2,300. The House bill does not contain this annual AMT "fix," but Congress is unlikely to let 2009 lapse without doing it.
The Senate bill also includes $11 billion to make interest payments on most auto loans and sales tax on cars deductible. The House version does not include this.
The Senate version includes billions more for homeland security programs, and billions more for one-time Social Security payments.
FOX News' Trish Turner and The Associated Press contributed to this report.