Obama kills time amid border crisis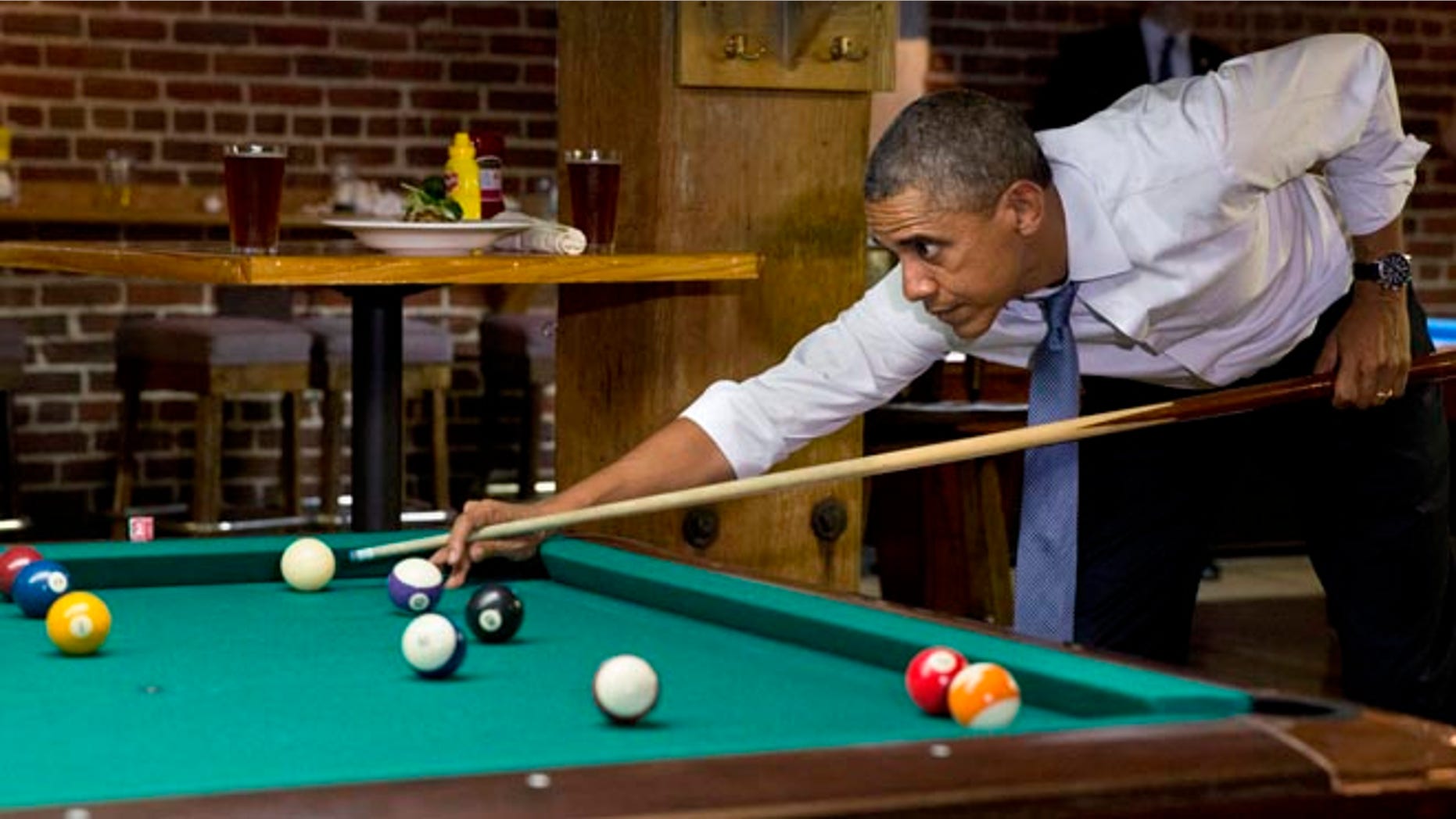 **Want FOX News First in your inbox every day? Sign up here.**
Buzz Cut:
• Obama kills time amid border crisis
• Hey ladies: Udall sponsors bill to restore ObamaCare birth control mandate
• Hillary denies American 'monarchy'
• Power Play: N.H. race stays interesting
• Filet of trouser
OBAMA KILLS TIME AMID BORDER CRISIS
The president seems to have lots of time on his hands these days. He's been shooting pool, participating in Internet memes and holding a slew of fundraisers. But one thing the president hasn't found time for this week is visiting the camps that are holding some of the tens of thousands of unaccompanied minors who have streamed across the U.S. southern border in a bid for permanent residency. Obama has added a stop to his Western junket this week – a roundtable to discuss the border crisis – after a public rebuke from Republican Texas Gov. Rick Perry. The administration is calling for nearly $4 billion in increased spending to deal with the tide of migrants, but deficit spending with no effort to address the underlying problem seems destined to fail in a divided Congress. The standard operating procedure for Obama of setting up a partisan fight with Republicans, shifting blame to Congress and acting unilaterally to satisfy his political base seems unlikely to suffice here.

[Fox News: "More than 2,700 unaccompanied minors who came across the southern U.S. border illegally are now being housed and cared for at military bases in California, Texas and Oklahoma, raising concerns about overburdening the facilities."]

Barely loose - The reason the president isn't inclined to visit the border is that he does not want further responsibility for a crisis his administration foresaw and helped create. Unless and until he can shift blame to Republicans, the president understandably wants to keep his distance. Why he and his team proceeded with these Texas fundraisers now, though, is an act of political stupidity that could only be borne of some combination of inattentiveness and arrogance. When pressure from his own party eventually forces Obama to visit the border, it will be reactive and come too late. The White House has been advertising the president's trip this week as some kind of walkabout by the chief executive. Because what's more invigorating than kissing up to rich people for money, right? With a problem as serious as an overwhelmed southern border, now would be a better time for the president to be looking serious himself.

The scene - AP "All through the night, government buses idle near the border wall — a mile or two from the river — awaiting loads of immigrants. The zone is patrolled by no fewer than six local, state and federal law-enforcement agencies, including gunboats crewed by Texas state troopers with night-vision goggles and the Border Patrol's white and green trucks. Helicopters swoop above the winding waterway. But there's little cat-and-mouse pursuit. Every day, hundreds of immigrants walk up to agents, wave to their remote cameras or simply wait to be picked up on the side of a road…"

"I still feel that the leader, in this case, [President Obama] should go down there, get on Air Force One, he's in Texas, it shouldn't be that long.  I know Texas is big, but he could get on Air Force One, be there in half an hour, and go see the border." -- Rep. Henry Cuellar, D-Texas to Megyn Kelly on "The Kelly File" Watch the full interview here.

TWO DEMOCRATS WALK INTO A BAR…
As far as public appearances go, President Obama is getting the cold shoulder from top Colorado Democrats on a two-day campaign and fundraising swing in the Centennial State. Unless the encounter is unannounced. At night. In a bar. Gov. John Hickenlooper, D-Colo., met Obama at the Wynkoop Brewing Company in Denver – a micro-brewery which the governor founded – on Tuesday night.  As this Tweet from NYT's Doug Mills shows, brews and a little pool shooting ensued. Up for re-election in November, Hickenlooper touted his centrism and pro-business stances in his successful 2010 campaign. His term has been dominated by social issues including his controversial stances on gun control, the death penalty, gay marriage and, of course, the state's embrace of recreational pot.  Add a struggling economy and ObamaCare, and Hickenlooper, like incumbent Democrat Sen. Mark Udall, finds himself vulnerable. Hickenlooper's challenger, former Rep. Bob Beauprez, R-Colo., can be expected to capitalize not only on the meeting but Coloradans concern over the incumbent's record.
Meme exhausted - Among those waiting to greet the president as he worked the crowd on a Denver street during a campaign stop, was a man in a horse head mask, a longstanding Internet meme. USA Today has the pictures and the details.

HEY LADIES: UDALL SPONSORS BILL TO RESTORE OBAMACARE BIRTH CONTROL MANDATE
Denver Post: "U.S. Sen. Mark Udall [D-Colo.] is co-sponsoring a bill that would override the Supreme Court's decision last week in the Hobby Lobby case. The bill, which is being drafted and would have little chance of becoming law in the current Congress, would ban employers from refusing to provide any health coverage, including contraceptives, guaranteed under the federal Affordable Care Act…Last week, the Supreme Court ruled in a 5-4 decision that closely held corporations did not have to provide coverage under the new federal health care laws if doing so would violate the owner's religious beliefs."
'BLUE FLU' CRIPPLES MEMPHIS POLICE FORCE AFTER OBAMACARE CAUSES CUTS
Nearly 1 in 4 Memphis police officers are calling in sick to show protest over city employee health benefit cuts due to rising costs under ObamaCare. As of Tuesday afternoon, 552 police officers had called out sick for the so-called "blue flu." Memphis Mayor AC Wharton admitted that the city should have done something sooner to deal with the budget so it didn't result in rising health care premiums. "The bottom line is that we will have, I won't call it insurance, but assurance the care will be there," Mayor Wharton told WMC.

Penn study: Even young professionals baffled by ObamaCare Web site - Daily Caller: "Even highly educated young adults struggle to understand and navigate HealthCare.gov, according to a study published Tuesday in the Annals of Internal Medicine. The most highly-prized Obamacare target, young and healthy adults, were often stumped by the federal website, which the Obama administration had promised would be easy and accessible for everyone — like popular comparison websites such as Kayak or Amazon. Young, Internet-literate, highly-educated professionals struggled with poor access to information on HealthCare.gov — details on the plans, comparisons, subsidies and even basic health insurance terms were too hard to come by. University of Pennsylvania researchers followers 33 subjects for three months as they struggled to get coverage from the federal website."

Couple married 33 years splits to keep benefits under ObamaCare - The Tennessean: "The day Linda Drain put baby's breath in her hair and said 'I do,' she had no idea that government policies would tear her apart from her husband. But 33 years later, she and her husband, Larry Drain, separated so she could keep her health insurance. Six months into the full implementation of the Affordable Care Act, the Drains are among 162,000 Tennesseans who got caught in a coverage gap. Their household income is too little to qualify for a government subsidy to buy health insurance, and they live in a state not expanding Medicaid…"

WITH YOUR SECOND CUP OF COFFEE...
Computer technology dominates the 21st century, from handheld devices to desktop computers. At one time, it seemed likely that computers would be the teaching tool of the future, but New Yorker's Justin Reich asks "Will Computers Ever Replace Teachers?" Maybe so. And anyone who's ever used a No. 2 pencil to fill in the bubbles on a Scantron test knows about the abiding impulse to automate education. But as Reich warns, "Schooling that trains students to efficiently conduct routine tasks is training students for jobs that pay minimum wage – or jobs that simply no longer exist."

Got a TIP from the RIGHT or LEFT? Email FoxNewsFirst@FOXNEWS.COM

POLL CHECK
Real Clear Politics Averages
Obama Job Approval: Approve – 41.4 percent//Disapprove – 53.9 percent
Direction of Country: Right Direction – 26.3 percent//Wrong Track – 63.5 percent
Generic Congressional Ballot:  Democrats – 41.8 percent// Republicans 40.2 percent

HILLARY: WE ARE NOT A 'MONARCHY'
Democratic 2016 frontrunner Hillary Clinton denied that the United States was becoming "a monarchy," claiming that her family's political power stems from "a sense of commitment" rather than using access to power and money to prevent outsiders from advancing.  Answering a question from Germany's Der Spiegel, Clinton defended her own effort to return her family to power as well as the potential candidacy of presidential brother and son former Gov. Jeb Bush, R-Fla., because the American political system is "open to everyone." Clinton defended dynastic families as public servants not power hungry. "We had two Roosevelts. We had two Adams. It may be that certain families just have a sense of commitment or even a predisposition to want to be in politics," Clinton told the reporter, and said her 2008 defeat was evidence of the openness of the system. "I don't think there is any guarantee in American politics. My last name did not help me in the end." Clinton continues pointing the differences between the American system and a monarchy. "[The American system] is not a monarchy in which I wake up in the morning and abdicate in favor of my son." But what about a daughter…

RAND GETTING READY IN NEW HAMPSHIRE
WMUR: "In one of the first significant moves ahead of the 2016 New Hampshire Primary, Kentucky Sen. Rand Paul's political action committee has hired a local consulting firm, which includes the former national campaign manager for Rick Santorum's 2012 campaign. Michael Biundo, of Manchester, the former Santorum manager, will serve as chief strategist for RandPac's New England operation. 'Mike will be a valuable asset to my team. His experience, passion and leadership will help me advance the principles of liberty,' said Paul. 'The Republican party needs to grow and Mike will be a vital part of that effort.' … For now the PACs stated goal is to simply help Republicans get elected in the midterm elections. New Hampshire has more competitive elections this fall than any other New England state.

Christie heading back to Granite State - New Jersey Gov. Chris Christie will make his second trip to New Hampshire this summer as the head of the Republican Governors Association, reports WMUR. Christie will host a fundraiser for the state Republican Party at a minor league baseball game on July 31. The governor was in the Granite State in late June to attend a fundraiser for GOP gubernatorial frontrunner Walt Havenstein.

POWER PLAY: NEW HAMPSHIRE RACE STAYS INTERESTING
In this week's edition of "The Race in 90 Seconds" Chris Stirewalt heads north to the Granite State to see how the former Republican Senator from Massachusetts,  Scott Brown, is doing in his battle to unseat Sen. Jeanne Shaheen, D-N.H. Shaheen holds many voters on the more liberal social issues, but Brown hopes to unify voters against ObamaCare. Both candidates had a stellar fundraising quarter, with Shaheen holding a 10 point lead in polling averages. Who will come out on top in November? Watch here to find out.

CONSERVATIVE GROUP TARGETS HAGAN FOR CARBON TAX IN NEW AD
A conservative non-profit group, American Energy Alliance, will launch a $230,000 ad buy today targeting Sen. Kay Hagan's, D-N.C., in her fight to fend off businessman Thom Tillis. The group backed by David and Charles Koch, attacks Hagan's support of a carbon tax and says the tax hurts North Carolinian wallets and jobs.  "Kay Hagan claims she opposes a carbon tax, but she is on record supporting it to make it a priority," the narrator says in the 30 second piece. "Even though it could cause the average family over $2,000 a year, increase gas prices and destroy thousands of North Carolina jobs." The ad concludes with voters telling Hagan they can't afford higher energy prices. Although Hagan is slightly ahead of Tillis in the polls, her seat is seen as one of the most vulnerable seats to flip read this fall.

REID PAC HITS MCCONNELL
A Democratic PAC will launch a $550,000 ad buy in the Kentucky Senate race, according to Politico. In the ad spot, the Senate Majority PAC, backed by Sen. Harry Reid, D-Nev., will attack Minority Leader Mitch McConnell for not standing up for Kentucky residents. The spot will air across the state for two weeks. McConnell faces Democratic challenger Alison Lundergan Grimes in November.
Grimes' new attack ad doesn't pass the test – AP: "Alison Lundergan Grimes, Republican Senate leader Mitch McConnell's Democratic opponent, released her first attack ad Tuesday, accusing McConnell of voting to raise a retired coal miner's Medicare costs by $6,000. He didn't…The bill he supported in 2011, on which the ad's claim is based, proposed moving ahead on a plan in the House by GOP Rep. Paul Ryan of Wisconsin to privatize Medicare over time. Some analysts said that could eventually raise costs for beneficiaries. But elderly people such as [the retired coal miner in the ad] — already retired or approaching retirement — would see no changes. 'Current Medicare benefits are preserved for those in and near retirement,' stated the bill, which failed in the Senate."

SENATE CONSERVATIVE FUND SENDS $70K TO SUPPORT MCDANIEL CHALLENGE
Yahoo News: "The Senate Conservatives Fund on Tuesday wired $70,000 to Chris McDaniel's legal fund to investigate alleged voter fraud in last month's election between McDaniel and Mississippi Republican Sen. Thad Cochran, Yahoo News has learned….The SCF, a group that supports conservative congressional candidates, launched a fundraising drive over the weekend to help his legal challenge and wired a majority of the funds Tuesday, SCF's new president, Ken Cuccinnelli, told Yahoo News. The group, which originally said it had no plans to participate in a challenge, has raised more than $90,000 in the past few days and plans to send the rest of the money early next week. During the campaign, the group spent $1.3 million in support of McDaniel, fueling a heated battle between the tea party and official party groups aligned with Cochran."

[Cochran accidently strolled to the Democratic weekly lunch Tuesday instead of the weekly Senate GOP gathering.]

COCHRAN CAMPAIGN MISREPORTED CASH PAYOUTS
The (Jackson, Miss.) Clarion-Ledger: "Facing allegations of vote buying and a challenge to a GOP primary runoff win, the Thad Cochran campaign on Tuesday said it made a mistake with its accounting of nearly $53,000 in get-out-the-vote cash and will have to amend its reporting to the Federal Election Commission. The Gotnews.com site Monday night reported that the Cochran campaign reimbursed staffer Amanda Shook for large sums of cash listed as 'Reimbursed Expense – Campaign Walkers.' FEC regulations allow reimbursement to staff only for travel and food expenses, and any other outlay of money by a staffer would be considered a contribution, and subject to a $2,600 limit….Some of the reimbursements listed for Cochran Operations Director Shook through June 3 are large, including payments of $8,000, $10,000 and $15,000. Cochran campaign adviser Austin Barbour says the filings were a mistake by the campaign's treasurer. He said they should be listed as cash payments to 'dozens' of people who helped knock on doors and with other GOTV work."

PRYOR AND COTTON FOCUS ON FAITH AND DISASTER RELIEF IN NEW ADS
Sen. Mark Pryor, D-Ark., is wasting no time in capitalizing on an attack on his faith by challenger Rep. Tom Cotton, R-Ark. Pryor's campaign re-cut the embattled incumbent's opening ad, which features Pryor holding a Bible, an adds the scriptural injunction against judging others. Watch the spot. Cotton, meanwhile, is defending himself in a new ad against claims that Cotton was indifferent to the suffering of tornado victims. The ad features Sheriff Andy Shock from Faulkner County touting Cotton's support for the state after a devastating tornado. "Despite what you've been told, Tom Cotton stood with us with us every step of the way," said Shock. "Shame on anyone who uses our tragedy for their own political gain."

2016 PREVIEW? RYAN, WARREN IN WEST VIRGINIA STUMP DUEL
AP: "Rep. Paul Ryan will hit the campaign trail in Charleston next week to tout Rep. Shelley Moore Capito's bid for U.S. Senate…Capito's campaign says the Wisconsin Republican will be in West Virginia's capital Monday afternoon to discuss fiscal issues and denounce President Barack Obama's policies. The president lost West Virginia badly and remains unpopular in the state. The same day, Democratic Sen. Elizabeth Warren of Massachusetts will campaign for Capito's opponent, Democratic West Virginia Secretary of State Natalie Tennant. Tennant will roll out an education plan at the Eastern Panhandle event. Capito and Tennant are vying for retiring Democratic Sen. Jay Rockefeller's seat."

[Big bucks - Rep. Paul Ryan, R-Wis, raised more than $1.6 million in the second quarter, breaking his previous quarterly fundraising record of $1.4 million. Ryan reported that he has more than $3.8 million cash on hand.]

On the other side of the mountain - Likely for the first time since the New Deal era, Democrats no longer make up a majority of West Virginia's electorate. The state's foremost political analyst, Hoppy Kercheval puts it into perspective: "…between 1932 and 2004, of the 139 terms for statewide office up for election, all but ten were filled by Democrats. (Three of the ten Republican terms were filled by [former Gov. Arch Moore.])"

PICK SIX
The status quo will change dramatically in Washington if Republicans are able to gain an additional six Senate seats. Which six Democrat-held seats are the most likely GOP pickups? The current consensus among Fox News First readers: Arkansas, Louisiana, Montana, West Virginia, South Dakota and North Carolina. Fox News First reader Gary Wolfe doubts the GOP can unseat Sen. Mary Landrieu, D-La. "I don't believe for a minute that the Louisiana votes will turn against Landrieu," Wolfe wrote. "The Republicans better find another state in order to take the Senate."

Share your top six picks. Email them – just your top six, please – to FOXNEWSFIRST@FOXNEWS.COM or tweet @cstirewalt.

FILET OF TROUSER
WBIR: "A suspected meat thief was caught on camera just before he stuffed hundreds of dollars' worth of beef down his pants. The theft happened at the Food Lion store on Highway 72, and according to the Loudon County [Tenn.] Sheriff's Office, it wasn't the first time. Managers suspected the man of stealing meat from the store before, so when they spotted him in the store, they went back and checked the security camera footage.  They saw the man walking into the store, pausing a moment to tuck his baggy pants into his shoes. Then he was seen selecting packets of meat from the display case, which he covered with paper in his cart. Detectives say later, the man stuffed the meat down into his pants, and walked out of the store. On this trip, store managers said he took off with more than $300 worth of meat."

AND NOW A WORD FROM CHARLES…
"He either doesn't know what to do or he wants it to go ahead the way it is, and the proposal he made, the $4 billion he wants to spend on this, is a way to absorb all these people and not do anything to stop the influx. There's nothing that is going to stop the influx." – Charles Krauthammer on "Special Report with Bret Baier"

Chris Stirewalt is digital politics editor for Fox News. Want FOX News First in your inbox every day? Sign up here.