Obama Hosts Peruvian President Ollanta Humala, Calls Peru A Reliable Partner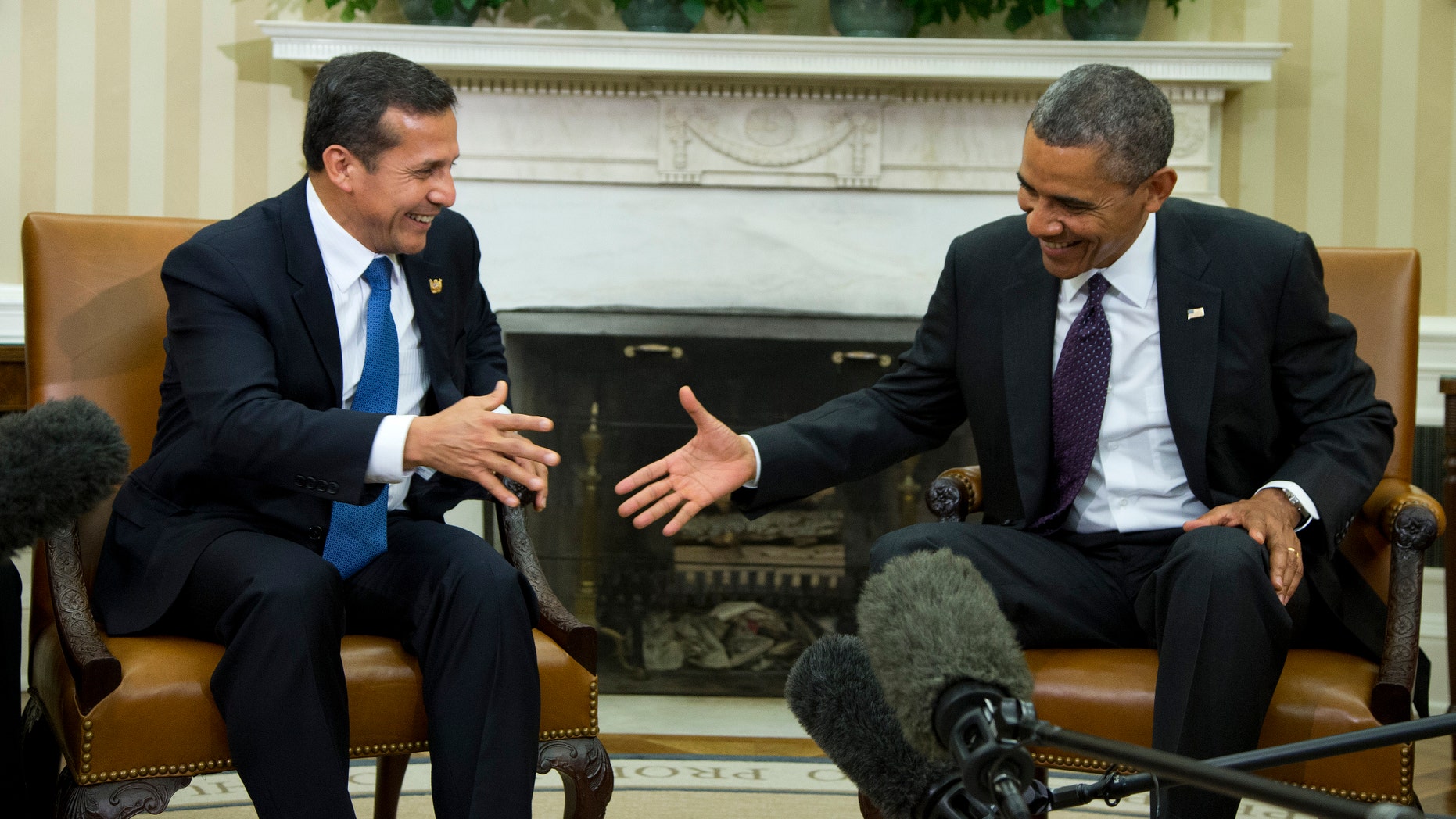 President Ollanta Humala of Peru paid President Barack Obama a visit in the Oval Office Tuesday, a bilateral meeting that lasted nearly an hour before cameras were allowed into the room.
"Overall, the state of our relationship is very strong," President Obama said.
Citing the strength of the two nations' commercial and trading relationship, Obama called Humala one of the United States' most reliable partners in the hemisphere.
President Obama was complimentary of the Peruvian economy and congratulated Humala on his country's strong growth, as well as steps he has taken to reduce inequality.
Obama also named the Trans-Pacific Partnership Agreement, a free trade agreement presently being negotiated, as one way to improve the economy throughout the region.
Student exchange programs were also mentioned during the brief remarks of each leader as another way to improve cooperation between the United States and Peru.
Both Obama and Humala sat next to translators to help them communicate with each other and with the international press.
Counter narcotics efforts were also mentioned by each leader though both men focused their remarks on the economy.
Humala, president of the 42nd largest country on earth, ended the meeting with a joke that drew a big laugh from President Obama as well as aides in the room.
After listening to President Obama offer well wishes to the Peruvian soccer team in their match this evening, Humala cracked, "the referee is from the U.S.," before clarifying that he was kidding.
Tuesday evening, President Humala dined with Vice President Joe Biden at the Naval Observatory in Washington.
Across Pennsylvania Avenue, a red and white Peruvian flag was hanging at Blair House, where heads of state stay during official visits to Washington.
Humala's visit to the White House Tuesday was his first official trip to the United States since his election in 2011.
The Associated Press contributed to this report.
Follow us on twitter.com/foxnewslatino
Like us at facebook.com/foxnewslatino