Obama Holds Doctors' Summit in Effort to Promote Health Care Overhaul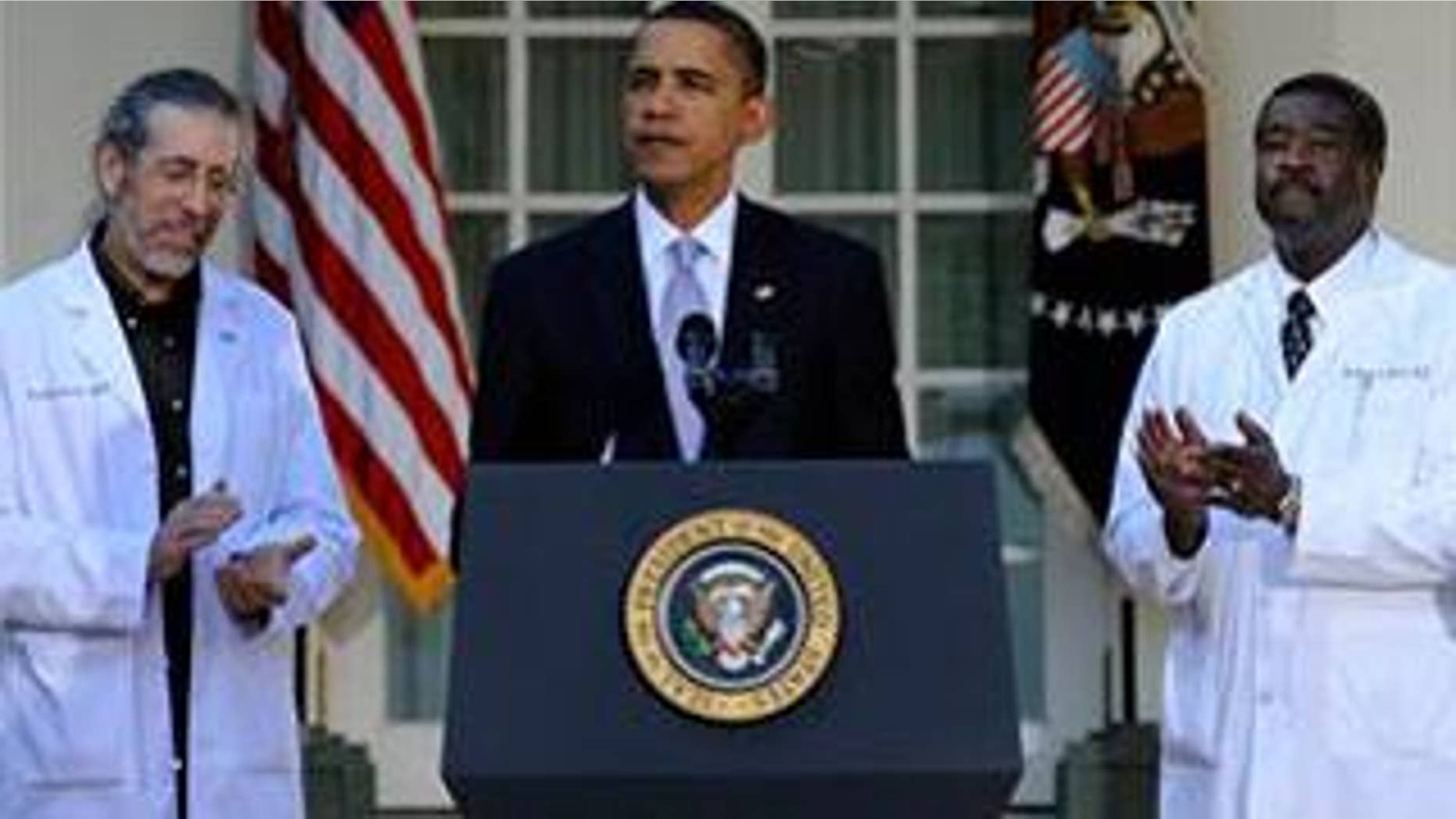 The doctor made a White House call Monday -- 150 of them, in fact, all costumed in white hospital coats -- to try to help President Obama administer a booster shot to his ailing health care reform drive.
White House spokesman Reid Cherlin described the assembled physicians, from all 50 states, as the best voices for reform because they witness the current health care system on a day-to-day basis.
"These folks know better than anybody about what works and what doesn't," Cherlin told FOXNews.com, adding that the physicians come from "a variety of groups that we work with."
But the doctors in the Rose Garden were all supporters of health care reform -- and the invitation-only guest list drew heavily from Doctors for America, a grassroots organization that backs a government-run insurance option.
Roughly 98 percent of the group's 15,000 members support a public insurance option, Doctors for America spokeswoman Megan Smith told FOXNews.com. She said roughly 40 of the 150 doctors who attended the meeting were from the organization.
Cherlin insisted that the doctors "were not invited based on their support for a public option."
Nearly 63 percent of doctors prefer both a public and a private health insurance option, according to a recent survey by the New England Journal of Medicine.
White House press secretary Robert Gibbs said Monday that Obama is focused on a health care reform bill that "ensures choice and competition," but stopped short of saying whether the sweeping overhaul would include a government insurance plan -- despite widespread reports that administration officials are engaged in closed-door meeting with Democratic lawmakers to push for its passage.
"We, as a group, think a public option is necessary because we need some mechanism to get health care into the hands of people who are falling between the groups," said Dr. Christopher Hughes, a Pittsburgh-based intensive care physician and member of Doctors for America, who was invited to attend the summit.
"We view having a public option as a way of holding private insurers accountable," said Hughes, who added that a public option would create "healthly competition" in the marketplace and force private insurers to lower their costs while enhancing the quality of patient care.
Hughes said he was chosen to attend the gathering because he's been heavily involved in promoting reform at the grassroots level in his home state of Pennsylvania.
But the decision to invite doctors who support an optional public health plan has angered organizations like "Mad As Hell Doctors," a group of physicians advocating a single-payer system.
"I didn't get an invitation to the garden party," said Dr. Paul Hochfeld, an Oregon emergency medicine physician and a member of the group who wrote a letter to Obama asking to be included in the summit.
"It just appears that President of the United States, at this point, is choosing to meet with only those who support his agenda," added Dr. Margaret Flowers, a Maryland pediatrician and congressional fellow for Physicians for a National Health Program, which had also sent a letter to the president requesting to participate in Monday's meeting.
"The current health reform being written in Congress, particularly that being put together in the Senate Finance Committee, will not be universal and will not control health costs," Flowers said. "It will not stop medical bankruptcies and foreclosures due to medical debt. It will not end the suffering and preventable deaths. It will not produce a health care system that uses our health care dollars wisely."
Republicans, like House Minority Leader John Boehner, were quick to lash out at the president's meeting with doctors Monday, characterizing Obama's public option as a "government takeover."
"Members of the medical community, who deal with red tape day in and day out, rightly recognize that the Democrats' government takeover would weaken the doctor-patient relationship that is so critical to making the right health care decisions," Boehner said in a press release.
The president's call for a government-run insurance plan faced a potential setback last week when the Senate Finance Committee voted to strike two amendments to the committee's legislation that would call for some form of public option in conjunction with private insurance options.
Finance Committee Chairman Max Baucus of Montana has said that a public option is not likely to pass in the Senate, while Majority Leader Harry Reid has stood steadfastly behind it. The pivotal Senate committee is set to vote tomorrow on its final legislation.