Obama Hits the Road to Rally Public Support for Stimulus Plan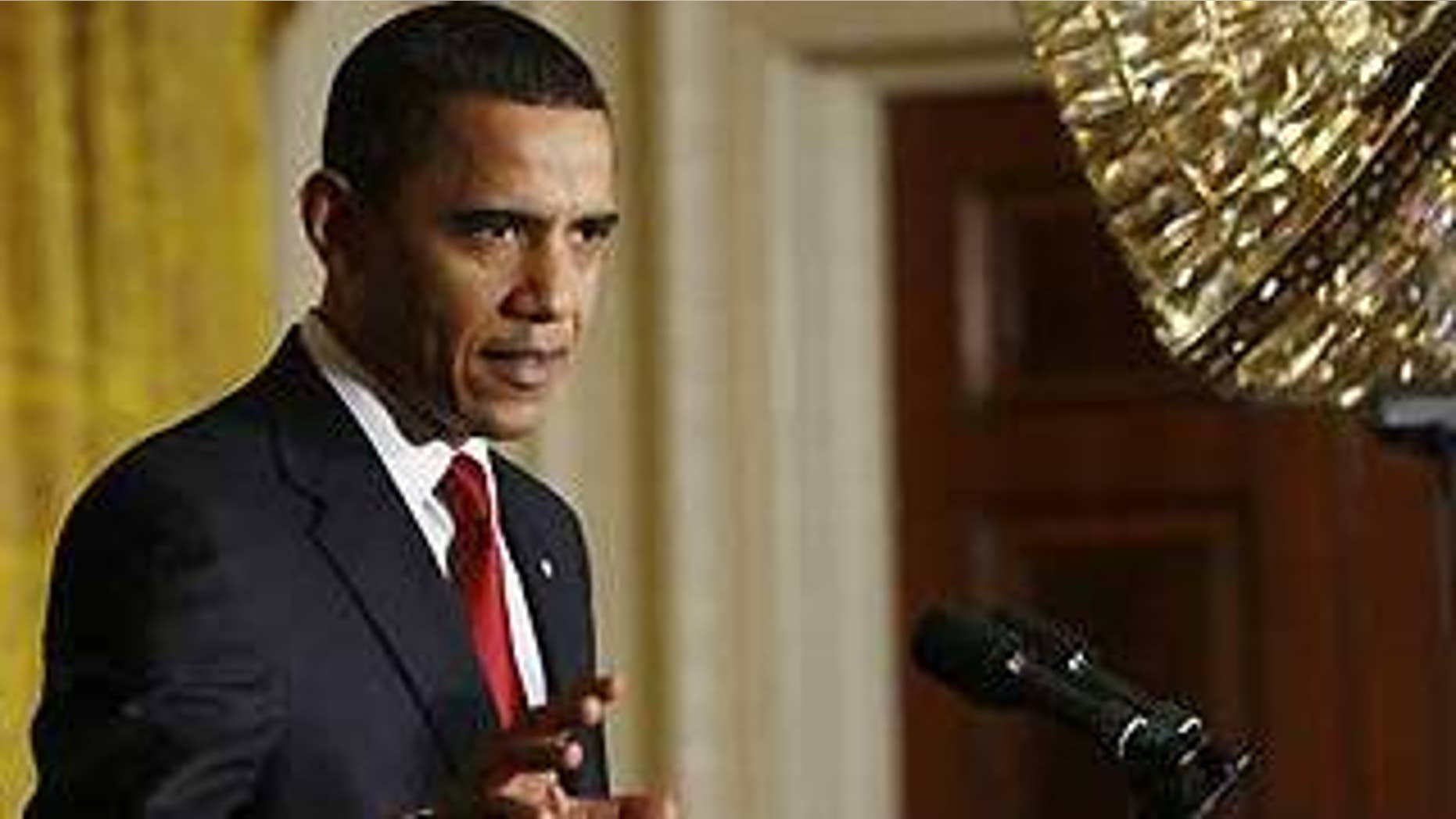 With his economic stimulus bill facing a bumpy ride in the Senate, President Obama is hitting the road and trying to rally the public in an attempt to sell the $900 billion spending plan.
Obama, harkening back to campaign-style methods, plans to hold town hall meetings in Elkhart, Ind., on Monday and Fort Myers, Fla., on Tuesday, and he is also holding his first prime-time news conference as president Monday night.
"The president wants to extend the conversation and have it directly with the American people," White House press secretary Robert Gibbs said.
That may be because his conversations with lawmakers have not yielded a consensus. However, key senators and the White House reached a tentative agreement Friday night on an economic stimulus measure at the heart of the president's recovery plan. Two officials said the emerging agreement was for a bill with a $780 billion price tag, but there was no immediate confirmation.
Obama drew criticism from Republicans earlier Friday for using what they saw as partisan rhetoric to promote the package, and even some Democrats were threatening to boycott the plan.
Democratic Sen. Dianne Feinstein, Calif., was the latest to voice her concerns.
"I am growing increasingly concerned about the bill as to whether it's going to really be a stimulus," she said on the Senate floor Friday afternoon. "I reserve the right at the end of the day to vote against the package that I don't think puts those jobs out there."
Though Obama is trying to pressure lawmakers by dealing directly with the public, polls show taxpayers are increasingly skeptical about the effectiveness of the plan.
The two cities Obama will visit next week have struggled amid the crumbling economy. Elkhart has seen its unemployment jump to 15.3 percent from 4.7 percent in the past year and unemployment in Fort Myers, has climbed to 10 percent.
The tour follows Obama's media blitz to promote the stimulus bill.
As Senator Majority Leader Harry Reid desperately seeks a handful of Republican votes to reach the 60 needed to move the bill forward, he is starting to hear some grief from Feinstein and others who are concerned that a group of nearly 20 senators forging a compromise bill might go too far in cutting out funding.
On the flip side, Republicans also were showing frustration with the compromise process.
Sen. George Voinovich, R-Ohio, emerged from the latest round of talks and said he is out of the group. That leaves only Maine Republicans Susan Collins and Olympia Snowe, and Sen. Arlen Specter, R-Pa., to negotiate with about a dozen Democrats. Collins said after a meeting with Reid that the talks were "not as good" as she had hoped.
And according to the Boston Globe, Republican Sen. Judd Gregg, N.H., whom Obama has tapped to be his commerce secretary, recused himself from the vote, depriving the president of another potential ally on the measure.
Some Republican senators basked in what they considered their success in slowing the stimulus passage.
"We have already brought this process to a point where Democrats are not sure they can pass it," GOP Sen. Jim DeMint told reporters, as senators displayed 70,000 "no stimulus" petitions being delivered to Capitol Hill.
Meanwhile, the Obama administration was putting subtle pressure on key Republicans needed to pass the bill.
White House press secretary Robert Gibbs said Friday's report showing the economy lost nearly 600,000 jobs in January "is the equivalent of losing every job in the state of Maine." That could be seen as a direct appeal to Collins and Snowe.
Gibbs also noted that: "In the past two months, the economy lost 1.2 million jobs. That's basically losing every job in Pittsburgh or in Cleveland." That could be seen as an appeal to Pennsylvania's Specter and Ohio's Voinovich.
Obama said Friday it is "inexcusable and irresponsible" to delay passage of the recovery plan.
The spending plan so far has burgeoned to $937 billion, and the moderates working on a compromise measure were trying to strip as much as $100 billion from the total price tag.
"I think we're gonna get there. It's just a painful process, a legislative process," Alaska Sen. Mark Begich, one of the negotiators, told FOX News.
FOX News' Trish Turner and Mosheh Oinounou contributed to this report.