Obama energizes Maine Democrats for Michaud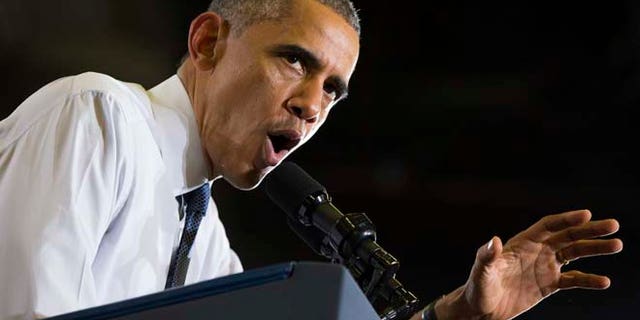 PORTLAND, Maine – Less than a week before Election Day, President Barack Obama swung through Maine on Thursday and called on Democrats to get everyone they know to the polls to defeat Republican Gov. Paul LePage.
Before roughly 3,000 supporters of gubernatorial candidate Mike Michaud in Portland, Obama stressed the closeness of the three-way race, warning Democrats that the election is "too important to stay home."
Obama noted independent U.S. Sen. Angus King's decision Wednesday to throw his support behind Michaud -- after initially backing Cutler -- and encouraged all Democrats to unite behind the six-term congressman.
"I agree with what (King) said yesterday," Obama said before the lively crowd at the Portland Exposition Building. "It's time to come together around Mike Michaud as our choice to lead Maine forward."
Obama never mentioned LePage by name, but took several shots at the Republican governor, criticizing him for his opposition to raising the minimum wage and expanding Medicaid under the federal health care law.
He touted Michaud's work as state Senate president and working on military and veteran's issues in Congress and stressed that the former mill worker would not forget his working-class roots.
"Mike's got a vision for what the future looks like and it's a vision rooted in our conviction that in America prosperity doesn't trickle down from the top," Obama said.
Democrats hope the rally will energize their base and give Michaud a last-minute boost in the tight race. Polls show Michaud and LePage in a tight race with independent Eliot Cutler in a distant third.
Michaud, who took stage to "We like Mike" chants, said the outcome of the race will be determined by which party works the hardest over the next five days.
"When you wake up on Nov. 5, one of two things will be true: We'll either wake up having been victorious to repair the damage that this governor has caused ... or we will have four more years of Gov. LePage," Michaud said to boos from the crowd.
Democratic Party Chairman Ben Grant said the party needs to fill thousands of more shifts for its get-out-the-vote effort this weekend, which includes making phone calls and knocking on doors.
"Make no mistake, after all the ads, after all the press conferences ... the election is in your hands," Grant said.
Republicans, who noted Obama's lagging approval ratings, criticized Michaud for following the president's lead on issues like the Affordable Care Act.
"It's clear the purpose of this visit is to help Congressman Michaud rally a liberal base that's not very excited about voting for him," Republican Party Chairman Rick Bennett said in a statement. "The debates proved that Congressman Michaud is incapable of making tough choices, answering difficult questions, or articulating his vision for Maine's future."