Obama: Egyptians Won't Permit a Repressive Government to Fill Mubarak Void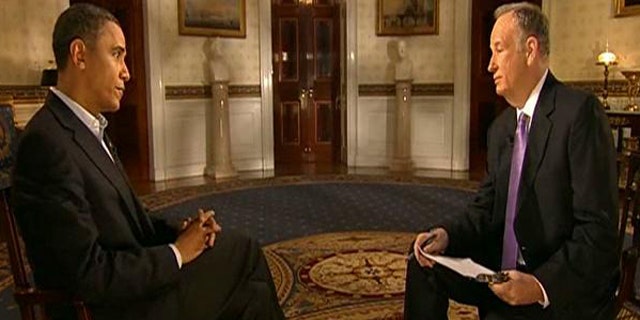 NEWYou can now listen to Fox News articles!
The United States can't force out Egyptian President Hosni Mubarak, but the Egyptian people will no longer allow unresponsive government without representation or free and fair elections, President Obama said in an interview Sunday with Fox News' Bill O'Reilly.
With that in mind, an orderly but meaningful transition to a new government will reduce the possibility of a radical, anti-American government, the president argued in a pre-Super Bowl XLV interview.
"What I want is a representative government in Egypt and I have confidence that if Egypt moves in an orderly transition process, they will have a government in Egypt that will work together with us" as partners, Obama said from the White House, where he was preparing to entertain about 100 guests for the Super Bowl game between the Pittsburgh Steelers and Green Bay Packers.
Click here to watch Bill O'Reilly's interview with President Obama.
Mubarak has ruled Egypt with an autocratic fist for decades even as the country has been an ally to the United States. While the embattled Egyptian president has been a reliable partner in upholding the peace accords with Israel and in counterterror efforts, in the past two weeks hundreds of thousands have stormed a central square in Egypt's capital Cairo to protest Mubarak's oppressive rule.
Though the strength and breadth of the demonstrations were unexpected, the United States has quickly moved to convincing Mubarak that it's time for him to step down after the presidential elections scheduled for September, if not sooner.
But any sudden toppling of the Mubarak regime could create major headaches for the United States, particularly if the void permits a group like the radical Muslim Brotherhood, which is negotiating with the current government about leadership changes, to emerge victorious.
Obama suggested he's less concerned about that.
"The Muslim Brotherhood is one faction in Egypt. They don't have majority support in Egypt, but they are well organized and there are strains of their ideology that are against the U.S., there's no doubt about it," Obama said. "But here's the thing that we have to understand, there are a whole bunch of secular folks in Egypt, there are a whole bunch of educators and civil society in Egypt that wants to come to the fore as well. So it's important for us not to say that our own only two options are either the Muslim Brotherhood or a suppressed people."
To avoid such scenarios, Obama said that the U.S. must make sure "that we get all the groups together in Egypt for an orderly transition and the one that is a meaningful transition."
Foreign relations aren't the only matters on the president's mind. In his wide-ranging interview, the president appeared nonplussed about the possibility that the Supreme Court would rule his new health care law unconstitutional.
Repeating remarks he made in his State of the Union address last month -- that he doesn't want to re-fight the battles of the past two years -- Obama nonetheless said he thinks a Florida district judge was wrong to rule against his signature domestic achievement.
"Keep in mind, we've had 12 judges that just threw this case out, this notion that the health care law was unconstitutional," Obama said.
Obama would not speculate on what would happen to the program if the Supreme Court throws out the case, but said he is not prepared to go back to the days when Americans with preconditions couldn't get coverage.
Adding that people want cost controls and security in health care, the president also took issue with suggestions that he has moved to the center after the drubbing Democrats took in the November midterm election. And he rejected claims that the health care law is a far-reach to the wishes of the political left.
Arguing that he hears people who say that they don't want to pay for other people's health care -- which many uninsured don't get until they are in the emergency room -- Obama said, "If you get sick you have a responsibility to make sure you get coverage. There's nothing socialist about that. That's saying to Americans we're going to, each of us, be responsible for our own health care," Obama said.
"In this country there is no reason why when you get sick you should go bankrupt," he added. "The notion that that's a radical principle, I don't think the majority of people would agree with me on."
Answering an unexpected question about what he thinks Fox News could do better, the president said, "The most important thing that the news (can do), whether it's Fox News or MSNBC or whoever, is give people the facts."
"I would say that the news guys try to do a good job, though look let's face it, Fox News has a point of view. There's nothing wrong with that," the president said, arguing that America has "a strong history" of opinion journalism.
In a series of short response questions and answers, the president joked that the worst part of the job is that he has to wear a jacket on Super Bowl Sunday. In reality, however, "the biggest problem for me is being in the bubble, you can't go to the corner, everyone watching every move you make and over time you feel like you're not able to have a spontaneous conversation with folks and that's a big loss."
He added that the biggest challenge he learned being president is that it's tougher than anyone can intellectually grasp.
"You don't understand in your gut until you're in the job ... that everything that gets sent to my desk is what nobody else was able to solve," he said, adding that by the time a problem reaches him, the solution comes really from using his best judgment.
Obama said he doesn't worry whether people hate him because he learned to get a tough skin long before he got to the job.
"The folks who hate you don't know you. What they hate is whatever funhouse mirror image of you is out there," he said.
Asked if he's changed, Obama said he thinks he's the same guy as when he came in, but he didn't argue with assertions from friends and confidants that he's not as light or spontaneous as he was.
"There's no doubt that the weight of the office has an impact, but I will tell you that the longer I'm in this job the more I enjoy it, the more optimistic I am about the American people, the more optimistic I am about the country. There's something about this position that gives you a pretty good vantage point about the country as a whole, and for all the arguing we get into and all the debates between Democrats and Republicans, there's just a sense, a common sense and a decency to the American people that makes me optimistic even on the worst of days."
The president said he was also optimistic for a good Super Bowl.
"Once my (Chicago) Bears lost, I don't pick sides," he said. "I want a great game. These are two pretty evenly matched teams. I think Green Bay is probably a little faster, Steelers got a little more experience. I think the Steelers not having their starting center is something they gotta be a little worried about."