Obama Discusses Drug War, Energy & Immigration with Calderon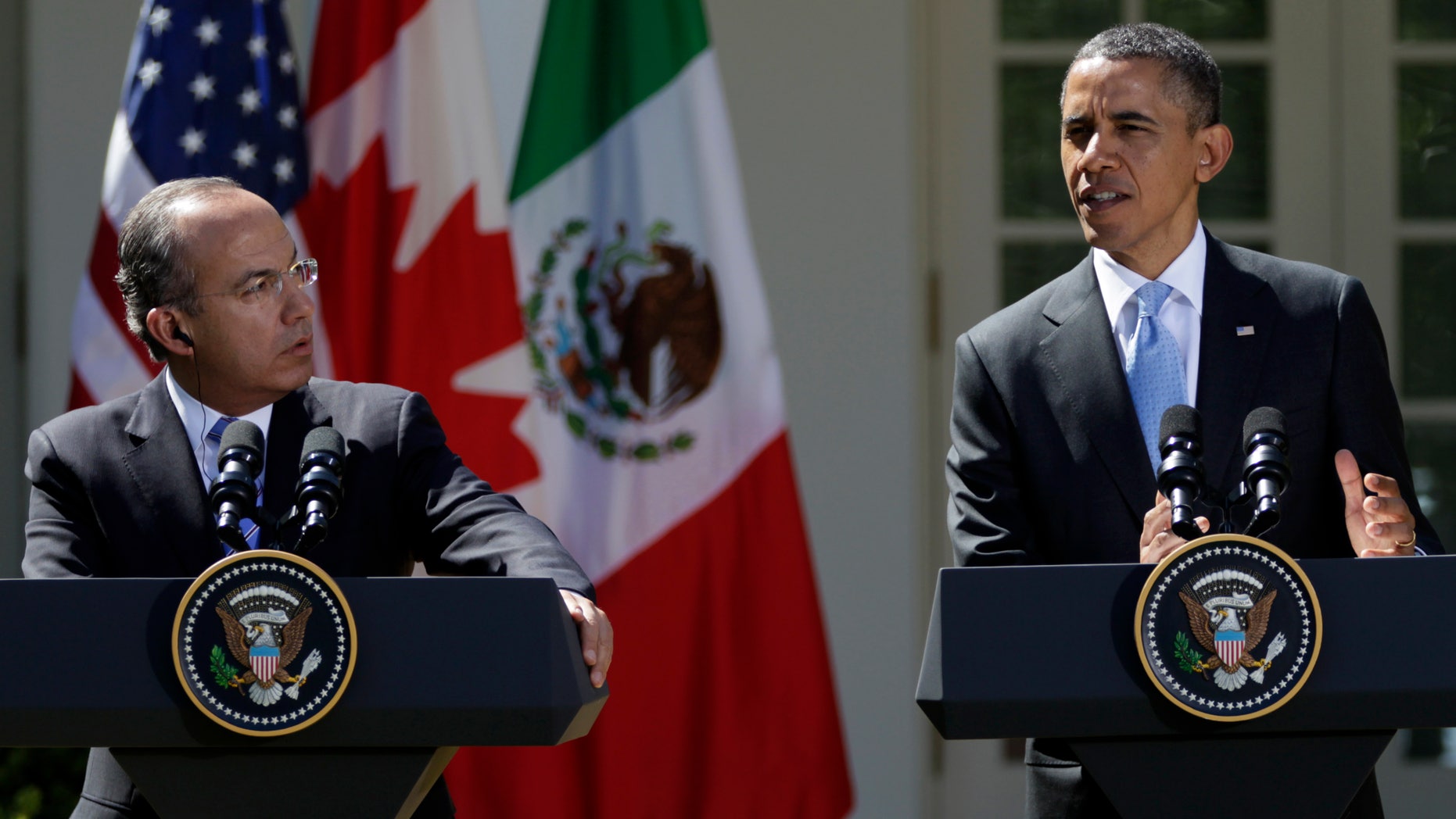 President Barack Obama met with the leaders of Mexico and Canada on Monday and discussed everything from energy, immigration and the war on drugs.
The meeting was to try and boost North American trade — and cut needless regulation that stifles it — in an effort to shore up a fragile economic recovery.
After the one-day summit with Mexican President Felipe Calderón and Canadian Prime Minister Stephen Harper, Obama said the United States has trimmed outdated and burdensome rules in talks with both its neighbors, but all three countries will now go beyond that.
"Our three nations are going to sit down together, go through the books and simplify and eliminate more regulations that will make our joint economies stronger," he said.
Obama noted trade among the three neighbors now tops $1 trillion a year, and he wants to see that number rise. "This is going to help create jobs," he said.
The summit ranged broadly across issues a number of topics, from climate change to the war on drugs.
But notable by its absence from a post-summit news conference in the Rose Garden was the controversial Keystone XL oil pipeline from Canada's oil sands in Alberta to the U.S. Gulf of Mexico. Obama shelved the plan pending further review — and has endured ferocious GOP attacks ever since, with Republicans calling the move a blow to job creation and U.S. energy needs. He maintains GOP leaders in Congress forced his hand by insisting on a decision before an acceptable pipeline route was found.
Harper has voiced disappointment with Obama's decision. He also visited China in February to explore alternatives. Canada has the world's third-largest oil reserves — more than 170 billion barrels — after Saudi Arabia and Venezuela, and daily production of 1.5 million barrels from the oil sands is expected to rise to 3.7 million by 2025.
Obama, Harper and Calderón will see each other later this month at the Summit of the Americas in Cartagena, Colombia. They're also well-known to each other from international gatherings — but are headed in different electoral directions.
While Obama faces a tough re-election battle for the next seven months, Calderón is term-limited. The battle to succeed him formally kicked off last week and will culminate with Mexican elections July 1. The main issue is the deadly war his government has waged with drug cartels, which has claimed an estimated 47,000 lives.
During a press conference Monday, Obama warned that the level of violence in Mexico could have a "deteriorating effect" on U.S.-Mexican relations but credited Calderón for his efforts to curb the violence.
Obama says his administration has worked to stop illegal gun trading and recognizes the impact that the violence is having on those inside Mexico.
The president says when you have "innocent families and women and children" who are being killed, "that should be everybody's problem." He says if the violence from the drug trade expands, it will have a "deteriorating effect" on the two countries' relationship.
He said Calderón took "courageous steps" curb the violence.
Based on reporting by The Associated Press.
Follow us on twitter.com/foxnewslatino
Like us at facebook.com/foxnewslatino