Obama defends redistribution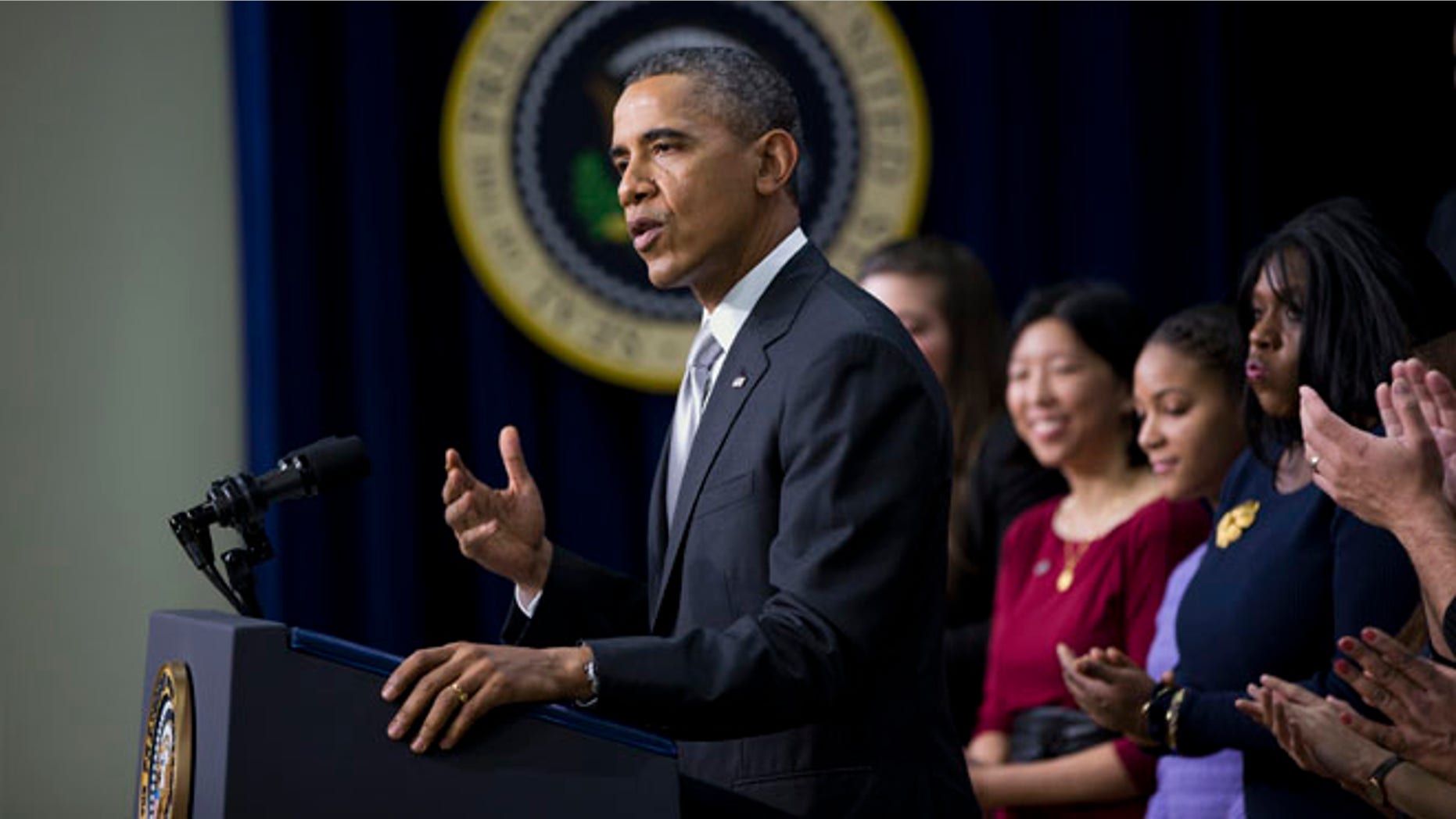 **Want FOX News First in your inbox every day? Sign up here.**
Buzz Cut:
• Obama defends redistribution
• Administration admits defeat on ObamaCare backend
• Baier Tracks: Biden in Beijing
• Bubba: I was just trying to help
• What's round on both ends and profane in the middle?
OBAMA DEFENDS REDISTRIBUTION - President Obama today heads to the liberal Center for American Progress to talk about ObamaCare and the economy. And while the president will certainly hit talking points about how Americans, one day freed of concerns over health insurance, can pursue their dreams of higher education and economic betterment, the basic message is likely to be the same one he has made in his other "major" economic addresses over the years: the need for more redistribution of wealth to deal with income inequality. Remember that while the redistributive properties of ObamaCare are causing mainstream Americans to recoil from the president and his health law, redistribution is its cardinal virtue to many on the left.
[Watch Fox: House Majority Whip Kevin McCarthy, R-Calif., discusses how the administration is attacking Republicans for their opposition to ObamaCare in the 10 a.m. ET hour]
Not paying attention - Obama has pursued his policy aims with dogged persistency since taking office and has made no secret of his central aim of shifting wealth. The surprise from many reporters at seeing millions of health insurance policies vaporized and in seeing premiums for those already covered leap astronomically indicates either massive inattention or a facile response to a story they can no longer ignore. Obama's law turns insurance companies into vehicles for redistribution: heavily regulated, highly protected public utilities with a social-engineering mission. The fact that Obama is emphasizing this point now suggests he knows just how bad the days ahead will be for his law and his party. By hardening the resolve of the third of Americans standing with him on ObamaCare, Obama hopes to make good on his promise to have the law go into effect despite massive opposition and survive at least until the end of his term.
Obama sends his missionaries - President Obama will today dispatch an army of 160 youth leaders from across the country to sell his health law. The president will give the gathering of activists, ages 18 to 35, their talking points at the White House this afternoon. The event is part of the administration's renewed efforts to promote the unpopular health law to young people.
Thrilling! - After years of waiting, MSNBC host Chris Matthews will finally get an interview with President Obama. Well, sort of. Matthews will moderate a session with Obama at American University where the president will take questions from students about the health law.
ADMINISTRATION ADMITS DEFEAT ON OBAMACARE BACKEND - With millions facing lapses in insurance coverage because of ObamaCare, the administration is admitting another technical defeat. Unable to complete the portion of the system that connects enrollees with the insurers, the administration announced a "workaround" Tuesday. From Reuters: "Health plans will estimate how much they are owed, and submit that estimate to the government. Once the system is built, the government and insurers can reconcile the payments made with the plan data to 'true up' payments…"
[A Treasury inspector general's report warns of the potential for massive fraud in applications for ObamaCare subsidies.]
DEMS DIVIDED ON OBAMACARE UNDO - While insurance commissioners in Republican led states have been willing to oblige President Obama's quasi reversal of his regulations banning millions of insurance policies, Democrat led states are resisting. At least 21 of 30 states with Republican governors have taken up the president's offer to undo his regulations for one year. WSJ finds, "Some Democratic-led states have been more reluctant. They are concerned it could undermine the success of the law by keeping consumers from the new health-insurance exchanges. Policyholders who want to keep their plans, which are typically less comprehensive than the new plans, are believed to be healthier people."
[ObamaCare costs are forcing Colorado to consider deep cuts to public safety, education and human services, Daily Caller has the details]
If you like your plan, you can… keep something like it at a higher price - Some insurers are automatically enrolling those that hold policies that are illegal under ObamaCare to similar plans. Daily Caller reports the results are automatic switches to plans that could potentially cost consumers 80 percent more. Insurers have 90 days to inform customers of changes, with many companies noting they have few options in preventing coverage gaps.
Schoen skeptical - Democratic pollster and Fox News Contributor Doug Schoen considers for Fox News Opinion how President Obama's latest ObamaCare campaign may play out. "It remains very much an open question whether the president will be able to solidify his legacy during this 20-day press offensive or whether by doubling down, Mr. Obama will seal the fate of the Democratic Party in the 2014 election and beyond."
HEADS TO ROLL? - President Obama said he wants to "move on" past the problems with ObamaCare's botched Web site. Yet, according to the NYT, White House officials are under pressure from allies to hold senior-level people accountable for the botched rollout of ObamaCare. Officials declined to offer details about which government employees might be on the chopping block, but there's a long list of people who were publically identified with the failed Web site. Leading the list: Health Secretary Kathleen Sebelius. With Senate Democrats having nuked the power of Republicans to filibuster Obama appointees, the president has fewer excuses for not sacking Sebelius.
Oregon ObamaCare boss steps out - The leader of Oregon's still-crashed ObamaCare program, Rocky King, announced Monday he'll take a 12-week leave of absence for unspecified medical reasons. Emails obtained by KATU revealed that King knew for months about massive problems with the state's program. King said he'd "always planned in the last year to take some time… Unfortunately, it didn't launch quite the way we wanted."
[Listen to Fox: Rep. Louie Gohmert, R-Texas, joins Kilmeade and Friends in the 9 a.m. ET hour]
BAIER TRACKS: BIDEN IN BEIJING - "What was supposed to be a trade trip has turned into an urgent diplomatic mission as Vice President Joe Biden heads to Beijing today. The Washington Post details the stakes. Besides the urgent dust up over China's new air defense zone covering a string of islands in the East China Sea, there are still lingering issues of computer hacking allegations and trade manipulation. One thing appears clear: China feels emboldened to spread its wings. We'll see if Biden can get them to cut out the malarkey." – Bret Baier.
[For the first time in 40 years, a majority of the Americans believe U.S. global power and prestige are in decline. A new Pew Research Center  poll shows 53 percent of people believe the U.S. is playing a less important role as a world leader than a decade ago and 70 percent said the U.S. is respected less than in the past.]
[On a visit to a Japanese tech firm intended as a way to encourage more women to join that nation's workforce, Biden was chatting up female employees and asked whether their "husbands like you working full time?" Buzz Feed has the exchange.]
POWER UP - Michael Cannon of the libertarian Cato Institute warned during a congressional hearing Tuesday, "There is one last thing to which the people can resort if the government does not respect the restrains that the constitution places on the government…Abraham Lincoln talked about our right to alter our government or our revolutionary right to overthrow it."--Watch Fox: Correspondent Shannon Bream considers how the current president and his predecessors have wielded executive power in light of the intent of the Founding Fathers.
["[President Obama] needs to come back to Congress. Why? Because there is a great divide in Congress over ObamaCare and he needs to negotiate. That is what the legislative branch is for, though: To make those hard negotiations and the lawmakers have the authority to pass the laws."—House Judiciary Chairman Bob Goodlatte, R-Va., on "The Kelly File"] 
POLITICS UNWORTHY OF MENTION - Power Play column: "When I was writing my father's obituary at this time a year ago, I told a friend that I was concerned about not including anything about my dad's lifelong relationship with politics…. Political professionals have turned their business into the science of ignoring voters; of turning down the background noise and focusing on those that matter. But as we see today, the kinds of leaders that approach produces are not equal to the task of governing a nation as richly complex, big-hearted and surprising as ours, this nation of John Newman Stirewalts."
WITH YOUR SECOND CUP OF COFFEE...Peggy Noonan takes on Low-Information Leaders: "I think part of the reason [President Obama] wasn't careful is because he sort of lives in words. That's been his whole professional life—books, speeches. Say something and it magically exists as something said, and if it's been said and publicized it must be real. He never had to push a lever, see the machine not respond, puzzle it out and fix it. It's all been pretty abstract for him, not concrete."
Got a TIP from the RIGHT or LEFT? Email FoxNewsFirst@FOXNEWS.COM
POLL CHECK - Real Clear Politics Averages
Obama Job Approval: Approve – 39.8 percent//Disapprove – 55.9 percent
Direction of Country: Right Direction – 24.6 percent//Wrong Track – 67.0 percent
TOP TWEETS - @laurenashburn's top tweet pick for this morning from Sen. Ted Cruz's, R-Texas, senior communication adviser @amandacarpenter: "Obvious Q for WH and Reid today: "Why don't the staffers who helped you pass Obamacare want to enroll in it? Higher costs? Fewer choices?"
Lauren Ashburn of "#MEDIABUZZ" tracks the Twitterverse every day in Top Twitter Talk.]
BUBBA: I WAS JUST TRYING TO HELP - Former President Bill Clinton wasn't criticizing, honest. He said he was trying to help when he said President Obama should keep his word to the millions of Americans who have seen their policies cancelled under ObamaCare despite the current president's repeated promises to the contrary. Clinton told CNN en Español, "I was trying to be supportive of it…I don't think you can find anybody in America who has worked harder for [Obama's] re-election or supported this bill or went out of his way to explain the bill to the American people more than I did." Clinton was seeking to quell reports that he was being critical of Obama's handling of the botched health law, and tamp down speculation that the former president was placing distance between Obama and his wife's potential 2016 bid.
Denies denying - The former president told CNN he never denied using marijuana and he "told the truth" in 1992 when asked about his drug use. "I didn't say I was holier than thou, I said I tried." But Clinton, of course, did deny, authoring the famous "I didn't like it, and didn't inhale, and never tried it again," The Daily Caller has more, including an observation by Christopher Hitchens, late author of the landmark anti-Clinton polemic "No One Left to Lie To," who said that he witnessed then-Rhodes Scholar Clinton eating pot brownies during his days at Oxford.
Still hunting for Hillary biopic - While NBC and CNN have dropped plans to air a biopic on former Secretary of State Hillary Clinton, Hollywood Reporter confirms Lionsgate is in the early talks to create one. The film "Rodham" would chronicle Clinton's career from her days as a young lawyer involved in President Nixon's impeachment to her love interest with Bill Clinton.
BROWN BUZZ - Sources close to former Sen. Scott Brown, R-Mass., tell Washington Examiner there is a 50-50 chance he will attempt a Senate bid in neighboring New Hampshire. Brown is doing little to squelch speculation, establishing a political action committee in the Granite State and agreeing to headline the state GOP's Christmas reception on Dec. 15.
VITTER CLOSER TO GUBERNATORIAL BID - Sen. David Vitter, R-La., said he will decide by January whether or not he will enter the 2015 race to succeed the term-limited Gov. Bobby Jindal, R-La. "This is the logical time to do it, if I'm ever going to do it," Vitter told AP.
FIGHT THE POWER! (IN THE COMMENTS SECTION) - America's largest government employee union is encouraging its members to use Amazon's comment section to trash Gov. Scott Walker, R-Wis., and his new book, "Unintimidated: A Governor's Story." In a Facebook post the American Federation of State, City, and Municipal Employees tells its members, "here's your chance to tell Scott Walker how you feel about him – and his latest attacks on public employees submit your own review here on Amazon." Daily Caller has more.
[Walker fired his campaign's deputy finance director, Taylor Palmisano, after complaints about her 2011 tweets calling a Hispanic co-worker "illegal" and complaining about a lack of English speakers on a visit to Southern California. AP has more.]
FLEXIBLE OR FLEXING? - Environmental Protection Agency Administrator Gina McCarthy says her agency will be "really flexible" when it comes to imposing new restrictions on existing sources of electricity, but state attorneys general say it's a smokescreen. Oklahoma Attorney General Scott Pruitt, a Republican, told the Daily Caller, "There's a great deal of frustration among the states with the EPA's attitude that ignores the proper role of the states in implementing environmental policy and regulations."
[Listen to Fox: Oklahoma Attorney General Scott Pruitt joins Kilmeade and Friends in the 9 a.m. ET hour]
STATE'S ART SPLURGE AHEAD OF SHUTDOWN - With the threat of partial government shutdown imminent, the State Department awarded several pricey contracts for artwork. State awarded a million-dollar contract for a granite sculpture. Another $150,000 was granted for a bronze sculpture, with a mosaic mural winning an additional $150,000 award. The Weekly Standard has more.
POW! BLAM! INGRAHAM! - Conservative radio host and author Laura Ingraham is the subject of a new comic book. The comic, set for release this week, is part of Bluewater Productions' Female Force series, which has already depicted House Minority Leader Nancy Pelosi, FormerGov. Sarah Palin, R-Alaska, Nancy Reagan and Hillary Clinton. You can preview the Ingraham edition on iTunes.
WHAT'S ROUND ON BOTH ENDS AND PROFANE IN THE MIDDLE? - A recent study by the advertising firm Marchex found Ohioans are the most likely to curse. The firm compiled data from consumer phone calls to businesses across 30 industries and found Buckeye State residents swore in one out of every 150 conversations, twice the rate of America's least profane state, Washington. Rounding out the filthy five cussingest states: Maryland, New Jersey, Louisiana and Illinois. When it comes to courtesy, y'all down in South Carolina were more prone to say "please" and "thank you." The Atlantic has more.
AND NOW, A WORD FROM CHARLES…"What we heard Jay Carney say breezily today well a million people went on the Web site. Well how many enrolled? Apparently that number is not obtainable. Either they know it, and are suppressing it – which I suspect is probably true – or they have no way of knowing, which tells you this thing is a turkey"—Charles Krauthammer on "Special Report with Bret Baier" Watch Here.
Chris Stirewalt is digital politics editor for Fox News. Want FOX News First in your inbox every day? Sign up here. To catch Chris live online daily at 11:30 a.m. ET, click here.