Obama Condemns Violence in Israel Amid Calls for Renewed Peace Talks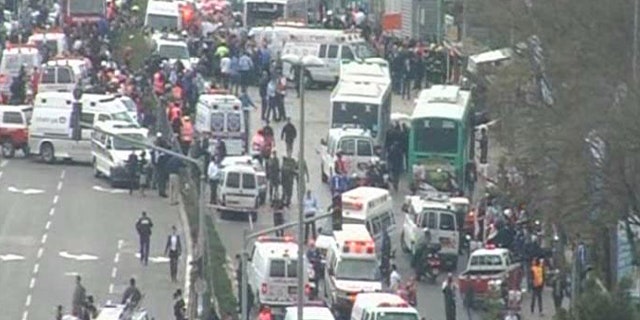 NEWYou can now listen to Fox News articles!
President Obama and top officials in his administration strongly condemned a bomb blast at a Jerusalem bus stop Wednesday that killed one woman and injured more than 20 others, including an American citizen who was treated at a hospital in Jerusalem and released.
"There is never any possible justification for terrorism," he said. "The United States calls on the groups responsible to end these attacks at once, and we underscore that Israel, like all nations, has a right to self-defense."
Wednesday's attack was the first major one by Palestinian militants in the Israeli capital in several years, and it came on the heels of other recent acts of violence against Israel, including a stabbing massacre of a Jewish family and a fusillade of rocket fire into the Jewish state.
The violence has intensified increasing calls for reconciliation between Western-backed Palestinian President Mahmoud Abbas and his bitter rivals, the Islamic militant group Hamas and for the White House to pressure Abbas back to the table for peace talks with Israel.
Peace talks between Israel and the Palestinians collapsed last year over disputes about Israeli construction in the West bank -- areas Palestinians want as parts of their future state.
But that conflict has been overshadowed in recent months by the popular uprisings in the Middle East that led to the ouster of autocratic rulers in Tunisia and Egypt. Deadly clashes between protesters and government forces continue in Yemen and Bahrain. And an international coalition including the U.S. has launched military strikes in Libya to protect civilians and rebel forces from Col. Muammar al-Qaddafi's bloody crackdown.
But the recent attacks leading up to Wednesday's bombing has put the spotlight back on conflict between Israel and the Palestinians.
On Friday, five family members – a couple along with their three young children -- were found fatally stabbed in their home in the West Bank Itamar settlement. Two other children escaped unharmed.
On Saturday, Palestinian militants in Gaza unleashed more than 50 rockets into Israel. Israel hit back with tank fire and air strikes, killing a Hamas official and wounding four civilians.
That led to the bombing on Wednesday, intensifying fears that a period of relative calm could be ending as hopes for a negotiated peace fade.
Defense Secretary Robert Gates called the bombing a "horrific" terrorist attack.
Secretary of State Hillary Clinton condemned the attack, saying she was "shocked" and "deeply saddened" by the news.
"Terrorism and the targeting of civilians are never justified, and Israel, like all nations, has to respond when this occurs," she said.
The president also condemned the firing of rockets and mortars from Gaza in recent days and extended condolences to the family of four Palestinian civilians who were killed there on Tuesday. The four were killed by a wayward Israeli strike intended for Palestinian militants.
Obama stressed the need for calm and urged all parties to prevent further violence and civilian casualties.
House Majority Leader Eric Cantor, the sole Jewish Republican member of Congress, placed blame for the attack indirectly on the White House.
"The administration has called on Israel to make sweeping concessions that I believe will endanger its security, but it doesn't seem to demand similar from the Palestinians," Cantor said in a statement, adding that he supports bipartisan efforts in Congress to pressure the White House to stop "anti-Israel incitement in Palestinian territories.
"No matter how much we desire Mideast peace, it will remain a pipe dream so long as Palestinian culture makes martyrs of terrorists who target innocents."
Rep. Ileana Ros-Lehtinen, R-Fla., chairwoman of the House Foreign Affairs Committee, called on the U.S. to continue providing "robust security assistance to our key ally."
"We must also provide strong and unequivocal political support for Israel by opposing efforts to pressure Israel into making concessions, as well as efforts to deny Israel and other democracies the right to defend themselves against extremist threats," he said.
Lawmakers in the House and Senate are urging the White House not to allow the popular uprisings in the Middle East to distract it from pursuing peace talks between Israel and the Palestinians.
Reps. Steven Rothman and Steve Austria are working on a letter to the president, urging him to get tough with Abbas. "This must serve as a wakeup call that the current state of affairs is dangerous and unacceptable," they wrote in the letter, a copy which FoxNews.com obtained.
Sens. Kirsten Gillibrand and Mark Kirk are working on a similar letter in the upper chamber.
The Associated Press contributed to this report.