Obama Calls on Assad to Step Down, Imposes New Sanctions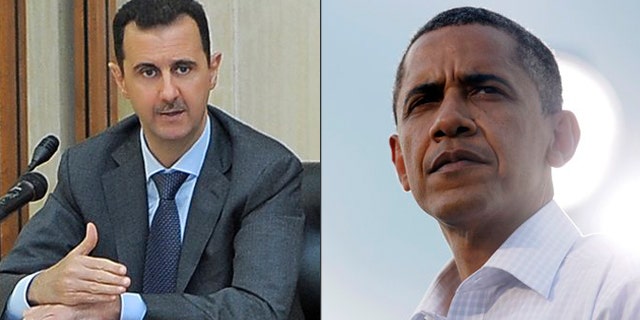 NEWYou can now listen to Fox News articles!
President Obama for the first time Thursday called on Syrian President Bashar Assad to step down, while announcing a new set of sanctions against the regime.
In a statement that preceded others by European leaders, Obama accused the government of perpetrating a "sustained onslaught" against its people. He said the regime has tortured protesters and shown a "flagrant disrespect" for the Syrian people, demonstrating Assad's failure to follow through on calls for reform.
"The future of Syria must be determined by its people, but President Bashar al-Assad is standing in their way. His calls for dialogue and reform have rung hollow while he is imprisoning, torturing, and slaughtering his own people," Obama said. "We have consistently said that President Assad must lead a democratic transition or get out of the way. He has not led. For the sake of the Syrian people, the time has come for President Assad to step aside."
Minutes later, Secretary of State Hillary Clinton echoed the president in calling for Assad to "get out of the way."
With U.S. forces mired in Iraq, Afghanistan and Libya, Obama and Clinton stressed that the U.S. will pressure Assad but not intervene inside the country.
Clinton said the United States understands Syrians' desire to handle the uprising without foreign interference. "We respect their wishes," Clinton said.
"The United States cannot and will not impose this transition upon Syria," Obama said.
But Clinton said it would take "words and actions to produce results." As part of that effort, the president announced what he described as "unprecedented sanctions" to deepen the regime's isolation. Obama said he signed a new order freezing Syrian government assets under U.S. jurisdiction and barring Americans from dealing with the government.
The order also immediately bans the import into the United States of any Syrian petroleum or petroleum products. Syria is not a huge source of oil for the U.S., but if European allies join the effort, it could significantly affect one of the regime's top sources of revenue. Syrian crude oil exports go mostly to European countries such as Germany, Italy, and France, according to the U.S. Energy Information Agency.
Obama said the administration's actions would be "amplified by others." Shortly afterward, British Prime Minister David Cameron, French President Nicolas Sarkozy and German Chancellor Angela Merkel issued a statement calling for Assad to step aside, saying he must "face the reality of the complete rejection of his regime." The European Union also joined in.
Though the moves may not have any immediate impact on the Syrian regime's behavior, officials hope it sends a powerful signal that Assad is no longer welcome in the international community.
The administration's critics described the announcements as long-awaited. "Better late than never," Sen. John McCain, R-Ariz., tweeted.
John Bolton, former U.S. ambassador to the United Nations, said such a rhetorical offensive may not have much impact, though he described the statement as the right thing to do.
The statement "certainly raises the question ... what is he prepared to do about it?" Bolton said. "Without some outside intervention, it's going to be very bloody for a long time."
The announcements follow months of escalating protests and bloody crackdowns in Syria. As many as 2,000 protesters have been killed by the government during that time, while more than 12,000 have been arrested and thousands more Syrians have fled the country. Assad on Wednesday told the United Nations that military and police operations had stopped, but to this point the regime has used kidnappings, torture and killings to try and quell the protests. Syria has been a U.S.-designated state sponsor of terrorism since 1979.
Obama, Clinton and top national security aides have previously said that Assad has "lost his legitimacy" as a leader and that Syria would be "better off" without him. But they had not specifically demanded that he step down.
The administration had planned to make the announcement last week but postponed it largely at the request of Syria's neighbor Turkey, which asked for more time to try to convince Assad to reform, and because Clinton and other officials argued it was important to build a global consensus that Assad must go. Clinton on Tuesday publicly questioned the effectiveness of the United States acting alone.
"It is not going to be any news if the United States says Assad needs to go," she said. "OK, fine, what's next? If other people say it, if Turkey says it, if (Saudi) King Abdullah says it, there is no way the Assad regime can ignore it."
Since then, however, Turkish Prime Minister Recep Tayyip Erdogan has compared Assad to Libya's Muammar al-Qaddafi for refusing to heed calls to change. Turkey has joined calls for Qaddafi to leave power, and Erdogan said Wednesday he had personally spoken to Assad and sent his foreign minister to Damascus, but "despite all of this, they are continuing to strike civilians."
In addition, Tunisia on Wednesday recalled its ambassador from Syria, following the lead of several other Arab nations, including Saudi Arabia, that the U.S. has been lobbying to show displeasure with Assad.
Senior U.S. officials said the administration was prompted to increase the pressure on Assad after the "uptick" in "horrific brutality" witnessed at the outset of Ramadan, and by the realization that Assad's pledge to pull back his military forces was "a lie and an empty promise." The officials also cited the need to take time to make sure other countries were on board with Thursday's statements.
U.S. officials say the U.N. human rights chief is expected to call on the U.N. Security Council to refer Syria to the International Criminal Court for investigation of alleged atrocities against protesters during the five-month uprising.
Fox News' Justin Fishel and The Associated Press contributed to this report.