Obama calls Hagel a 'true American patriot' at farewell ceremony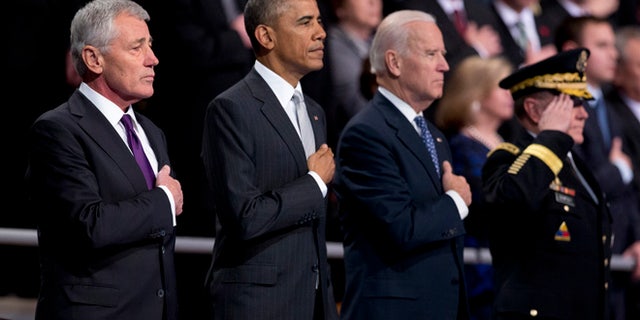 FORT MYER, Va. – President Obama says outgoing Defense Secretary Chuck Hagel is a true American patriot who devoted his life to the United States.
Obama and top military brass are praising Hagel at a farewell ceremony at Joint Base Fort Myer-Henderson Hall. Obama says the country is grateful for military progress on Hagel's watch.
Obama says Hagel strengthened key U.S. partnerships in the Middle East, paving the way for Arab nations to join the U.S.-led coalition fighting the Islamic State group.
He says Hagel launched reforms that have better positioned the military for the future.
Hagel resigned abruptly in November under pressure from Obama. His tenure included the U.S. transition out of a combat role in Afghanistan.
Obama's nominee to replace Hagel is Ashton Carter. He's awaiting Senate confirmation.