Obama Calls for 'Dramatic Action' to Jolt Economy Out of Recession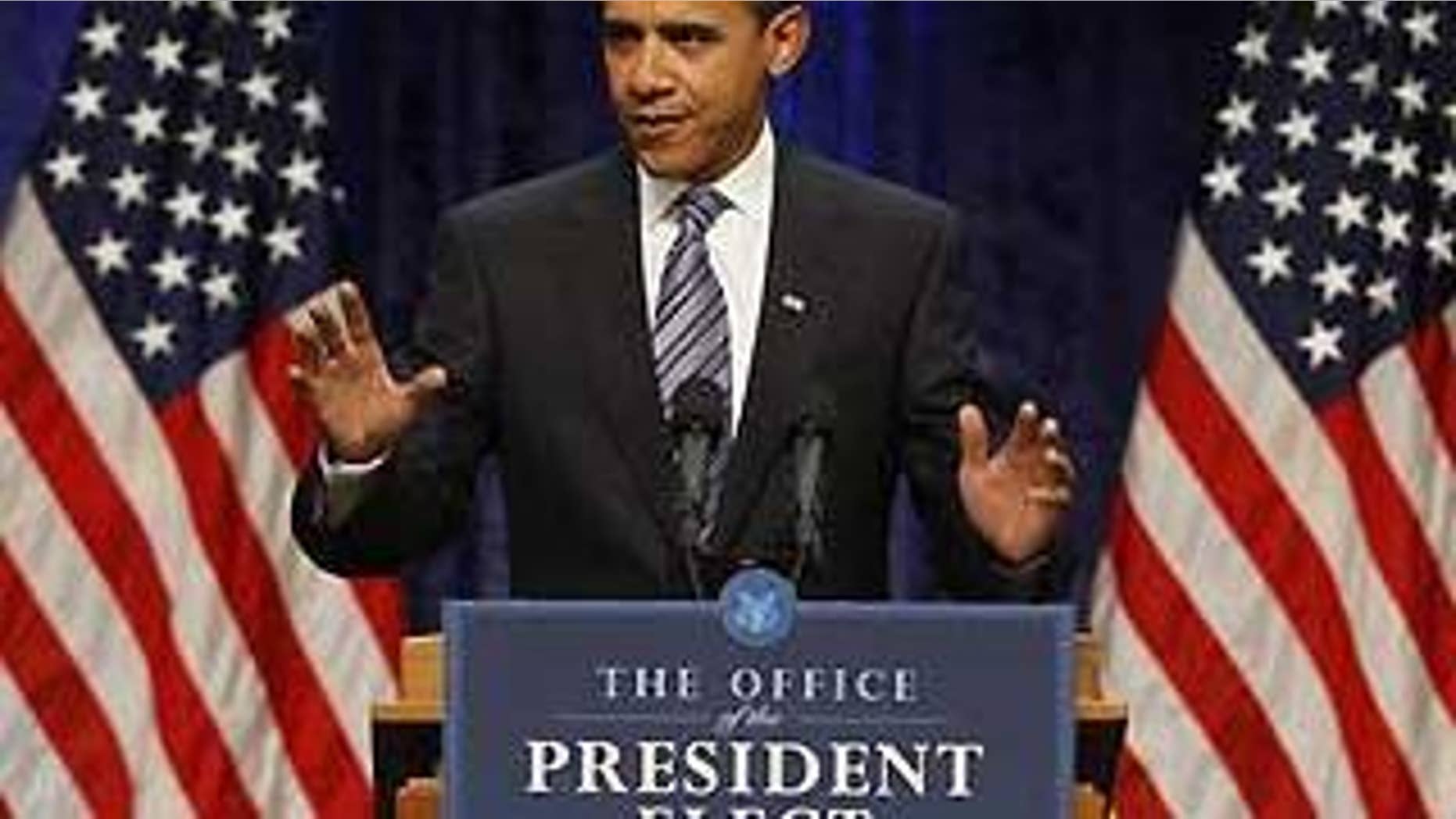 President-elect Barack Obama made his strongest pitch yet Thursday for Congress to pass a nearly $800 billion spending plan, promising that it will create new jobs, offer more tax cuts and improve infrastructure and alternative energy development.
The president-elect, who looks to inherit a budget with a more than $1.2 trillion deficit, called for "dramatic action" as he attempted to convince taxpayers as well as wary lawmakers that "only government" can supply the short-term boost needed to pull the economy out of recession.
Obama warned of dire consequences if Congress does not act soon, saying the crisis could "linger for years." He predicted that the steady decline would erode and eliminate everything from jobs to college educations to the country's standing in the world.
"In short, a bad situation could become dramatically worse," he said, delivering what was billed as a major economic address at George Mason University in Fairfax, Va. Obama warned the unemployment rate could reach double digits and the nation "could lose a generation of potential and promise."
Obama delivered his speech a day after budget forecasters projected that the federal budget deficit would reach a record $1.2 trillion in fiscal 2009. That estimate does not factor in the stimulus package Obama and Democrats are promoting on Capitol Hill. But Obama said deficit spending is needed to jolt the economy out of recession.
He also tried to assuage skeptics who say such a massive stimulus is irresponsible, particularly on the heels of the auto industry and Wall Street rescue packages.
"I know the scale of this plan is unprecedented, but so is the severity of our situation," Obama said. He pledged not to "throw money" at the country's problems or send it to wasteful pet projects and earmarks.
Republican leaders, holding a press conference shortly after Obama's speech, said Obama seemed to be including in his plan GOP priorities like tax relief and accountability and that they looked forward to working with him on the package. House Republican Leader John Boehner said lawmakers must strike a balance between the need to stimulate the economy and eventually rein in the deficit.
Obama, outlining the broad platforms of his plan, repeated his goal to save or create 3 million jobs. He said most of the job creation would occur in the private sector.
He said the stimulus money would go toward infrastructure, energy, health care, science and technology research. He said he would provide a $1,000 tax cut to 95 percent of working families.
Obama laid out goals of doubling the production of alternative energy over three years, updating 75 percent of federal buildings to improve energy efficiency, making medical records electronic, expanding broadband networks and updating schools and universities.
The president-elect typically sticks to naming administration appointments and otherwise staying in the background during the transition period between Election Day and Inauguration Day, but Obama, conscious of concerns about unemployment and credit markets, said Wednesday that he felt it was fair for him to engage the public on domestic policy.
Prior to his appearance, the Labor Department reported that initial applications for unemployment insurance dropped by 24,000 to a seasonally adjusted 467,000 for the week ending Jan. 3.
However, the number of people continuing to claim jobless benefits jumped unexpectedly by 101,000 to 4.61 million. That was above analysts' expectations of 4.5 million and the highest level since November 1982, when the nation was emerging from a steep recession, though the labor force has grown by about half since then. The data for continuing claims is for the week ended Dec. 27.
The Associated Press contributed to this report.