Obama Cabinet member Arne Duncan backs gay marriage, one day after Biden comments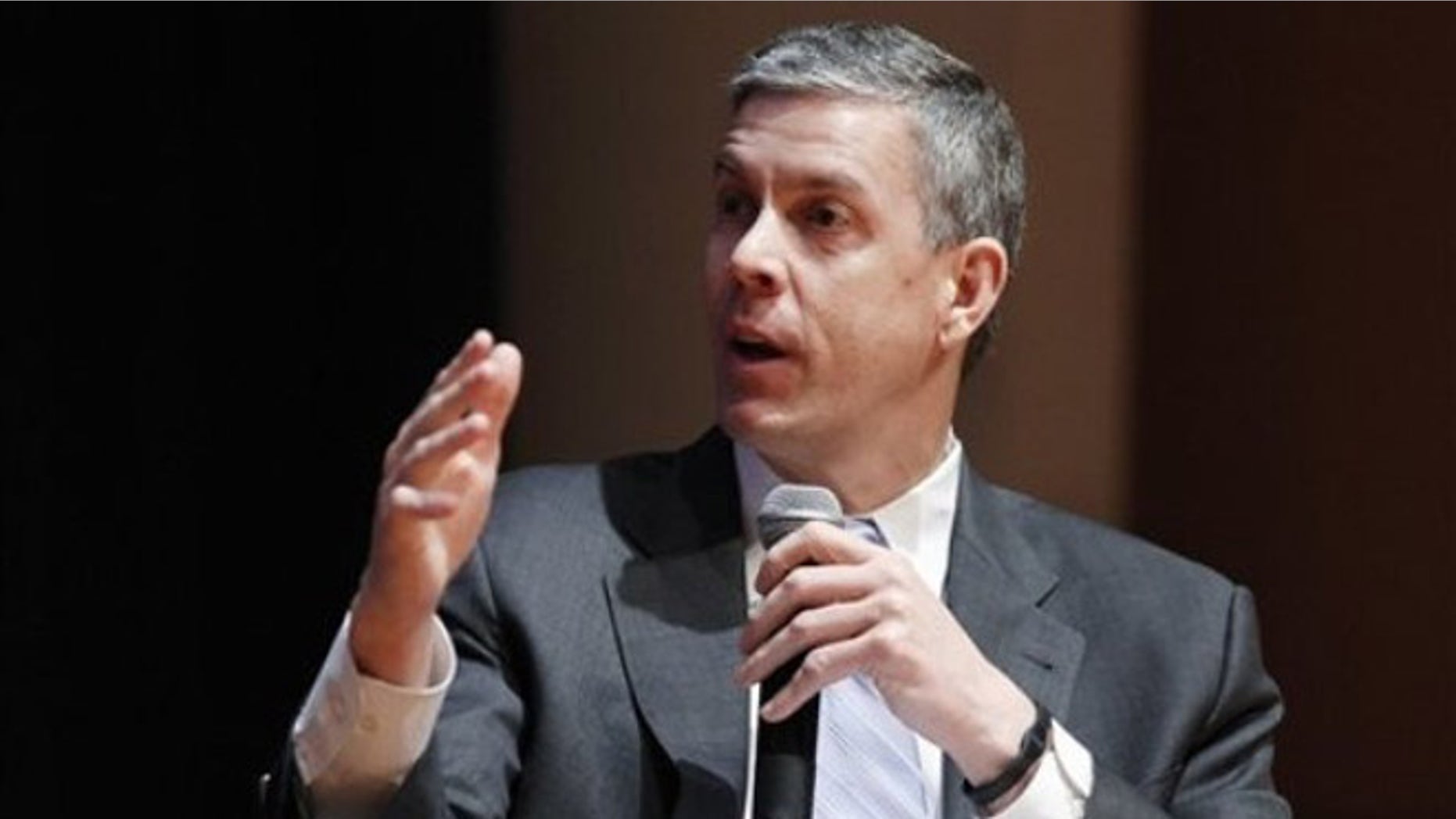 Another top Obama administration official appeared to break with the president Monday by publicly declaring his support for gay marriage -- something President Obama has not done.
Education Secretary Arne Duncan, in a television interview Monday morning, said unequivocally that he supports gay marriage. Asked if he thinks gay couples should be able to legally marry, he said: "Yes, I do."
The statement comes a day after an interview aired in which Vice President Biden said he's "absolutely comfortable" with same-sex couples having the same rights as others.
That statement sent the White House scrambling, as aides tried to claim Biden's comments were merely a reflection of the president's view -- though gay rights advocacy groups interpreted it as an endorsement of same-sex marriage and immediately pressured Obama to follow suit.
Duncan's comments on MSNBC had the same effect.
The Human Rights Campaign, a gay advocacy group, fired off a statement Monday morning saying, "Arne Duncan joins Joe Biden now in embracing civil marriage for committed gay and lesbian couples."
Campaign President Joe Solmonese added: "There's no doubt in my mind that the president shares these values and that's why it's time for him to speak out in favor of marriage equality as well."
Housing Secretary Shaun Donovan also spoke out in support of same-sex marriage last fall.
Biden's comments over the weekend brought attention back on the administration's position, and were aired the day after Obama held his first re-election campaign rallies.
Obama has signaled support for the gay-rights community, in both his push to overturn the "don't ask, don't tell" policy banning gays from serving openly in the military, and his administration's decision to stop defending the Defense of Marriage Act -- which defines marriage as between a man and woman.
Still, the president has frustrated some gay-rights groups by not explicitly backing gay marriage.
On the issue, he has said his views are "evolving."
While stressing that "the president sets the policy," Biden described his personal view during a Sunday show interview.
"I am absolutely comfortable with the fact that men marrying men, women marrying women and heterosexual men and women marrying are entitled to the same exact rights, all the civil rights, all the civil liberties," he said on NBC's "Meet the Press." "And quite frankly, I don't see much of a distinction beyond that."
Biden went on to say the situation is "evolving" and that the "social culture" is changing. In doing so, he cited the hit sitcom "Will & Grace," which was about a woman living with a gay man. "I think 'Will & Grace' probably did more to educate the American public than almost anything anybody's ever done so far," he said.
Asked whether the Obama administration would openly endorse same-sex marriage in a second term if Obama's re-elected, Biden said he "can't speak" to that.
Faced with a flurry of questions about Biden's Sunday show comments, Obama campaign adviser David Axelrod tweeted: "What VP said -- that all married couples should have exactly the same legal rights -- is precisely POTUS's position."
He reiterated that stance on Monday, saying Biden's remarks were "entirely consistent with the president's position."
"The president believes that the (Defense of Marriage Act) is unconstitutional and when people are married, we ought to recognize those marriages and afford them the rights to which they are entitled," he said.
A Biden spokesperson also said in an email that Biden "was saying what the president has said previously -- that committed and loving same-sex couples deserve the same rights and protections enjoyed by all Americans, and that we oppose any effort to roll back those rights.
"That's why we stopped defending the constitutionality of Section 3 of the Defense of Marriage Act in legal challenges and support legislation to repeal it. Beyond that, the vice president was expressing that he, too, is evolving on the issue, after meeting so many committed couples and families in this country," the spokesperson said.
The Associated Press contributed to this report.