Obama Apologizes to Sherrod, Expresses 'Regret' Over Handling of Video Controversy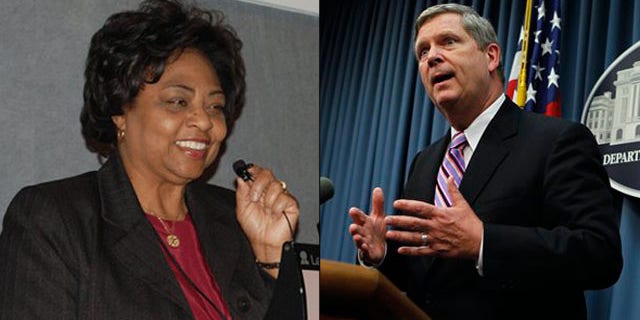 President Obama apologized to former Agriculture Department official Shirley Sherrod Thursday and expressed "regret" over the administration's handling of her dismissal two days ago, according to the White House.
The personal phone call from the president came after the administration and Agriculture Secretary Tom Vilsack apologized to Sherrod the day before for jumping to conclusions about comments she made in a video clip, offering her a new job in the department.
Obama appeared to suggest to Sherrod that she consider the offer during their seven-minute conversation Thursday afternoon.
"He emphasized that Secretary Vilsack was sincere in his apology yesterday and in his work to rid USDA of discrimination," the White House said in a brief statement. "The president told Ms. Sherrod that this misfortune can present an opportunity for her to continue her hard work on behalf of those in need, and he hopes that she will do so."
Sherrod, who spoke during several interviews Thursday morning, revealed that she was offered an outreach position that would deal with discrimination matters. But she said she's not so keen on being the go-to person for those issues.
"I would not want to be that individual that the department and everyone is looking to to solve the issue of racism at USDA. It takes a lot more to get that job done," she said. "I haven't seen the offer. ... Before I say no totally, I would like to look at that."
Sherrod also initially said she was not certain that Obama "fully" supports her but would like the opportunity to teach him some life lessons, describing him as "not someone who has experienced some of the things I've experienced in life."
It's unclear whether she got that opportunity during their phone conversation.
The ex-official spoke following a whirlwind 48-hour period in which the Obama administration completely reversed its position toward Sherrod. The former Georgia director of rural development was compelled to resign Monday after a brief video surfaced showing her telling a story to an NAACP audience about how she once withheld support to a white farmer. Vilsack said he, not the White House, urged her to resign. The NAACP also initially condemned her.
What the clip did not show was the rest of the story, in which Sherrod said she eventually grew close to the white farmer and helped him and his wife save their farm. She explained that the story, set 24 years ago, was meant to show how she learned to look beyond the issue of race.
The NAACP later rescinded its earlier statement and on Wednesday both Vilsack and the White House apologized, calling the incident a "teachable moment."
Before the phone call with Obama Thursday, Sherrod said she wanted to speak with him, though there was no need for Obama to personally apologize to her. A White House official told Fox News that the president tried to reach her twice Wednesday night but was unable to leave a message.
Sherrod reserved her criticism for blogger Andrew Breitbart, who posted the video clip Monday. He argued that he posted the clip to show that racism exists at the NAACP, since members in the audience laughed as she told the story.
"He was willing to destroy me ... in order to try to destroy the NAACP," Sherrod said Thursday of Breitbart, saying she still hasn't heard an apology from him.
The chairman of the House oversight committee also says he wants Vilsack to provide more information about the resignation. Edolphus Towns, D-N.Y., chairman of the House Oversight and Government Reform Committee, wrote to Vilsack urging him to provide his committee's staff with a "comprehensive briefing" once his office completes its review of the incident.
He said he wants to learn more, given that Vilsack initially forced out Sherrod based on the department's "zero tolerance" policy.
"Additional details have emerged. ... These details seem to indicate that Ms. Sherrod's comments, when placed in context, were fully consistent with the department's 'zero tolerance' policy," he wrote, adding that the department needs to follow "fact-based decision making."
Obama said nothing publicly about the developments while administration officials tried to both show his concern and to distance him from the original ouster.
In offering a public apology Wednesday, Vilsack told reporters: "This is a good woman. She's been through hell. ... I could have done and should have done a better job." He addressed the media after speaking to her by phone.
Sherrod accepted Vilsack's apology.
The Associated Press contributed to this report.