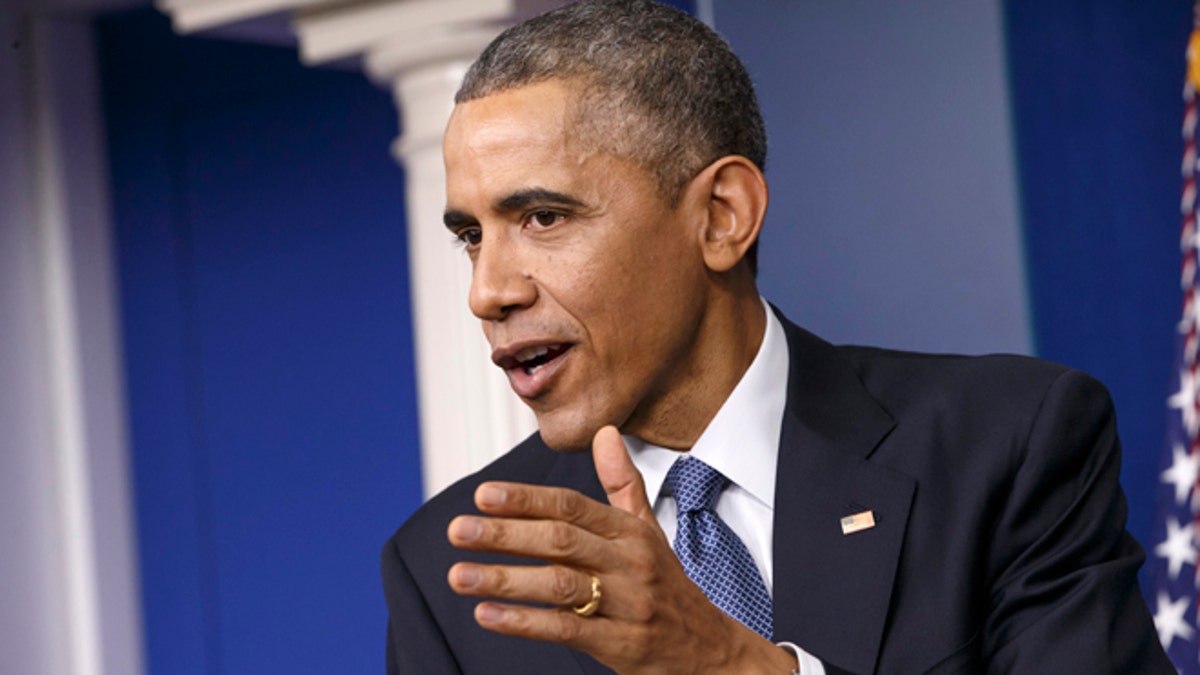 President Obama says that race relations in the U.S. have improved during his six years in the White House, amid recent racial tensions sparked by the deaths of two black males during separate police encounters.
"I actually think that it's probably in its day-to-day interactions less racially divided," said the president, according to excerpts of an interview with National Public Radio to be aired starting Monday.
Obama also told the radio network that Republicans controlling both chambers of Congress when members return next week means they can no longer blame the gridlock on him and fellow Democrats who formally controlled the Senate.
"Now you've got Republicans in a position where it's not enough for them simply to grind the wheels of Congress to a halt and then blame me," he said.
Obama suggested in the aftermath of the shooting of Michael Brown -- an unarmed black teen who was killed by a white police officer in August in Ferguson, Missouri -- that race relations in America have improved in the past 40 or 50 years.
"We have made enormous progress in race relations over the course of the last several decades," Obama said in late November after a grand jury decided not to indict Officer Darren Wilson. "I have witnessed that in my own life and to deny that progress, I think, is to deny America's capacity for change.
A new Gallup poll shows Americans' perception of race relations essential unchanged since 2002, with roughly 66 percent of black respondents saying relations are good, compared to 72 percent for non-Hispanic whites.
Obama also told NPR, in the year-end interview with "Morning Edition" host Steve Inskeep, that "low morale around race relations in the U.S. is exaggerated by the national conversation about the recent violence and not an accurate reflection of the state of affairs around the country."
The death of Brown and Eric Garner in July has sparked widespread protests and concerns about how police officers interact with members of black communities across the country.
Garner, 43, died after a Staten Island, New York, police officer pressed a police baton across his neck in an effort to arrest him. A video of the incident resurfaced after Brown's death.
The Obama interviews will be broadcast in three installments through Wednesday. The president spoke on camera in the Oval Office just before he left Washington with his family for a two-week vacation in Hawaii. He also discussed his recent executive actions on immigration and Cuba, foreign policy, health care and his relationship with Congress, according to NPR.